Tumultuous, turbulent, and, altogether, chaotic.
Though it may seem like these adjectives describe a Columbia student's daily life leading up to exam season, in actuality, the amalgamation of these descriptors is what the team behind the King's Crown Shakespeare Troupe's "A Midsummer Night's Dream" uses to classify the upcoming production.
"I would say that ['Midsummer'] is about chaos—that's really the key word," director Catherine Ferrante, BC '21, said. "I would say that it's about embracing chaos for a better understanding of transformation and fluidity."
KCST will be presenting "A Midsummer Night's Dream" in Barnard's Glicker-Milstein Theatre from Thursday, Nov. 21 through Saturday, Nov. 23. Directed by Ferrante and produced by Juliet Emerson-Colvin, BC '21, "Midsummer" is one of Shakespeare's most famous comedies, spinning the tale of four young lovers while questioning the nature of dreams, desire, and theatricality itself.
Hermia, played by Maya Weed, CC '22; Helena, played by Sarah Hilligoss, BC '21; Lysander, played by David Ehmcke, CC '20; and Demetrius, played by Shayan Hooshmand, CC '23, are caught in a romantic love-square that goes awry. The lovers fall under the mystic, tantalizing influence of fairies, such as the trickster, Puck, played by Maggie Vliestra, BC '20; Oberon, played by Madeleine Watkins, BC '23; and Titania, played by Danielle Hopkins, BC '21. Additional fairies, played by Elsa Chung, CC '23, Jackson Kienitz, CC '21, and Anna Zhao, SPS '20, cause chaos in the periphery.
In tandem, a group of amateur actors, the mechanicals, attempt to put on a play within the play (a classic Shakespearean trope) but likewise find themselves impacted by the madness. Led by the weaver Nick Bottom, played by Joel Meyers, CC '21, the mechanical troupe is played by Julia Lasker, BC '21, Kienitz, Zachary Kahn, CC '20, Jane Walsh, CC '23, and Mira Baum, CC '20.
"Midsummer" is firmly a comedy, disparate from the past several plays performed by KCST, Shakespeare or not. Ferrante's goal, upon choosing her show, was to embrace this comedic departure from the theater troupe's recent tradition of more serious productions.
"I wanted to do ['Midsummer'] because I wanted to do something that was really, really fun, and that was fun for its own sake," Ferrante said. "In KCST ... since I've come here, all four of our Shakespeare shows have either been problem plays or tragedies. ... I just like really thought it was time that we did something fun and for the fun of it—and I love the chaos."
Dramaturgically, the text was edited; although Midsummer is joyous and humorous, many of its themes may seem problematic to a modern eye. Ferrante worked with her dramaturg Lauren Alcindor, CC '21, to give the production a contemporary nuance.
"We cut a lot of stuff," Ferrante said. "...There's still all of these problematic themes of people chasing after people who say that they don't love them. We talked a lot about that in rehearsals—what does it look like to have consent in this space, when the characters are engaging in nonconsensual situations."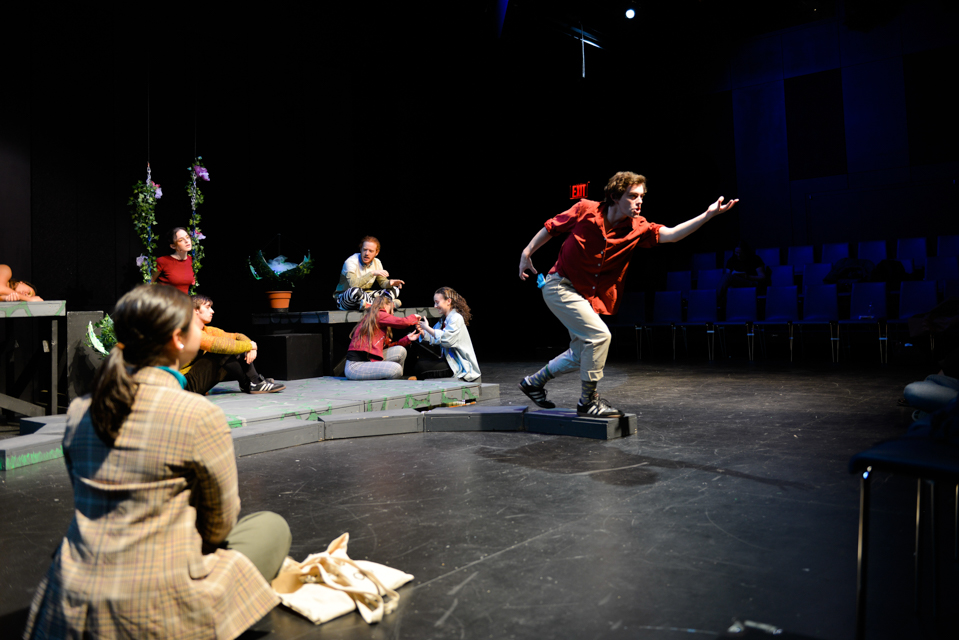 It may have first seemed apt for "Midsummer" to be KCST's spring show—traditionally performed outside, around Columbia's campus in early May. After all, the play's chaotic center largely takes off when its lovers run to the woods. To adjust for the indoor limits of the GMT, Ferrante worked to creatively integrate natural elements.
"Midsummer is literally in a forest—why would you not do it outside?" Ferrante said. "And I was like, 'OK, well, I think what would be really cool is that if it glowed, and was this glowing, abstract space.' And then my producer and I came up with this word—no, it's a real word—bioluminescence, but we applied it to this show."
The seed of this concept started as a single world, but though the idea began as little, it was fierce.
To translate bioluminescence into a physical design that integrated the significance of the role of nature and the forest, co-costume designers Lexis Rangell-Onwuegbuzia, CC '22, and Zena-Marie Gonzalez, SEAS '22, worked in tandem, applying their artistic and engineering backgrounds together into what they referred to as "the art of engineering."
"We definitely looked a lot at what bioluminescence means—literally, like 'glow in the dark,' but also the organisms, like the jellyfish, the mushrooms, sea creatures—and that's for the forest," Rangell-Onwuegbuzia said. "For the Athenians, it was more like, 'OK, what's the opposite of that?' If our concept is like, capitalist patriarchy, what represents that, but also in a mystical enough way that it fits into the 'Midsummer' schema?"
This meant creating literal fairy lights.
"There are so many opportunities for technology—and we're using a lot of technology in the show," Gonzalez said. "We're wiring black-light light strips to the fairy's shoes so that they'll light up glow in the dark paint on the set, and on the costumes, we're using 3D printing to make design elements ... and wiring actual LED lights into the costumes."
This "Midsummer" looks to be a challenging feat: Mixing the grandiose plans for design with a production defined by chaos, in itself, would perhaps lead to chaos. But Ferrante suggests that audiences are in for a treat for both the eyes and ears.
"I think that there is something to be said about shows that are just simply fun to come see."
With the wanted chaos, comedy, and construction in tandem, audiences will be sure to depart in wonderment, thinking to themselves, as Bottom did: "I've had a most rare vision!"
Deputy editor Sarah Robertson can be contacted at sarah.robertson@columbiaspectator.com. Follow Spectator on Twitter @ColumbiaSpec.