Written by Christopher Lopez
Edited by Parth Chhabra and Maya Perry
Photography by Katherine Gerberich and Natalie Guerra
Art by Amy Moon
Web Development by Kevin Li and William Chiu
On February 4, 2017, an otherwise unremarkable Saturday, Rob Endelman, Columbia College class of 1991, sat down for dinner with his family of four at 5:30 p.m. Endelman, a private chef, cooks most of his family's meals, and that Saturday was no exception.
An hour and a half earlier, Columbia men's tennis—the winner of four consecutive Ivy League titles and currently ranked No. 14 in the most recent ITA rankings—opened the home portion of the 2016-17 season against Buffalo. Top international players made Buffalo a formidable challenge, even if Endelman's beloved Lions were still the favorites. The doubles point—awarded to the team that wins two of three simultaneous doubles matches—went Columbia's way easily, but in singles competition, the Lions surprisingly dropped four of their six first sets. Naturally, Endelman was worried that the Light Blue would lose that match and snap what was then a 30-match home winning streak.
By "work," Endelman meant schlepping 138 blocks from his home on the Upper West Side to the Dick Savitt Tennis Center, an indoor facility that is part of the Baker Athletics Complex at the northern tip of Manhattan. He would leave his family to eat without him in order to go cheer loudly and profusely for men's tennis.
Endelman says he left his house at 6:01 p.m., "running down the stairs, zipping up my pants, and getting a cab within 30 seconds," and arrived at the bubble at 6:18 p.m. At that point, singles matches had been going on for a little over an hour, and four of Columbia's singles players were fighting to stay in their matches by the second set.
"He came in hot," says Christopher "Booie" Grant, a former member of the tennis team who graduated last spring and played doubles against Buffalo that day. "[He] gave the team a huge boost with his cheering after he left his family at the dinner table. [He is] totally nuts, but we loved it and needed it."
Columbia came back in three of those four matches for an innocuous 6-1 victory to extend its streak.
It was the 2016 Minnesota match at the Savitt Center when I first became acquainted with Rob.
At that point, I had written a few articles about the team. In my experiences, I could hear "Let's go Lions" chants throughout the bubble, and I knew they were coming from one person, but I had very little idea why. My curiosity and nerves led me to introduce myself as the "Spec guy" to Endelman.
"Hey, I'm Rob," he said kindly, his voice hoarse from yelling all weekend. "I'm here all the time. Let me know if you ever have any questions about the team. I have everything you need to know."
It wasn't until a year later—and my second covering the team—that Endelman began texting and calling me regularly, often with praise but also with a decent amount of corrections to my reporting and writing.
At Columbia tennis matches, Endelman typically stands in the middle of courts three and four, just a few feet from the action. His proximity—both to the action and to the program at large—is rooted in his brother: current men's tennis associate head coach and former All-Ivy league performer Howard or "Howie" Endelman, Columbia College '87.
The younger Endelman feasts on what he sees as the momentum-swinging nature of tennis, cheering to boost the spirits of the Lions and get in the head of the team's opponents.
Led by Endelman, the chants that echo through make the Savitt Center that much more imposing for Light Blue opponents as the Lions continue to win point after point.
However, in the three years I have covered men's tennis, Endelman has maintained that his cheering manifests differently outside the Savitt Center. About a month ago, in a series of text messages, he invited me to travel with him to Charlottesville. In my early conversations with head coach Bid Goswami, he praised Endelman's ability to stir up the crowd and provide endless support for his team.
"He's very smart, and he also does it in the right way," Goswami says of Endelman's cheering. "He's never bothering people. But, I think it's a good one-man band."
Given the opportunity to sit in a car with the "human chatterbox" and witness first-hand high-quality tennis, juxtaposed with the "legend" of Columbia's most-dedicated fan, I willingly obliged.
On Friday I arrive exactly two minutes early to the Hertz Rent a Car facility on 83rd and Amsterdam, and am greeted by an energetic Endelman, volunteer assistant and former Columbia tennis player Haig Schneiderman, Columbia College '12, and longtime Columbia tennis supporter and friend of the program Pietro Cinquegrana. I'd been told that our only planned stops are for the purposes of "[taking] a leak" and to therefore bring food for the entire trip beforehand.
"Whether it be his food, or anything, he's not going to cut any corners," Schneiderman—who has embraced most aspects of Endelman's dietary philosophy—tells me later. "So when it comes to organizing these trips it's never just a casual, 'Hey can you come to the match this weekend?' He would have already sent out a text or an email four months prior to the match to make sure there weren't any conflicts."
I come unprepared with an iced coffee and a shitty frozen sandwich from Lenfest Café. Endelman, on the other hand, has an arsenal of mason jars filled with exclusively organic foods. He practices a nutrient-dense, organic product diet—one that is as regimented and well-informed as his road trip planning practices.
Our first rest stop is somewhere in New Jersey. When I wolf down a Burger King Whopper after the quick stop, he somewhat jokingly threatens to kick me out of the car, as the smell of anything but farmers' market-quality meat annoys him like a lanky lefty with a big serve and unorthodox spin could annoy even the most comfortable returner.
My next mistake is a worse one. I praise Andy Roddick and all hell breaks loose. Endelman admonishes my lack of tennis knowledge, albeit lovingly. He has a lot of faith in me as a student reporter, he says, but if I was to be taken seriously as a tennis writer, [I] "couldn't root for Andy Roddick." As I'd learn over the course of the weekend, Endelman is drawn to humility, and Roddick's perceived arrogance was a major turnoff.
Endelman grew up in Roslyn, Long Island, where he and his brother would often travel to nearby Forest Hills where the old US Open was played. This early exposure to high-level tennis motivated each brother to pursue the sport going forward.
A jack-of-all-trades on the field in high school, Rob Endelman played goalkeeper in soccer, shortstop in baseball, and on junior varsity baseball and tennis teams for Columbia.
In addition to playing on the field, Rob Endelman had an affinity for professional and college sports, memorizing every player on every roster for every major sport. He cites a combination of a love of knowledge and reading, a love of sports, a solid memory and just a little bit of "nuttiness" as having given him the motivation to memorize even the most minute details.
"I'm just curious" he says.
This encyclopedic memory would serve him well at his high school newspaper, where he served as editor in chief, and eventually also at Spectator where he worked as an occasional contributor, writing as a self-described "sports humor and gossip columnist," and the New York Times.
After graduation, Endelman moved to the Sports Information Department, working as an intern under then-athletic director John Reeves, Teachers College '83. He would pick up competitive squash, playing upwards of six days a week, and soon began employment as an institutional trader at Merrill Lynch, where he worked until December of 2003. From 1993 until 2003, he would attend only about two Columbia tennis matches per year due to scheduling issues.
"I was always around the team starting in high school and continuing into college," Endelman says. "While it was much different then, and I wasn't as vocal."
But Endelman wasn't being true to himself then. It took a leap of faith, enrolling in cooking school, leaving a comfortable job, and an eventual return to Columbia men's tennis before he could find his life's true passions.
As we pass Newark Airport in the car, Endelman and Schneiderman, seated in the front of the white Nissan sedan, are discussing the history of pilots' contributions to World War I and II efforts. Schneiderman cranes his neck in excitement as Rob—clearly well-read on the subject—assumes the role of the teacher, and we are the students.
Road trips with Rob are like a well-oiled machine—everything is meticulously planned out, from handwritten directions, to a stubborn E-ZPass that won't quite stick to the windshield, to a minute-by-minute analysis of traffic patterns and an ever-fluctuating estimated time of arrival. A Luddite at heart, Endelman delegates the role of navigator to Cinquegrana, who praises the Waze traffic app and gives Endelman an ETA with which he is satisfied.
After stopping at a Whole Foods just outside of Tysons Corner, Virginia—the only store that carried any semblance of organic food on these trips—we arrive in Charlottesville. We are tired, hungry, and I see another Whole Foods: It's a perfect fit.
"It's much closer to Whole Foods than to the tennis center," Endelman said of the Holiday Inn where he was staying.
Endelman knows Charlottesville well: He made the trip down to Charlottesville for National Team Indoors two seasons ago, where Columbia battled national programs admirably but was defeated in three matches. He had also returned to Virginia to watch men's tennis compete in the NCAA Championships. But the team came up short against Penn State, narrowly falling 4-3.
We wake up early in hopes of catching a bit of the Virginia-Texas Tech match, as Endelman was already looking forward to diagnosing opponents' tendencies in hopes of cheering more effectively.
Endelman's ability to read an opponent is well-known among alumni of the program, and is perhaps what separates him from a casual fan.
"I played college tennis, and I would say I had a decent mind for it, but Rob, who didn't play college tennis, arguably has a better mind," former player Ashok Narayana, Columbia College '15 notes. "He's really able to analyze the game, break down a player's strengths and weaknesses both on a technical and also mental basis."
After the Texas Tech-Virginia match ends, there is approximately one hour remaining until the Columbia match began. Thus begins Endelman's meticulous pregame ritual.
First, Endelman, a self-described "omnivore," eats lunch: organic vegetables, cheese, avocado and organic whole wheat bread from Whole Foods. He fills up his glass water bottle—he never uses plastic containers because of the possible toxins. He then uses the restroom and brushes his teeth with chemical-free toothpaste.
"I need to feel clean before a match starts," he explains. "Once the match starts, I can't take a break."
The team's first opponent was Mississippi an opponent capable of defeating Columbia, and a nervous Endelman sits alone on the bleachers above the middle of the top three courts.
Rob is about to go on the clock.
"The key is not to cheer at first, and just let the matches play out," Endelman says of his cheering strategy. "If we are winning on all three courts, why interrupt the flow of the match?"
But as the doubles point proceeds against the Rebels and the Lions find themselves at risk of losing the doubles point, Endelman springs into action. It all comes down to a tiebreaker at second doubles, where junior Will Matheson and first-year Jack Lin need to win to clinch the cherished doubles point.
Endelman's cheering gets louder, and becomes more frequent. The chorus of "Let's go Lions" morphs into "Here we go Will! Here we go Jack! this point now! This point now!" as Endelman attempts to will the team to victory single-handedly.
It doesn't work. The team loses the final game in heartbreaking fashion, and Columbia is trailing 1-0. It now needs four singles victories to win the match, and Rob is admittedly very concerned, but there is still work to be done.
Sparked on by Rob's positive cheering, the team bounces back, winning five first sets en route to a dominant 4-1 victory.
Later, once the victory had been clinched, in the pristine restroom, I overhear a Mississippi fan mutter, "that fucking guy doesn't shut up."
I don't tell Rob this, as he "could care less" about perceptions—at least now. It wasn't always this way, however.
In an interview last April, Endelman emphasized that his cheering wasn't always the most positive. At one particular match, he was encountered by a parent of a player, who told him to "stop acting like a 18-year-old," after Endelman took exception to what he perceived to be a questionable line call.
Endelman cites this experience as well as a series of yelling matches with fans of other Ivy League teams as having transformed his perspective. After this sobering experience, Endelman decided that a change needed to be made. Psychologically, he recalls, cheering in a positive way can both boost "our team" while throwing the other team off balance.
"These matches get really intense," Howie says. "So it makes a difference when people are getting into it, but they're only supporting our guys."
Narayana agrees wholeheartedly.
"It's tough to quantify the impact of the positive cheering," he says reflectively, "There's just clear moments in my mind where matches turned because of cheering and just getting guys to believe. And just the relentless cheering and optimism, [Rob's] positive cheering is huge. It all starts with him."
And while Endelman did not always cheer in this manner, his evolution into a positive, energy-filled supporter has had drastic effects on the team's performance.
While the matches in Charlottesville were certainly close, after Columbia's first Ivy loss in nearly four seasons, his cheering was put to the ultimate test.
Last season, former player and then-senior Shawn Hadavi, Columbia College '17, was enthralled in a battle against Dartmouth's first singles player, a day after Columbia suffered its first defeat in 34 Ivy League matches at Harvard. With the team in desperate need of a win and the match growing ever closer, Hadavi was down in the second set, in danger of going to a third and deciding set. Sensing the urgency of the moment, Endelman went to work once again.
Instead of "Let's go Lions," his cheers morphed into what Endelman calls "pitter-patter:"
"Here we go Shawnie, let's go Shawnie, right now Shawnie"
His cheering sped up and slowed down to help Hadavi and to change the psychological playing field.
Hadavi would break serve and hold on for a 7-5 victory in the second set, where the Lions would eventually clinch the match and go on to win a fourth consecutive Ivy League title later that season.
Hadavi reminisces on the moment, "It's amazing, he calls it 'engineering a break,' and he engineered two breaks for me. He's smart in the way he does it, and he can change matches like that."
At the team's most recent match against Vanderbilt, the Lions were missing star sophomore Jackie Tang, who was on Davis Cup duty in Hong Kong for the weekend. Endelman was more apprehensive than usual, as Vanderbilt's narrow 4-3 loss to the ITA's No. 1 ranked team in Wake Forest the weekend before made him nervous.
Columbia sniffed out yet another victory, tallying a 4-3 win to stay perfect on th the season. But this time, Rob's impact on the match was highlighted by none other than Vanderbilt head coach Ian Duvenhange, who asked Rob to "come cheer for us sometime."
"Rob stands out among the people," former player Rajeev Emany, Columbia College '05, says. "There could be 250 people watching any of these matches, you can always hear Rob's voice. He is invaluable, and we've said it that he is that X-factor, that intangible thing that the team has, that he is a part of the team. He is that extra team member, and there's no one like him."
The next day against Texas Tech, Endelman puts his scouting from the previous day into practice. He is relieved this morning because Virginia lost the day before, meaning its fans wouldn't distract him from "doing [his] thing." But Endelman, for the first time in my experience, meets his match: an equally loud fan cheering for Texas Tech.
But Rob is up to the challenge.
During the doubles point—which Columbia eventually wins—Endelman and his opponent, a certain Keith Williams who starred in a 2007 ESPN feature about youth tennis, exchange cheers. It was a cacophony, as "Let's go Lions" and "Let's go Raiders" bounced back and forth like a pendulum as the teams traded points.
During the five-minute break between doubles and singles, Endelman goes over to Williams and the two exchange pleasantries. Endelman later assures me there was a a mutual respect between the two. Rob notes that Williams' support is "exactly how you're supposed to do it. Totally clean, nothing negative. He wanted his team to win as much as I did."
Columbia wins the match, advancing to Seattle for the vaunted National Team Indoor Championships for the third time in four years, but in the end it is Endelman's chance encounter with a Texas Tech supporter that brings him full circle.
"It was surreal to see someone kind of like me," Endelman reflects.
To save time on the way back from Charlottesville, we had packed our dinners in advance to avoid the 30-minute stop at Whole Foods.
The car ride back is quiet. The usually talkative Endelman is locked on to the road: his eyesight has, by his own account, "deteriorated with age." Schneiderman, Rob, and I excitedly discuss how the seeding in Seattle would shake out after the results across the country came out. However, besides those conversations, there wasn't much else. Everyone was exhausted after a working vacation and yet another successful weekend for men's tennis.
While it is difficult for Rob to leave his wife and two sons behind at home for these trips, he typically plans his schedule around the tennis season. Feeling liberated from a traditional work schedule, Endelman relishes his time with his family at home but also that with his family at the tennis center.
"I love my family and my brother, I love cooking, and I love Columbia tennis," he adds, "I think that's the just the best way to put it."
For the ever-humble Endelman, it's hard to fathom a life without Columbia tennis.
"Why stop now?" he asks, "This is what I love."
Editor's Picks
A League of its Own: Barnard's declining role in Columbia Athletics
by Christopher Lopez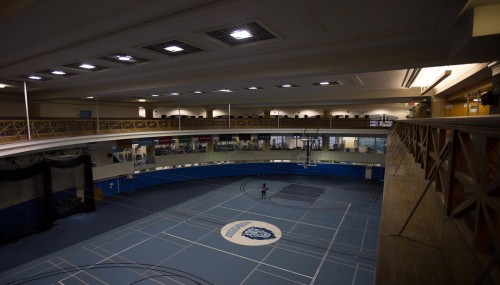 Getting more out of Dodge: The next step for student recreation
by Richard Wolff