Written by Kara Schechtman
Edited by Maya Perry, Juliana Kim
Photography by Katherine Gerberich
Graphics by Janie Haseman
Web development by Kevin Li
In 2000, Columbia ran out of space to store its books.
18 years later, on a brisk February morning, I make my way to a massive book warehouse somewhere in New Jersey.
With me is central New Jersey native and Spectator photographer Katherine Gerberich, who serves as my Penn Station Virgil. We pull into Princeton Junction and plug an address—400 Forrestal Road—into Uber. A few minutes later, we arrive at our destination: a big, concrete building with a tiny, concrete door. A pickup truck is the only vehicle in the parking lot.
We hesitate in the Uber for a few minutes, thinking this building can't possibly be the right one, before approaching a makeshift bell with a crumpled Post-it note instructing visitors to ring. (Shortly after we are let in, we realize that Uber doesn't have enough data on the address, so our driver brought us to the wrong side of the building. "I did that my first day here too," Ian Bogus, the director of the book warehouse, tells us. "And I thought, this isn't the door they brought me in on during the interview!")
The strange book warehouse, unknown to Google Maps and Uber, is called the Research Collections and Preservation Consortium, ReCAP for short. You might recognize the name from the bright pink sticker on the spines of books floating around Butler. The sticker appears on any items requested for off-site delivery on Columbia Libraries Information Online.
This foreign library is radically transforming the way we collect and maintain knowledge at Columbia. We've moved nearly five million books to the facility over the past two decades. Just this past fall, we entered a partnership connected to ReCAP that increased the size of our catalog by nearly 50 percent. But because those books—12 million requestable volumes, in total—are hidden from sight in New Jersey, these changes have gone relatively unnoticed.
Walking through the stacks of ReCAP is an uncanny experience: It's like being inside the creation of an alien to whom the concept of a library has been thoroughly described, but who has never actually been in one, as the saying goes. The books are on shelves, but they're all arranged so that their covers, rather than their spines, are facing outward. The 20 million volumes have been organized, yes, but by physical size, not subject matter. Most of the books are not even in physical reach—the aisles stretch 30 feet high. Employees use forklifts to get orders off the shelves.
To see the invisible changes that Columbia University Libraries is undergoing, it is necessary to see ReCAP up close, not from CLIO, as most people do. That's why I am here, looking bewilderedly around ReCAP's stacks. And it's absolutely overwhelming.
ReCAP has added urgency to a question I've always struggled to answer: How does Columbia maintain such a mammoth collection? I wrote a story on Butler in 2016, trying to wrap my head around that question by developing an understanding of the immensity of the knowledge housed in CUL. When I spoke to Janet Parks, curator of drawings and archives at the Avery Architectural and Fine Arts Library at the time, she compared the process of learning how to research at a library to the process of learning how to swim—scary at first but eventually second nature, a description that resonated with me.
The ability to research is perhaps one of the most valuable skills I've acquired in college, but I also realize that this new intuition poses a new danger: forgetting the means of my discovery.
Research, once you've done enough of it, may feel like swimming: It gets easier over time, until you don't notice what you're doing. But in fact, research depends just as much on the water you tread—the tools of your research—as it does on your own volition. A bibliography is nothing but a series of decisions facilitated by the setting of your discovery: an impulse to look up a book from a list, a glance at the book on the shelf with the interesting cover, or a decision to sift through books next to the one you were originally looking for.
Walking around ReCAP, I begin to understand just how much this strange book warehouse changes the stacks paradigm. I think to myself, "So this is water."
It's easy to become accustomed to the convenience of the "Offsite" button in CLIO and swim in ReCAP's water through this online resource. But the decision to store books off-site has been a complicated one for faculty, librarians, and students to negotiate. It has posed a series of problems that are still in the process of being solved: What goes off-site? How will we discover books serendipitously? How can we maintain the experience of browsing?
Let's ReCAP
"We were formed because of a space issue," Bogus bluntly states at the beginning of our interview.
And a space problem was all there was, at least at first, when ReCAP (or, depending on whom you talk to, Book IKEA, Book Costco, Book Heaven, or Book Purgatory) was just a warehouse for all the books that didn't fit on our campus.
The origin story is what you'd expect: Shortly before 2000, CUL found itself running out of room for books. It was faced with a difficult choice between three less-than-ideal options: find a new space to put all the books, throw away the old ones, or stop collecting new ones. Columbia, like most peer institutions facing the same problem at the time, decided to go with the first option.
Most peer institutions—Harvard, Yale, and Brown, for example—can build their own off-site facilities near their campuses and manage them independently. But because of the prohibitive cost of real estate in or near New York City, it wasn't feasible for Columbia to do the same. CUL correctly suspected that New York Public Library might be having the same problem. The two institutions partnered up and eventually struck a deal with Princeton to develop a high-density storage facility in New Jersey, where the costs are cheaper than in New York, for the three institutions to share, as Bogus tells me.
The three libraries, now allied, formed a consortium and bought a plot of land on Princeton's Forrestal Campus, one of those generic university satellites founded to host science experiments in the 1950s. Nearly 60 years after many of those experiments folded, the campus has another sort of experiment going on, but this time in librarianship.
ReCAP has been at Forrestal Campus for the past 17 years, shipping out 200,000 books a year and storing over 10 million of them in high-density shelving. It is, as Bogus tells me and as the ReCAP website brags, the largest such facility in the world. (The Library of Congress has more books stored in high-density shelving, but they're split across two buildings, a technicality that pushes ReCAP to the top of the list.)
ReCAP follows the Harvard Depository model, named after the first such high-density facility, built by Harvard in 1986. Books are kept in boxes called trays, whose width and height are calculated to ensure that no slot on the shelves is left unfilled. The shelves, usually towering dozens of feet, form aisles; groupings of aisles are called modules; modules are separated from one another by walls to allow for easy expansion and to block the spread of fire in the event of an emergency.
The modules themselves are indistinguishable from one another, demarcated only by sliding walls. I ask Bogus if there's any variation among modules and aisles. Apparently, some of them are a few feet longer than the others. Bogus points at one aisle and tells us that, just because it is holding larger-size materials, it happens to store about 200,000 books—a little below the average aisle and, coincidentally, the same number of books that ReCAP ships out to library patrons each year. But other than that, every aisle is the same, their contents determined solely by the institutional affiliation and item size. The facility, though meeting the main requirement for libraryhood—a collection of requestable books on shelves—is a drably uniform, super nerdy warehouse, not a library.
From a strictly preservationist standpoint, the Harvard Depository model is genius. As Scot Murdoch, the architect of ReCAP, tells me, the preservation index of books tends to jump hundreds of years in these kinds of facilities. Since so few people are entering the stacks, they can be dehumidified and kept at low temperatures, leaving books in far better condition.
Meanwhile, economically, it is far cheaper to pay for high-density space than to use valuable campus space to store books. Even though Columbia has to pay to ship the books when they're requested, the space on campus can be used much more efficiently.
This arrangement, however, is something that would have been inconceivable 50 years ago. Lizanne Payne, the shared print program officer at HathiTrust who served as a consultant during the developmental phases of ReCAP's Shared Collection, tells me that nobody could have anticipated ReCAP looming over Columbia's future.
After all, Butler has room for three million books. The rest of CUL houses 10 million more. And it's hard to imagine that 13 million books isn't enough when you take a moment to think about how big that number is.
While writing this, I took a break to to walk up the stairs from floor two to floor 12 of the Butler Stacks. I got out on each level and looked around, absorbing the scale of it: I can imagine fitting all the books I've ever read into just half an aisle. Then, I went outside and stared at our library's imposing figure, an immense neoclassical hulk held upright by that massive column of books, the thousands upon thousands of spines lining Butler's spine.
We really wanted for people to get a sense of just how just how many books Columbia owns, so we made a little game. To begin, press "Start".
Start
And yet a few million books, while a big enough figure to keep even the most voracious readers occupied for millennia, is too small for a research university like Columbia, a university that wants to keep pace with the explosion of knowledge that has accompanied the information age. So ReCAP was born to house millions more.
Caring about sharing
But housing millions more wasn't enough, when millions more were still in sight, lingering on Princeton and NYPL's shelves at ReCAP. Just last fall, Columbia, Princeton, and NYPL launched a program that allows us to access all those books, called the Shared Collection Service. The initiative integrated the off-site catalogs of Columbia, Princeton, and NYPL, displaying all the off-site books from each of the collections in their respective search engines.
"We gained access to 7 million items. It's amazing," Ann Thornton, university librarian and vice provost at Columbia, exclaims. "It took us over 100 years to build up a collection of 13 million, and then we got seven million overnight."
But the fanfare accompanying this massive growth in the libraries' size has been absurdly limited, consisting of a single CUL press release. Thornton acknowledges this paltry recognition, mumbling, "And it's like nobody noticed!"
The Shared Collection Service is a big deal. It is arguably the most consequential thing to ever happen to CUL in terms of collection growth. And though released to little fanfare, the results have been tangible in terms of access rates to the ReCAP collection. According to Thornton, there's been a noticeable increase in the number of non-Columbia items coming to and from ReCAP since the collection launched.
Unlike services such as Borrow Direct or Interlibrary Loan, which already allowed for the flow of books between libraries, the Shared Collection involves an even higher degree of technical and strategic coordination among the partner institutions. Generally, in a program like Borrow Direct, the partners retain total control of their books. Shared Collections are more restrictive in the policies that police books but involve more institutional integration and are thus more robust: Multiple institutions' books are housed in a jointly operated facility, accessed through a common middleware and regulated by a common set of rules on collection items.
That's a bunch of jargon about the difference between Borrow Direct and the Shared Collection, but it more or less amounts to a contrast that might look like this: After my first year of college, I ran out of room on my shelves to store all my Lit Hum books. Let's say I came up with two solutions to solve the problem.
In the first, I rely on a friend to retain her Lit Hum books, and I sell my own. Whenever I need to reference a Lit Hum book, I ask her to send it from her bookcase to mine, which she does. But then, two years down the line, my friend sells her Lit Hum books; once she does that, I have no means of accessing them anymore. This sort of arrangement is analogous to Borrow Direct's protocol: non-guaranteed, provisional access to other libraries' collections. While those agreements allow for access to more books, they also come with a risk, because those books can be sold at any moment. So while it's a nice benefit, it doesn't make sense to build collection strategies around this sort of arrangement. The safer option is to just keep my Lit Hum books, just like the safer option for libraries is to retain books that other libraries in Borrow Direct also own.
In the second solution, however, I decide to make an explicit agreement with my friend. My friend and I invest in a bookcase together, which we jointly own and maintain, placing it at a location central to both of us. To that bookshelf I contribute my first semester texts, agreeing to keep them indefinitely and allowing her to access them in perpetuity, even if I later decide to buy my own bookcase. She does the same for her second semester texts. Then, I sell the books from the second semester, and she sells her books from the first semester. The result would be a great deal for the both of us: We'd save costs by splitting the financial burden of buying the bookcase and gain money from the sale of the books, all without compromising our access to the texts. That's what a Shared Collection arrangement looks like for libraries.

COLUMBIA OWNS OVER 13 MILLION
LIBRARY ITEMS...




...RECAP GIVES IT ACCESS
TO 7 MILLION MORE.
Likely because of the economic benefits, Shared Collections came to prominence around the same time that the idea for off-site storage did—about 10 or 15 years ago. Both are collection trends that allow for growth within economic constraints.
"There were days back in the '60s and '70s where money for higher education and higher education facilities was more prevalent than it is now," Payne says, "And libraries used to say, 'Hey, we'll just add a wing to the library or we'll build another building.'"
But now, she says, such a growth strategy is hard to justify, especially since so many materials can be accessed online anyway. That's where the twin strengths of Shared Collections and off-site storage come into play: If two or three institutions can come to an agreement to keep certain volumes in a common facility indefinitely, then they can cut their costs by paring their collections of matching copies without compromising the preservation or use of these materials. Meanwhile, they can save valuable on-campus space.
For Columbia, Princeton, and NYPL, the evolution toward this type of shared collection has been inevitable but slow. "When ReCAP was founded, actually, one of the aspirations of the partnership was to be able to provide some accessibility to what was going into the shared facility," Thornton recalls.
But it wasn't the focus of ReCAP for the first decade of its operation. "All the volumes were kept separated into their own separate section. It was almost like a condo," Payne says.
And, in fact, for almost a decade, the agenda for a typical ReCAP meeting read like a bookish version of a condo association meeting. Thornton previously worked at NYPL as the Andrew W. Mellon director of the research libraries, a position in which she attended committee meetings for ReCAP in 2009 and 2010. "And the conversations were very much about things like the heating, ventilation, cooling system," she remembers. (She adds that these topics still occupy a large quantity of time at meetings, as I'm sure they do for even the most ambitious of condominium associations.)
"It was fairly frustrating, I think, that you didn't even necessarily know what was available there from the other partners' collections," Thornton says of the old system. "And if you did find something that was held by Princeton or New York Public, as a Columbia user, you'd have to request it through another process."
Those different processes, used before the Shared Collection to access non-Columbia items in ReCAP, were the traditional, more expensive, and slower loan programs between libraries. To request a book from Princeton, you'd have to use Borrow Direct, even if the item may have been housed on an aisle 15 feet from a Columbia one; to request a book from NYPL, you'd have to rely on the even slower Interlibrary Loan program.
The conversations to change that state of affairs began in earnest a few years ago, when the Andrew W. Mellon Foundation granted money to ReCAP to fund the planning phase of a project to integrate the institution's collection. The major hurdle for the libraries was technological: They needed to create a middleware that could integrate all three institutions' catalogs and display them natively in each institution's catalog search. The total cost of the effort to enact this vision was $2 million, with the partner institutions providing half the funding and Mellon funding the other half. As of last semester, the system is deployed in both Columbia and Princeton's catalogs. NYPL is providing books to the partner institutions but hasn't fully integrated the results into its own catalog.
Compared to other similar collections, the ReCAP Shared Collection is conservative in its approach. The focus, at least for now, is not on removing duplicate items, as the more radical of these collections do—and as I posited I might do for my Lit Hum books—but instead on allowing for easier and faster access to the collection items housed in ReCAP.
Some think it's unlikely that the collections will purge their matching copies: Bogus tells me that any effort to fully remove unnecessary duplicates or triplicates would be technically challenging, because the books are housed by size to maximize storage density. The Provost's Advisory Committee on the Libraries, in the 2016 Strategic Directions Report, also expressed concern about removing matching copies, since it might mean discarding books with marginalia or other unique features for other volumes.
But Sarah Thomas, the university librarian at Harvard, which will soon join ReCAP as a full member, believes that removing matching copies is a powerful collecting tool (in fact, it's much of what is incentivizing Harvard to join the partnership). Thornton also speculates that these partnerships might be valuable for removing unnecessary preservation of the same items across collections.
In other words, the path forward with respect to matching copies, like so many of the decisions about ReCAP's future, is still unclear.
Two hydrogens and an oxygen
As we meander through ReCAP's aisles, Katherine points at a folio volume on the shelf. It's the kind of book that is quintessentially a book: brownish and pulpy, tied together with a string, the cover's edges curled and fraying. "What's that?" she asks Bogus.
"I can tell you nothing about that volume except its barcode," he replies—the answer we'd both expected but are nonetheless disappointed to hear.
It's not lost on us that in a traditional library, Katherine, upon seeing this book, could have easily discovered more information about it. She could check its call number, look at the books around it for context, or even just pick it up off the shelf and flip through the pages. In ReCAP, none of these actions are possible. In fact, had we not been there physically (which, had we not been reporters, we wouldn't have been: The facility has extremely limited public access), she never would have found it at all, unless she'd looked up the specific title.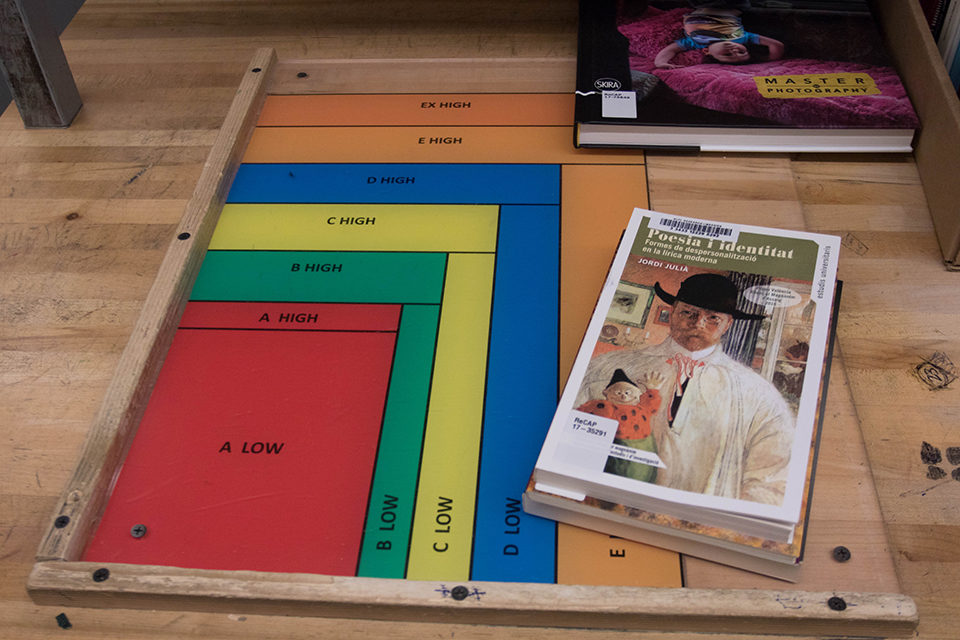 Discovering useful books on the shelves that you didn't intend to find—what Katherine tried but failed to do at ReCAP—is something librarians and faculty tend to call "serendipity." It's a concept with which I first came into contact before matriculating at Columbia in a 2012 write-up about summers in Butler from the New York Times. Ben Ratliff illustrates serendipity in all but name with his description of browsing the stacks. "It's not the current nature of finding information," he writes. "Doing it the inefficient way, you use the senses. You look at a row of spines, imprinted with butch, ultra-legible white or black type; your eye takes in more at any time than can be contained on a computer screen."
The preservation of library serendipity may seem like a trifle. But it's not inconsequential: It cuts to the core of recent changes to the discovery of knowledge. The erosure of serendipity is the retreat of an entire analog way of learning, in which the "inefficient" way can often be the most productive. In its place, we are getting an entirely new method of discovering books, with its own advantages and disadvantages.
Indeed, much is still to be determined about this new modus operandi. It's been a process for library patrons, especially faculty, to wrap their heads around the new state of affairs and for librarians to work with them on their grievances.
The process of accustomation began in 1987, when Columbia moved 400,000 books uptown to the 131st Street Annex. Faculty, who were not consulted on which materials were transported, were disgruntled by a lack of transparency in the process. A library report from 1994 references the ill-fated initiative, noting that the libraries would take heed of the need for more transparency but also noting the need to continue moving books off-site to maintain their collection rates.
The movement of books off-site went on for many years, before reaching another point of contention in the 2010s, again because of a lack of faculty involvement. The advisory committee of professors that had traditionally advised the libraries on its directions deteriorated under the tenure of James Neal, according to Jean Howard, the George Delacorte professor in the humanities and chair of the current PACL. Though another advisory committee formed to deal narrowly with ReCAP, the lack of a broader committee left faculty feeling cut off from important decisions.
Dissatisfaction with the library's approach reached its apparent peak in 2014, after the provost's office commissioned an internal review committee to respond to a library self-study. One of the primary concerns of the committee was that joint management arrangements like ReCAP and the (still under development) Shared Collection "might further undermine the commitment to having lots of books available in the campus library," according to a summary provided in the minutes of a Faculty of Arts and Sciences meeting heland after the release of the response. At that same meeting, many faculty aired complaints on the movement of books off-site and the general decline in faculty input to the libraries.
When Ann Thornton took up the position of university librarian a year later, the PACL reconstituted with the mission of providing an avenue for faculty and student feedback to CUL operations.
A year after that, the Strategic Directions taskforce of the PACL released the 2016 Strategic Directions report, which summarized challenges and a vision for the library going forward. The report motions toward the need for ReCAP, stating that "a host of policy questions surround this one institution." Two of those questions are the ones I've discussed, which have been of historical interest to the faculty: whether ReCAP should be discarding matching copies and how Columbia can make up for the loss of browsing ability with the movement of books.
With the acknowledgment of these questions out in the open and with faculty now working with librarians to solve these problems, the state of affairs around ReCAP is not so much a question of why it exists, as a question of how we should use it. Broadly, most faculty members seem more aware that ReCAP is a necessary institution.
"Nobody is totally happy with this," Howard tells me. "We would love a giant building that would hold everything. But those of us who really understand the exigencies of collecting these days know we have to have an off-site center."
There are, however, a few people who are happy with ReCAP, embracing it as a full strategy. The ones I spoke to who are most excited about ReCAP's possibilities tend to be the futurists. Murdoch quotes Michio Kaku's imperative to "digitize the friction" and speculates that books, one day, might be delivered to library patrons in drones. Payne, also enthusiastic about ReCAP's possibilities, is, after all, an officer at HathiTrust, one of the biggest forces behind the digitization of books. Thornton and Howard also tell me that most of the faculty in STEM subjects are more than happy to have books kept off-site.
For the rest, it's a question of working on a departmental basis to mitigate the damage. "There is no speaking of the faculty on this issue," Howard says. Thornton tells me that research librarians work according to the departmental preferences to determine what books will stay on-site. If there's no active research on campus going on in a particular language, for instance, then books written in that language are good candidates for off-site storage. Often, low request rates are used as a proxy for selecting books to move off-site: If a book hasn't been requested in a certain number of years, then they move it off-site.
Thornton and Thomas both tell me that they believe they can maintain the integrity of their central stacks while still moving these collection materials off-site. Both also say that they view their central stacks space as a structural blessing, a collection that can be curated to engineer serendipitous experiences. Thornton also mentions Virtual Shelf Browse, a feature of CLIO since 2015 that allows for viewing books on a digital "shelf," as a compensatory measure.
But many disagree that these measures can ever fully replace in-person browsing. Thornton acknowledges that Virtual Shelf Browse doesn't feel the same as running your hands along a tangible shelf of books. As for the question of curating the stacks, Howard believes that no amount of curation can replace what used to be inherent to the stacks. "If you cherry-pick a few of those [lower-use volumes] to leave, there's still holes and lacunae," she says.
For better or worse, Howard believes the stacks are different now. She tells me that, because knowledge is ballooning, there are simply experiences of libraries that can no longer be had.
Shelf awareness
My bedroom at home has two matching white bookcases, acquired at different times and different places. The first shelf is shorter, a little stouter, and right across from my bed. The second is taller, a little slimmer, and behind the foot of the bed. Every night I'm home, I doze off staring at one bookshelf or the other, like I have for as long as I can remember.
But after combing my memory for hours, I can honestly say that I have only one meaningful memory of these bookcases and even that one I barely ever think about. When I was eight years old, the bookcases filled up and demanded my attention. I solved the crisis with the first method that came to mind, which happened to be stacking the books horizontally to make more room on the shelves.
Upon protest of my parents to this new arrangement, I cleared some room by evacuating the Nancy Drews and Lemony Snickets that I hadn't opened in a while and righted the books on their spines. Then I stopped caring about my shelves again.
I still have space problems (some of my CC books have no permanent lodgings), but I don't think about them, because my woes have an increasingly clear terminus. In a year or so, I'm going to graduate and move out of my home, and my books can come with me then.
But unlike me, Columbia itself has no plans to graduate and leave its home. This institution, which has lived in Morningside Heights longer than I've been alive, confronts the Sisyphean task of keeping pace with the intellectual output of seven billion humans (and all their ancestors). Seven billion humans who can breathe and write and think and buy new bookshelves and move out and change must be matched by one school, brick and mortar, which can only shapeshift clumsily, like an arthritic Transformer toy.
Columbia's space problems are a memory that will continue to revive itself, a problem which will be relevant as long as print publications are relevant (which everyone I interview agrees will be a long time, even with the growth of online publications).
We have known about this problem since 1930, when Columbia decided to construct a new library to address the space deficiencies of Low Library: It was incapable of holding the University's collections, as writes Barry Bergdoll in his book, Mastering McKim's Plan. The replacement library was conceived as antithesis and complement to the old one, a central stacks column rather than airy atrium filling its center, providing room for four million books. In the plans, anyway, it provided room for four million. The building, once constructed, actually only made room for three million, so University officials foresaw space problems.
That library was Butler—the library that seems so mammoth to me, to students and faculty in the 1930s not privy to these administrative discussions, and probably, were she to see it, to Rory Gilmore. But it ran out of space, as CUL always knew it would.
Tempted to draw the analogy between Butler and ReCAP, I ask Thornton the question that's been looming over my reporting: What happens when Columbia runs out of space again? "Our current projections here at Columbia take us to the year 2026," she tells me, adding that they'll probably begin planning their next move in 2020.
ReCAP is designed to expand incrementally, so the obvious thing to do would be to build another module, but Thornton's not sure if that will be the answer. As she tells me, "It's a really significant financial commitment on the part of all the institutions." And this time around, it's likely to be even more significant than usual. Bogus tells me that after ReCAP runs out of space in its current structure, any further construction would necessitate demolishing its neighbor, a Princeton lab on the Forrestal campus. (ReCAP, which technically owns the lab facility, currently rents Princeton the space for one dollar a year.)
So in 2020, when ReCAP reaches the same age I am now, there will be a moment of reckoning: Will it expand? If the answer is no, the facility will have lasted us 26 years, from the years 2000 to 2026, just under half of Butler's span. ReCAP will have been a 26-year stopgap to the unsolvable problem of how to grow and maintain unbounded knowledge.
In 2020, I will have graduated, bought a new bookcase, and stopped caring about my shelves again. But Columbia can't afford to do that: Our next shelves will create new methods of discovery, new problems of research, and new questions for faculty, students, and librarians to answer.
Editor's Picks
How the Margins of Shared Books Tell Our Stories
by Grace Holleman