After the election, I've noticed that people take more time to look one another in the eye. Perhaps in beholding one another, we look to come together based on the values we share, given all the divisions that the election results have revealed.
As we returned to our routines in the following days, the time we spent looking at each other lost some of the raw intensity and emotion that it harbored on election night. But some places still retain a slice of that night. Post-it notes responding to Trump's election still stretch across a wall of the Union Square subway station in rainbow hues.
Commuters take photographs as they leave and enter the station. Some look quietly at the messages written on each square, taking close-up photographs. Others take smiling selfies in front of the vibrant display. In organic art installments such as these, we can take a pause and look around.
The installation, just like the gathering at the Sundial, breaks down barriers between strangers.
As I stood before the wall with a friend last weekend, I noticed an elderly woman in a beret looking solemnly into the camera as her companion took her photograph. She then reached for the camera and they switched positions, the woman clicking the shutter as the man she was with stood in front of the wall.
I asked if they might want a photograph together, and they agreed.
"We traveled to see this," the woman said, as she wiped the well of her eye with her index finger. "So sad."
The man put his arm around the woman as they stood together. Neither of them smiled, but their eyes were earnest and kind. I twisted the camera lens and a large cluster of red squares came into sharp focus above their heads. My friend Kelvin tapped me on the shoulder.
"The red spells out 'MAGA,'" he said. "Make America Great Again."
Flustered, I explained the situation to the couple. I asked if they wanted their pictures taken where the red lettering wouldn't show. There was a brief pause. They had chosen this patch of wall—perhaps intentionally.
"I'm not sure which side you're on," I said slowly. "And these photos look fine. But I'm happy to retake them somewhere else."
"Oh come on!" the man said. "Which side do you think we're on?"
I looked at him, not knowing what to say. The woman laughed a little, shaking her head.
"It's fine," the man said, looking at me. "I think they're ironic."
The man beckoned to Kelvin and me as I tried to figure out what the irony was. "Come, we'll take your photograph."
It occurred to me later how he might have interpreted the irony of the MAGA letters at the Union Square station. It was the messages of inclusion on this particular wall that make America great, not the hateful rhetoric that Trump's campaign has come to represent.
While the timing of the election and the special installation gave rise to this chance meeting, this interaction is not unlike exchanges between tourists at any popular attraction in New York. Neither the photographs nor the conversations themselves are particularly groundbreaking. It is perhaps not so much the time and place but the opportunity for connection—however fleeting—that draws us to these spaces.
Photography, in particular, is a medium that can remove barriers between those before and behind the camera in everyday moments. After all, I've had similar experiences taking photographs for strangers even before the election.
I stood inches before Monet's Water Lilies at the Museum of Modern Art and took some close-ups of the petals descending into a vortex of violet and navy. As I turned around, I saw a woman smile at me. Caught taking iPhone pictures of high art, I smiled back sheepishly. I felt a little exposed.
She extended her smartphone toward me, asking that I take a photo of her. I followed as she walked toward a different Monet painting that hung on the opposite wall. These water lilies glimmered in lilac and sea foam green. The woman cocked her head toward the painting, her forest green scarf around drawing attention to her lovely features. She stood paces away from the work.
"Don't you want to stand in front of the painting?" I asked.
"It's fine," she exclaimed. "I'm sure you know what you're doing already."
We were both there to look closely at the paintings on the wall, but for that moment, we turned our gaze on one another.
Before I left the MoMA, I saw her bent over a kidney leather couch and I took this picture.
This time, I didn't want her to see me as I was taking the photo. I wanted her to remain aware only of herself. After taking a few subtle photographs, I wondered if I would catch her eye as I tucked my phone into my bag and walked past her. But she didn't look up.
I felt a pang of regret for not sharing my stolen glance with the woman from the MoMA, this candid moment away from the paintings.
I used to take most of my candid photos on an iPhone. It was easier to snap a photo on a smartphone than to hide a large camera from view. Besides, I didn't even know how to use a DSLR camera until my first assignment in film class this semester. Beyond the convenience of mobile devices, I didn't want strangers to realize that I was taking photos of them. My presence was an intrusion that might disrupt a private moment.
In her essay "In Plato's Cave," Susan Sontag describes photography as an act of voyeurism, a way of "encouraging whatever is going on to keep on happening." As such, my invisibility was necessary in keeping what I want to capture private and authentic. Once the subject of the photograph became aware of me, the candor of the moment disappeared.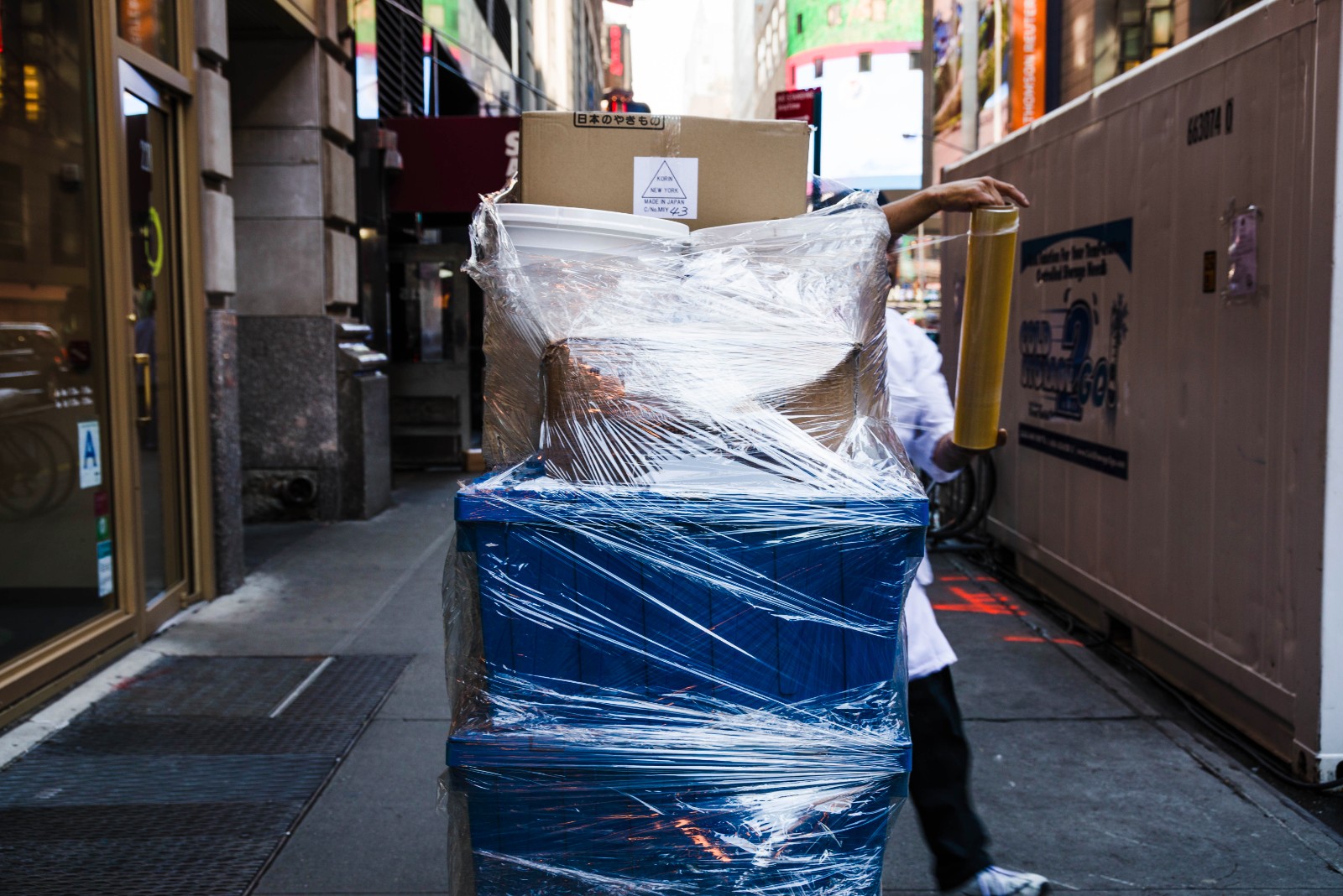 Even so, I realized that there is also a way to return my stolen glances: by refashioning them as gifts from the beholder.
A few days after my encounter at MoMA, I spotted an elderly woman dining alfresco with a majestic white dog. I recognized them from a photograph I took a week before, the dog nudging its nose through the restaurant's enclosure as the woman caressed its furry ears. I decided to show the woman the photos. As we scrolled through my phone, judging together where the dog looked his best, she began to tell me about how she came to settle in Morningside Heights.
She buttered her bread, chatting with me between mouthfuls, as the dog gulped down a slab of raw salmon. She allowed me to take more photos from different angles as we talked. After our conversation began to repeat itself, after half an hour, she stared incredulously at the phone in the crook of my palm. "You're still taking pictures?" she asked.
Making myself visible as a photographer allows me to approach my subjects in a different light. These conversations help me contextualize who they are in relation to their surroundings. Unless I initiate a conversation, there are details I can't know about the people I photograph.
At first, I saw photography as a means to add interest to the articles I wrote for this magazine. Visuals gave context to written stories. A good photo lended it legitimacy. But I've since come to love photography as a standalone visual statement.
Accessible and universal, photography is a narrative form of its own rank. In the words of Sontag, it allows me to "participate in another person's (or thing's) mortality, vulnerability, mutability." Taking pictures is a way to show the people I photograph how I see them. Sharing my photographs with them can serve as an icebreaker, an invitation for further connection and conversation.
As much as I enjoy initiating conversations with the people I photograph, the images themselves remain my most cherished mementos of any given encounter. While my gaze through the viewfinder connects me to other people, the process of framing the shot feels personal and private. Perhaps it's the same rush of adrenaline a player feels before scoring a goal in a team sport. Being behind the camera also allows me to focus completely on what I see. While connecting me to my surroundings, taking a photo feels as immersive and private an experience to me as the unguarded moments I try to capture on camera.
Adjusting the exposure of light into my camera lens heightens my awareness of the moment I'm recording, while also allowing me to transcend it.
***
I've since returned to Union Square Station to take a closer look at the Post-its on the wall. Where the colorful squares ended, a street musician and a young boy danced with one another nearby, twisting their bodies to the syncopated beat of a boombox. While others read the notes on the technicolored Post-its behind them, the musician and the boy held each other's gazes. I looked on from behind the camera lens.
Have fun leafing through our ninth issue, and subscribe to our new weekly newsletter, As We See It!