Peter Awn, the eighth dean of the School of General Studies, who built and shaped the character of the school across two decades of expansive growth for the betterment of student life, died on Sunday.
Awn's death, announced by University President Lee Bollinger on Monday morning, was the result of injuries sustained during a car crash. While walking home from campus on the evening of Jan. 25, he was struck by a vehicle on 116th Street and Claremont Avenue at approximately 7 p.m., and remained in critical condition at the Columbia University Irving Medical Center.
In an email to the University, Bollinger described Awn as "one of the essential leaders of Columbia University's modern era."
"No one has been a more beloved member of our community than Peter. The grief we feel at his loss is overwhelming," Bollinger wrote.
A former Jesuit priest and scholar of Islamic religion, Awn instituted sweeping changes across General Studies, where he served as dean between 1997 and 2017, capping off a career of more than four decades in higher education. Under his tenure, the school became increasingly integrated into Columbia undergraduate student life, saw an exponential rise in the number of student veterans, and became able to provide an education that was increasingly on par with the academic rigor of Columbia College. Even now, 20 years later, the school continues to see changes—student enrollment in dual B.A. programs, increased donor engagement, and added support for female veterans—that reflect Awn's initial vision.
Yet, again and again, students, faculty, and administrators point to his academic and administrative triumphs as secondary to his human ones. A man known for his socks, suspenders, and mischievous smile, Awn mentored thousands of students through a crucial juncture of their lives, and, for many, often for years beyond—officiating their weddings, meeting their children, and cheering them on in the New York City Pride parade.
Though Awn's efforts have rendered the School of General Studies from 20 years ago nearly unrecognizable to Columbia students today, its perennial financial challenges mean that there are still many hurdles to overcome—chief among them being the school's inability to provide need-blind financial aid for its students.
Yet, throughout two decades of deanship, Awn was an unwavering source of optimism, continuously pushing the school forward with the same enthusiasm and compassion in both its darkest and brightest times, according to the many who worked with him. Even after stepping down as dean, Awn continued to teach, mentor, and guide others as a religion professor and remained involved in advising General Studies' new leader, Dean Lisa Rosen-Metsch, GS '90. Through all of these changes, one thing never left his mind: service to his students.
"I've never been bored. Annoyed? Yes. But it's been a real privilege to teach here and to be part of seeing General Studies really come into its own," Awn said in an interview with Spectator in fall 2016. "To me, that has just been incredibly gratifying."
Under Awn's deanship, the General Studies flag was raised on top of Lewisohn Hall on Dec. 11, 2013, cementing the school's place at Columbia, both physically on the Morningside campus and figuratively as a pivotal part of the undergraduate community.
But when Awn initially took office, neither the identity of General Studies nor its place in undergraduate life had been clearly carved out. Many student groups still excluded General Studies students, the Core Curriculum had not been fully integrated into its requirements, and Columbia did not have a center for student veterans on campus—a population which now comprises around 20 percent of the General Studies student body.
"I knew, and my colleagues around the University knew, [that the traditional model] was a model that was well on its way to being buried," Awn said in an interview with The Blue and White in 2011. "That what matters most is an academic model of full integration and the creation of a model of education that the faculty can manage easily without worrying about, 'What the hell are the GS requirements. What are the College requirements?'"
At the time, Awn himself was also more outwardly reserved, according to Current General Studies Vice Dean Curtis Rodgers, who has worked with him since 1998. Though his drive and focus on supporting students never wavered, Rodgers described a much more internal figure in the early 2000s who had not yet shared his full personality with others.
"The Peter who was celebrated at the end of his 20-year deanship was different even than the Peter I met a year into his deanship. Early on, he was much quieter about who he was and really focused on just the work. …. There came a moment in time where he had sort of without trying to do it built this amazing personality and it was a wonderful thing for him to be able to lean into that a little bit."
One of these moments came in 2003, when—in a scene that would now surprise few people—Awn dressed up in scrubs and distributed lollipops to students in the General Studies Lounge in Lewisohn Hall to encourage flu vaccinations.
Awn's vision of General Studies was one that not only focused on academic rigor, but also spoke to the diverse needs of a lively, social student body—particularly focusing on the needs of students who took nontraditional paths to college, such as those who had served in the military, held professional careers, been incarcerated, and more.
In 1997, at the beginning of Awn's deanship, psychology professor Geraldine Downey approached him with a request. Through her work in Bedford Hills, a correctional facility for incarcerated women in upstate New York, Downey wanted to provide ex-prisoners with an opportunity to receive an education and a degree, and other faculty said there was only one person who could make this idea a reality: Peter Awn.
Awn, Downey said, expressed his support immediately after visiting the facility.
"He had this generosity of spirit … for other people who might have been marginalized or excluded. He wanted to open [General Studies] up and make people feel welcome and give them the support they needed to succeed," Downey said. "It opened the pathway to the kind of students the world needs to be the future leaders, but might not otherwise have come to Columbia."
This vision of inclusivity and overwhelming empathy was imparted to those who worked with Awn from the day they met him.
Rodgers, who has been a part of much of the recent transformational growth of the school, said he still vividly remembers the first day he interviewed with Awn in 1998, at a time when Rodgers understood only the broad strokes of what General Studies could become.
"The way he talked about the school's mission and the students and the alumni—and he was only a year or so into his deanship—just absolutely for me convinced me in that moment this is where I wanted to be and this is what I wanted to do," Rodgers said. "It completely altered the direction of my own life. … To be lucky enough to have him as my boss for 20 years, I'll always be grateful for that."
With Awn at the helm, General Studies took strides to further support its veteran community in 2009 by joining the Yellow Ribbon GI Education Enhancement Program, a funding initiative that helps fill in the financial gaps that the GI Bill doesn't cover for veterans pursuing a Columbia degree.
Awn's advocacy for the veteran community extended past General Studies. Under his deanship, the University Senate voted to bring the Reserve Officers' Training Corps back to campus in 2011, more than four decades after the University terminated its association with ROTC during campus-wide Vietnam War protests in 1968. In partnership with the Graduate School of Arts and Sciences, General Studies launched the Columbia University Center for Veteran Transition and Integration in the spring of 2017, to provide educational programming and support for veterans transitioning into academic and civilian lives.
"He took a lot of the stress away. He really supported a diverse campus," said Abigale Wyatt, GS '14 and the first ensign commissioned through the Navy's Seaman to Admiral-21 Program after ROTC returned to campus. "Whenever I talked to him, that's what he was genuinely very interested in. The ROTC is just another aspect of that. He embodied everything that GS was," Wyatt said.
Many other students from nontraditional backgrounds have been ushered into General Studies through recently-established dual B.A. and joint programs, such as the program with Sciences Po launched by Awn in 2010 and the joint bachelor's degree program with the City University of Hong Kong formed in 2012. In the 2017-18 academic year, these programs boasted over 300 participating students combined.
In an email to the General Studies community addressing his plans to step down, Awn described the members of the dual B.A. and joint programs as "exceptionally talented and diverse students who are pursuing innovative and equally untraditional [degrees]."
Awn streamlined and strengthened the focus of General Studies and its academic goals. In 2010, the Postbaccalaureate Premedical Program at the school, the oldest and largest in the country, partnered with the Columbia University College of Physicians and Surgeons to offer postbac premed students accelerated degrees in bioethics, nutritional science, and public health.
Aiming to raise General Studies to the educational standards of the other undergraduate schools, Awn oversaw the school's transition away from adjunct-taught night classes and introduced Core Curriculum requirements into the General Studies education in 2012.
"If you're good enough to be a part of this intellectual community, we ought to treat you absolutely the same way," Awn said during an interview with the Owl, the alumni magazine of General Studies, in 2008.
However, the school has faced continuous financial constraints, which Awn identified as its most pressing issue moving forward. General Studies is a significant revenue driver for the Arts and Sciences, a governing body that also includes Columbia College and is a notoriously cash-strapped branch of the University. As a result, financial aid is one of the most glaring inequities between the two schools: While the college provides need-blind financial aid to its students, many of those in General Studies must take out loans and struggle to make ends meet.
"Even though we've been right upfront about the financial aid issue, that could make or break the school in the long term. There's no choice about it," Awn said in the fall 2016 interview with Spectator.
When Awn initially took office, the cost for General Studies students—who pay per credit, unlike the other undergraduate students—to take classes was much lower than the cost for Columbia College students. However, while changes to the school increased costs, the need-blind mandate was never implemented.
In 2018, when he stepped down, Rosen-Metsch took the helm as an alumna familiar with the mission of the school. Since then, she has sought to uphold Awn's legacy, moving swiftly to address the financial needs of General Studies and citing Awn's overarching vision as a driving force behind her work.
"Dean Awn is really incredible. People often said when I started that these are really big shoes to fill. … That just speaks to the love that the students have, students who just believe in the mission and really get this school," she said in an interview with Spectator in December.
A detail well known by General Studies students and administrators, Awn's office in Lewisohn featured a portrait of the dean, standing next to a leopard and magically levitating—or throwing—an apple, meant to symbolize the apple of knowledge. The portrait hung behind Awn so that any student sitting in his office would be compelled to look at the two together.
But the illustriousness of the painting—a gift from a former student—was outshone by the man himself.
"Floating the apple is probably the least magical thing that I've ever seen Peter do," Andrew Heinrich, CC '13, said.
For students mentored by Awn, and for many faculty and administrators as well, Awn's office became a place of reassurance, honest conversations, and life-changing advice. Filled with eclectic books, sculptures, and Islamic art, the office also reflected Awn's personal relationships—many of the items, such as an owl figurine, were gifted by former students. Through the objects, Awn, a typically private person, narrated to his students aspects of his worldly adventures.
"You know if you add up every time [Awn said] 'I spent 2 years here,' it adds up to 600 years," Heinrich said. "It's extraordinary what he's managed to fit into his life."
In 2002, Awn oversaw the creation of the MilVets at Columbia, a nonpartisan student group intended to promote community, networking, and conversations about military culture among United States veterans at the University.
Paul Yates, GS '05 and a founding member of the organization, spoke of his numerous memories sitting across from Awn's desk, listening to "outstanding" advice regarding what it means to be a patient leader—when to push for more, and when to pull back and wait. Yates said he also clearly recalls Awn's dedication to veterans' issues; Awn would promptly respond to every email, pick up the phone, and find a way to immediately reach out in response to any request for help.
Though Awn was only his dean for a semester, General Studies Senator Jonathan Criswell, GS '21 and Marine Corps veteran, remembers Awn's "above and beyond" commitments to both the LGBTQ and veteran communities on campus. Every year, Columbia veterans create and bring a float to the Veteran's Day parade in November, and in fall 2017, when Criswell showed up two hours early to prepare, Awn was already there.
"He always went above and beyond requirements. … I don't think I ever saw him when he didn't have a smile on his face. It was clear he was the heart of GS," Criswell said.
Awn's dedication to student leadership extended deeply into a push for social integration, to which he gave the same vigor and attention as academic success. In the early-mid 1990s, the General Studies Student Council—a body that is largely responsible for serving as a liaison between students and the General Studies administration and for planning social events on campus—was formed.
At the time, GSSC was comprised of a small group of students, just eight or so in 1996. By 1997, the council held 22 positions, but that same year, it was also denied a liaison from Columbia College Student Council to participate in and listen in on GSSC meetings.
Justin White, GS '04 and Business '07, cited his own struggles getting started on GSSC in March 2001. When sitting across from Awn at his desk, he realized that he knew nothing about how administrative structures functioned at the University. Ambitiously, he proposed the creation of a giant map of all administrators and offices at Columbia to aid both the student body and council members across the undergraduate campuses, an idea that Awn wholly supported.
"There was never a moment where I caught Dean Awn just maybe not having a great day. … He was just effervescent," White said. "He's always there to uplift you. I'm sure he didn't have great days every day, but as far as the face that he brought to all of us, it was always an upwelling of positive energy and real energy and excitement for what you were doing."
Years after the initial growth of GSSC, Peter Nason, GS '15 and former GSSC president, also made a commitment to make General Studies student life more visible on Columbia's campus. He met Awn during an advising meeting in the dean's office in his first year, and in his last year at Columbia, he sat there again, advocating for the General Studies community service coordinator to be recognized at graduation.
But in response, the Office of University Life told him it wouldn't happen that year. When Nason brought the issue to Awn, the dean "put his foot on the accelerator," because "if you had a good idea, he'd invest his energy into it as much as anyone else," Nason said. The project ultimately succeeded.
"He'd say something like, 'Peter, you can get all upset about that, but what's that gonna do for you at dinner tonight?' and I'd be like,'"Nothing,' and he'd be like, 'Exactly, so keep in mind where you are and how things work. Just focus on that and everything will be okay,'" Nason said. "He was really good at defusing situations without ever diminishing what you were trying to say."
Awn's commitment to his students went far beyond his desk and his office; the lounge space in Lewisohn often served as a second—if not more common—space where students could approach the dean. Every day on his way out of the office, Awn spent at least 20 minutes talking to students in the GS Lounge. According to Nason, he was never seen there wearing the same socks twice.
Awn, who identified as gay, championed the LGBTQ community in efforts across the University. In 1996, Columbia College renamed a space in Furnald Hall the Stephen Donaldson Lounge, dedicated to Robert Martin, CC '69, who founded Columbia's former Student Homophile League in 1966. Awn, who was present at the lounge's original opening, joined students in cutting the ribbon of the newly-redesignated Stephen Donaldson Lounge in September 2017 at Schapiro Hall.
Rowan Hepps Keeney, BC '18, first met the dean during an event for queer students during orientation week their first year, and was "immediately struck by such a kind and gentle person" who was "open and flamboyant" about his sexuality. A former president of GendeRevolution, a trans and nonbinary student advocacy group, Keeney has also worked closely with GS Alliance, a group dedicated to the concerns and interests of the LGBTQIA+ community within General Studies.
"The fact that he showed up to [GS Alliance] events at all, considering how high up he was, and not just at all but consistently, he always showed up for his community and never showed any sign of ego. He always so humble to come down here and be comfortable here," they said.
When Awn was in the final months of his deanship, packing up his office—and his many trinkets, books, and works of art—posed one of a number of large undertakings in aiding with the transition in leadership. Rodgers said that in the process of finding records for historical preservation, Awn opened a directory of hundreds of recommendations written over the course of four decades. Some students held eight recommendations to their names.
"That's exactly Peter Awn," Rodgers said. "That's a beautiful representation of how much he cares."
A few months before Dean Rosen-Metsch took her place in the office, Rodgers walked into a "jarring" sight—an empty room with blank walls. Awn, Rodgers said, had cleaned the office early to provide more time to repaint the walls and renovate the furniture for Rosen-Metsch's move.
"As excited as we were for thinking about what comes next, when you work with someone for so long, transitions are hard, and there definitely was a moment where we had to and I had to kind of take a deep breath and say, 'Oh yeah, he's moving on," Rodgers said.
"I grew up with him in a lot of ways," he added.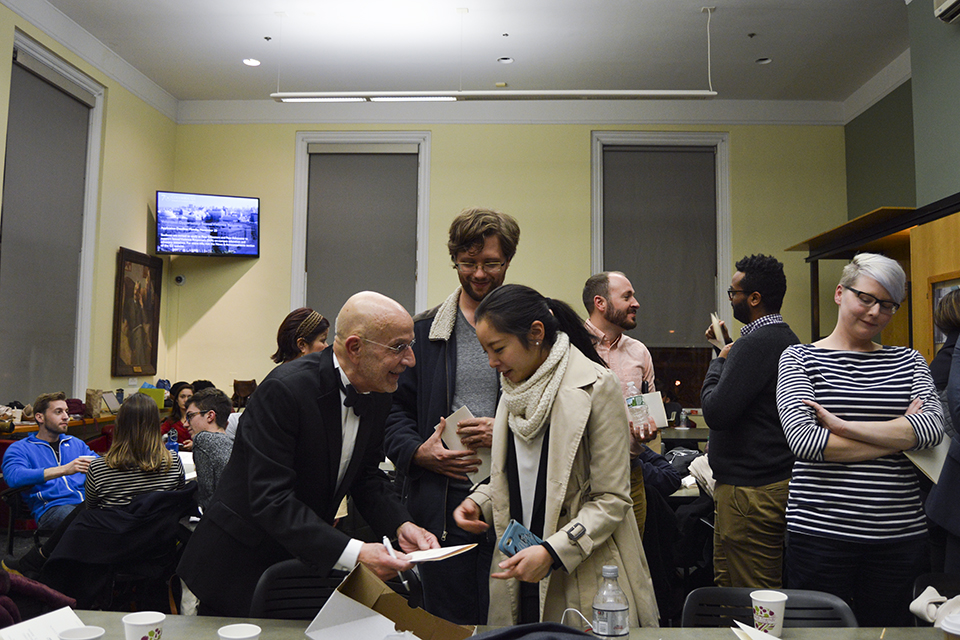 When she first met Awn, Susan K. Feagin, GS '74 and special advisor to Bollinger, said she first noticed his style. The two were on the way to meet an alumnus at Goldman Sachs, and Awn was dressed casually in sandals and street clothing.
"I thought, 'Oh my gosh, how is that going to work?," Feagin said. "He's going down to see an alumni at Goldman Sachs … so I said, 'Peter, I'm going to give you some advice. You need to go buy a suit, a normal suit, and when you go see the alumni at Goldman Sachs, you need to wear the suit."
Following the conversation, Awn purchased and wore the suit, but also chose to forgo business shoes, instead donning colorful striped socks and sandals. He quickly won over the alumnus during the meeting, and, for Feagin, this memory has stood out as both a symbol of Awn's charisma and his commitment to his own values.
"That he was able to lead and accomplish what he accomplished and at the same time have this more down-to-earth sense and individualistic sense of himself was one of the special qualities that I will always remember," Feagin said.
The first time Andrew King, GS '15 and Marine Corps veteran, came across Awn in the hallway of Lewisohn, King believed he was a student. General Studies had recently graduated a 52 year-old custodian who took courses over 19 years, so King thought that the discrepancies in age were normal for the school.
"He was too approachable and unassuming to be a dean," King said. "I spoke to him in the hallway like a student for 45 minutes, but I think that set a more honest tone for our relationship moving forward. It also speaks to who he is, and his demeanor as a man."
Awn advised King on classes to take, spoke to him about the culture of the school, and they continued their relationship for years into the future—both when King became involved in MilVets and after he graduated.
Heinrich, who graduated nearly six years ago, said he continued to be mentored by Awn, who ultimately familiarized him with the restaurant scene in New York. The two met for monthly dinners whenever Heinrich was back in the city, and the dean showed him to numerous locations, all associated with General Studies alumni who either worked, managed, or cooked at the restaurants.
"He always said that his goal for every young person, be it GS student or otherwise, he worked with was that we would one day outgrow the institution. … The irony of that is that he was so good at that very job that that meant that achieving that goal was never possible because there was always more to learn [from Awn himself]," Heinrich said.
As inspired as White said he had been while a new GSSC councilor in the early 2000s, the idea of an administrative map never came to fruition due to the unforeseen complexities of Columbia bureaucracy. But both Awn and White revisited the idea years later: when Awn spoke about White's ambition while officiating his wedding in 2011.
"He remembered all these little things. … All those little moments were so precious to him; it wasn't just a façade that he had on of just portraying a face. I've only met very few people like this in my life," White said. "He's just a remarkable man."
Long after Yates spoke to Awn for advice about MilVets, Awn met his three-year-old twins at a class reunion in 2015 and chased them around the GS Lounge.
Currently, Yates continues to work with veterans and mentors students himself, but said he realized how difficult it is to remember to pick up the phone, respond to every email, and truly engage and provide advice to everyone who asks for help. Citing Awn's relentless dedication, Yates said he made an active effort to demonstrate the same compassion in every conversation, though it seems nearly impossible to imagine how Awn grappled with his many roles simultaneously.
"Maybe it is what separates great people from the rest of us—that they always find the time," Yates said.
Citing his contribution to General Studies, its students, and the Columbia community at large, Bollinger paid tribute to Awn's "unmatched legacy" that has left an enduring impact on student life.
"In every way that mattered, he and the School were one," Bollinger wrote.