Updated, Sept. 24, 11:22 a.m.
Columbia released the long-awaited data on how the University adjudicates sexual assault on Tuesday afternoon, though the report lacks specific numbers on sanctioning.
The report, which is available in full here, includes data on the number and type of sexual assaults reported on campus, the category of Columbia affiliation of complainants and respondents, and how reports of sexual assault and other types of gender-based misconduct were resolved from the period of July 1, 2013 to June 30, 2014.
Missing from the report, however, is data on how sanctions were applied to those found responsible of sexual assault and other types of gender-based misconduct—one of the primary requests from student activists.
"With respect to sanctioning data, there are two focuses: providing accurate information and protecting the privacy of students," Suzanne Goldberg, special advisor to University President Lee Bollinger on sexual assault response and prevention, said in an interview on Tuesday.
The report states that the President's Advisory Committee on Sexual Assault, which issued guidelines on how to release the data, "strongly emphasized that in releasing aggregate data the University should not provide information that could lead to the identification of specific students. Linking sanctions to hearing outcomes and/or cases where students accepted responsibility raises precisely this risk."
The report does say that sanctions issued for sexual assault in the past year included suspension, disciplinary probation, access restriction, and policy education. Melissa Rooker, associate provost for Equal Opportunity and Affirmative Action Title IX Coordinator, told Spectator that no students were expelled as a result of being found responsible for sexual misconduct in the past year.
Sanctions for other types of gender-based misconduct included policy education, disciplinary probation, registration hold, access restriction, ineligibility for future enrollment in any University program, persona non grata status, and loss of alumni privileges.
The report does say that three students were suspended for violating the terms of interim accommodations, and one visiting student left campus before the completion of the investigation. These included three cases in which students were accused of non-consensual intercourse and one of non-consensual contact. The respondents in these four cases, according to a footnote in the report, are not present on campus—either because they are still serving their suspension or because they are not currently enrolled at Columbia. The report said the disciplinary proceedings would resume if those students were to return to campus.
Rooker told Spectator that because these types of suspensions fall within a larger pool of disciplinary data under the Office of Judicial Affairs, there was less concern about the identities of these students being revealed.
The report also includes a section about on-campus resources, a guide to how the data was compiled, and additional notes on specifics and scope of the data.
The data in the report was compiled before the release of Columbia's new sexual assault policy, according to Goldberg. Moving forward, Goldberg said the plan is to release data on an annual basis.
Goldberg and Rooker said they want to engage with students and hear their feedback to the data, as well as continue discussion on the new sexual assault policy. The report also says that an anonymous, University-wide climate survey will be conducted and that more opportunities to discuss the data and Columbia's policies will be announced in the near future.
But students who have worked on this issue for the past year criticized the report's failure to provide specific data on sanctioning.
"When I wrote the initial petition as president of the Dems last fall, our goal was to find out if people were being sanctioned appropriately," former Columbia University College Democrats President Sejal Singh, CC '15, said. "And, a year later, we don't have this information."
"We cannot know if our administration is appropriately punishing people and we cannot know if our campus is safe if we do not have this information on sanctions," Singh, the current Columbia College Student Council vice president for policy, added.
Emma Sulkowicz, CC '15—who attracted national attention with her performance art piece, in which she'll carry a mattress around campus so long as her alleged rapist attends Columbia—said that she was frustrated that the data did not include any information about the adjudication of students who had been named respondents in multiple cases. Sulkowicz's alleged rapist had two other complaints filed against him to the Office of Gender-Based Misconduct.
"In terms of the way it's presented, there's no information on serial rapes," Sulkowicz said. "That means that, say if one person attacks three women, we have no way of knowing whether all those women are lumped into one case or whether they're counted separately. And the way the data is shown, it makes me think it's the first option."
Marybeth Seitz-Brown, CC '14 and a member of Columbia Alumni Allied Against Sexual Assault, said that the sanctioning data could provide "a picture of where the system is failing so that we can see how we can improve."
"In terms of the usefulness of the data, we need the whole picture if we're going to fix the system," Seitz-Brown said.
This graph shows the number of respondents for reports of sexual assault grouped by Columbia affiliation.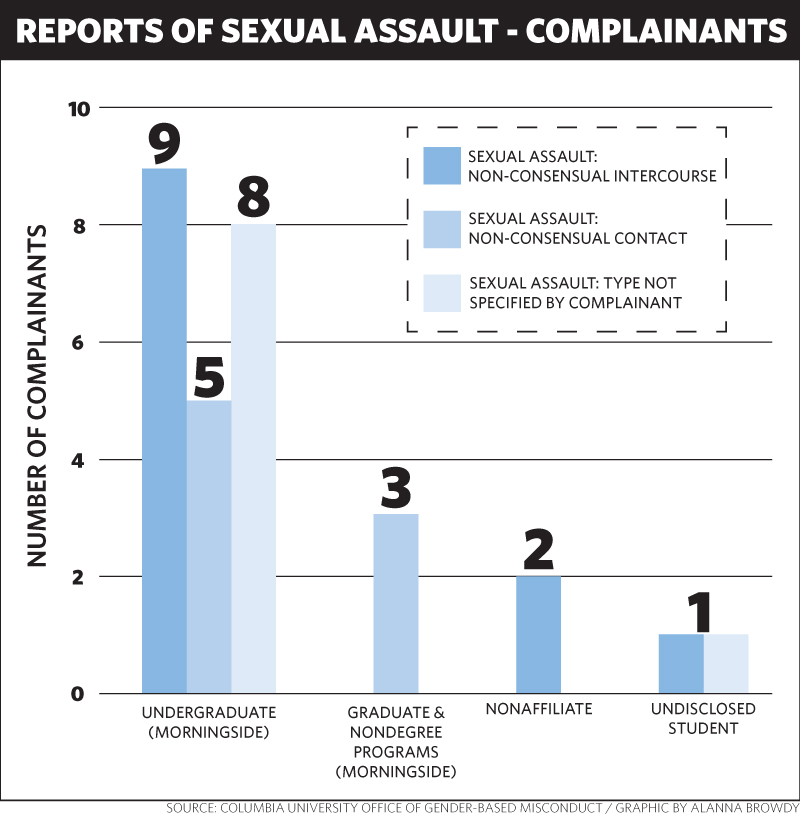 This graph shows the number of complainants for reports of sexual assault grouped by Columbia affiliation.
This graph shows the number of respondents for reports of other types of gender-based misconduct grouped by Columbia affiliation.
This graph shows the number of complainants for reports of other types of gender-based misconduct grouped by Columbia affiliation.

Other key highlights from the report:?

A total of five appeals were filed last year—three by respondents and two by complainants. One appeal by a complainant resulted in a stronger sanction, while the other appeal by a complainant resulted in no change in the original sanction. One appeal by a respondent resulted in no change in the original sanction after an additional investigation and reconvening of a hearing panel. The other two appeals cases filed by respondents resulted in no changes in sanctions. 34 accomodations were requested, and 34 were granted entirely. Four interim measures were violated. The average time period for a full investigation and hearing panel was 91 days. Federal recommendations say that investigations should be completed within 60 days.

Check back for updates.

Emma Bogler contributed reporting.

Graphics by Alanna Browdy

samantha.cooney@columbiaspectator.com | @sammcooney