United States Ambassador to the United Nations Samantha Power encouraged graduates to continue what she described as the fight for true equality at Barnard's Commencement at Madison Square Garden on Sunday afternoon.
Power said that the struggles of transgender people need to be included in discussions of equality, especially at women's colleges.
"Women know what it feels like to have to fight to be part of institutions whose doors should never have been closed to them," Power said. "We must all work towards the goal of ensuring equal rights for all people: lesbian, gay, bisexual, and transgender."
Power's statements on gender equality come during the final stages of discussions about Barnard's transgender admissions policy, which will be voted on this June by Barnard's board of trustees.
"You often hear people say that past generations struggled so that you would not have to, but I say past generations struggled so you would be free to fight on behalf of someone else," Power said.
Before Power's speech, outgoing Student Government Association President Julia Qian mentioned in her address the need for Barnard to admit transgender students.
Power also used her personal experiences of dealing with self-doubt and the fear of making mistakes, issues that she said more commonly affect women, to connect with graduates.
Instead of focusing on ways to remove doubts and self-awareness, Power said that it is more important to not let those fears quiet women when they should be speaking up.
"Women should not have to worry that if we stumble, it will be more noticed than when men do the same," Power said.
Power described a time when she was a senior adviser for then Senator Barack Obama in 2008 and was too afraid to tell anyone she was pregnant with her first child.
"I had never gone through this [pregnancy] before, and I'm worried that if I advertise my blissful state, it will affect how seriously I will be taken by the campaign and potentially even shut me out of a job that can make an impact," Power said.
She also spoke of her struggles juggling a demanding job and raising a family, citing a time when she had to address the Syrian chemical weapons attacks while nursing her one-year-old daughter, move her family to New York, and find schools for her two children.
"Women are opening up about how overwhelmed they feel trying to 'have it all,'" she said. "When asked by friends whether or not I subscribed to 'lean in,' I would instead describe my philosophy then as 'hang on.'"
Power said, however, that her experiences pale in comparison to those of single, low-income mothers trying to raise a family.
The idea of making the invisible struggles visible, as Power described it, was not just limited to experiences of working mothers in Power's speech.
Power also discussed issues of sexual violence on college campuses, referencing Emma Sulkowicz's "Carry That Weight" mattress project.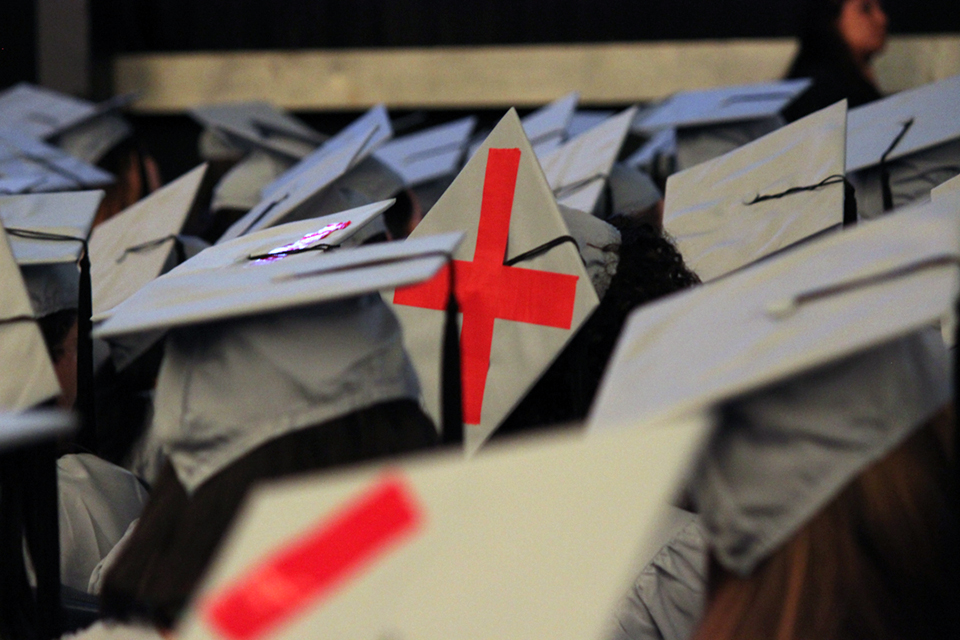 "We have too often seen colleges and universities falling short of adequately investigating and disciplining perpetrators and of protecting victims," Power said. "And yet, even as we are aware of the seriousness of this problem, it takes a woman picking up a mattress and carrying it around her campus to make people really see it."
Several students marked their graduation caps with strips of red tape as a show of solidarity and protest against the University's handling of sexual assault cases on campus.
Power concluded her speech by stating that true equality would only be achieved if people are shown that change was possible, citing the changing and improving opportunities for Afghan women because they had the courage to fight back as an example.
"What we look like to the world matters because we know empirically that people's belief systems and biases can be shifted dramatically by what they see," Power said. "Nothing can stop you. What will you make people see?"
Barnard President Debora Spar addressed an aspect of Power's final question to graduates when she said to graduates that important changes didn't have to only result from grand gestures.
"There is a grace as well in thinking on a more humble scale and of remembering Horton [of Dr. Seuss' 'Horton Hears a Who'], the elephant who saved a world by listening to a whisper," Spar said. "Not even Samantha Power was Samantha Power on the day she graduated. It takes time, it takes luck, and usually a fair number of wrong turns along the way."
After the ceremony, students said they were inspired by the speeches and the recipients of Barnard's Medals of Distinction, which were awarded to Power, Diana Nyad, Nadia Lopez, and Simi Linton.
"I'm glad she touched upon a lot of tough topics that have been topics of conversation on campus this year," Arielle Napoli, BC '15, said of Power's speech.
"They [the speakers] just made me want to listen and absorb more one last time before I step out finally," Dania Sandfia, BC '15, said. "I'm going to miss being around so many great women 24/7."
Photos by Micayla Lubka