Next fall, lecture courses with a required discussion section at Columbia College and the School of General Studies will be offered for four credits—rather than three—in hopes that the new credit values will better reflect the course's workload expectations.
In order to graduate, Columbia College students must take a minimum of 124 credits during their four years. As a result, students often feel pressured to create schedules with heavy course loads. With greater credits for lecture courses, students will be able to reduce the number of classes they take each semester.
The Educational Planning and Policy Committee, which coordinates educational policy for the five schools of Arts and Sciences, began working with the Committee on Instruction and the Office of the Provost in the spring of 2014 to encourage departments to raise the point values for such lecture courses. However, it is not compulsory for departments to comply with the EPPC's recommendation.
Brent Stockwell, the current chair of the EPPC, explained that this decision was made partially to comply with state guidelines, but also had the added benefit of preventing students from overloading their schedules. He described a perceived environment of students trying to get ahead by increasing their workload.
"There's a general feeling, I think among a lot of faculty members, that students take too many courses," Stockwell said. "And it's like an arms race to take more courses and show how impressive you are, and to the detriment of a lot of students in the end."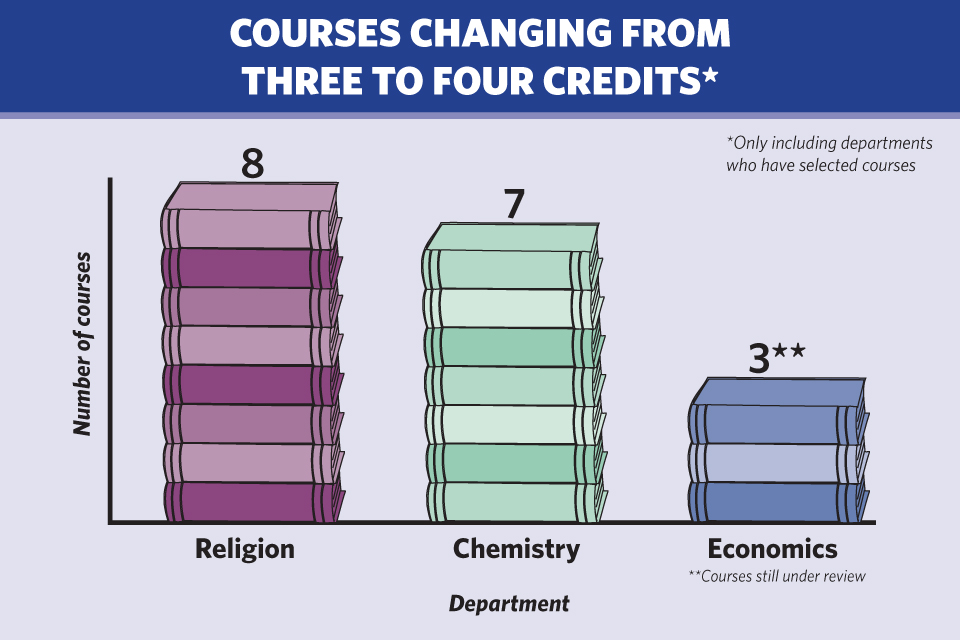 Graphic by Helen Lu
Columbia College Student Council Vice President for Policy Vivek Ramakrishnan, CC '16, expressed disappointment regarding the optional nature of the change in credit for these courses. But he said he believes that the change will help to reduce the culture of stress at Columbia, allowing students to feel more comfortable taking fewer classes.
"In reaching out to folks at other schools and assessing what typical course loads are like at peer schools, it does seem, and students here would largely agree, that our workload is more, and we take more courses," Ramakrishnan said. "I think more needs to be done to identify why precisely that is. But, I think more needs to be done in changing that, and I think that's why [increasing course credit] is important."
To recommend that a course carry four credits, each department must submit a proposal and rationale.
While some departments, like philosophy, already offer lecture courses with a discussion section courses for four credits, others like chemistry and religion will see sweeping changes, with as many as eight courses changed from three to four points this upcoming school year. The economics department currently has three courses under review. Other departments have yet to submit proposals.
Columbia College Dean of Academic Affairs Kathryn Yatrakis said that by giving each department autonomy over which courses they propose, rather than mandating all lecture courses with discussion sections be offered for four points, this policy allows departments to present only the courses that they believe should carry an extra point.
"There may be some departments where some of these discussion sections are just review sections, but others are not," Yatrakis said. "So, the ones that aren't, we feel they deserve another point."
Achille Varzi, a professor who teaches two four-credit courses in the department of philosophy, emphasized that his lecture courses deserve four credits as the recitation sections are more accurately described as discussion sections that add to the course.
"The students like having the extra section. There's smaller groups, they have a TA, they can raise questions that can't be raised in the classroom," Varzi said. "You can't really have a good discussion with 120, whereas the discussion sections of course are much smaller, and so that works pretty well."
Yatrakis added that increasing credits for these lecture courses could bring more awareness to the importance of credits in determining workload.
"You find out from seniors, who often take four courses…they can really focus on the courses in more depth, and this is something that faculty's been talking about for a long time," Yatrakis said. "While this isn't a way to make sure that happens, this is one way for our academic community to start thinking about credits in relation to the work done in the courses."