Last spring, students in the Mental Health Task Force lobbied administrators to create a standard protocol for how the administration should respond to tragedies and crises that affect students on campus.
Fueled by dissatisfaction with administrative responses to both on and off campus tragedies that impacted students, including Ferguson and the shooting of Muslim students at UNC-Chapel Hill, the proposal sparked conversation around a series of complicated and nuanced questions about how administrators should respond.
Nearly one year and a series of vigils, protests, and tragedies later, a disconnect still exists between students' and administrators' expectations of what role the undergraduate deans should play in responding to tragedies, with students pushing for increased interaction with administrators they perceive as distant and removed.
"A lot of times administrators can be really out of touch, and feel really cold. I think what we're looking for is for the leaders in our Columbia academic environment, that our deans, look back and give us support," University Senator Jillian Ross, SEAS '16 and a member of the MHTF, said. "It is important that administrators are staying connected with students and showing that they're listening and that they feel hurt when we feel hurt and that they're able to lend out a hand when they see that their students affected."
Dean James Valentini and Dean Cristen Kromm discuss their roles in addressing tragedies.
School of General Studies Dean Peter Awn—whom students in the close-knit school have praised for his willingness to interact with students—said he views student engagement as being crucial to his role.
"I think as a dean, if you don't realize it requires a lot of hands on engagement, and if you don't enjoy that, you really don't get the community," Awn said.
Though he stressed that he values engagement with students, Columbia College Dean James Valentini, when asked how he viewed his role as dean in responding to students affected by tragedies on- and off-campus, deferred to Undergraduate Student Life and emphasized that USL staff members are an extension of his office.
"The college dean appoints and supervises staff whose responsibilities are many, which include, sometimes, responses to these things," Valentini said. "Whenever these people are responding it is in fact the dean of the college responding, because the dean is ultimately responsible for that even when the dean's name isn't the one on a message."
"There is a willingness on the part of all four undergraduate deans to engage with students about issues that are important to them, just as we engage with faculty about issues that are important to them," Valentini continued.
School of Engineering and Applied Science Dean Mary Boyce also pointed to the role of Undergraduate Student Life staff as ambassadors for her and Valentini's office when it comes to interacting with students.
"I want to make sure I'm hearing what is on the minds of students, so I also have other staff to make sure they're having contacts," Boyce said. "And then I meet with the student councils periodically, so if there are additional mechanisms I would love to hear from students. We do feel it's our role as deans of our schools of our undergraduate students to be in touch with students in difficult times."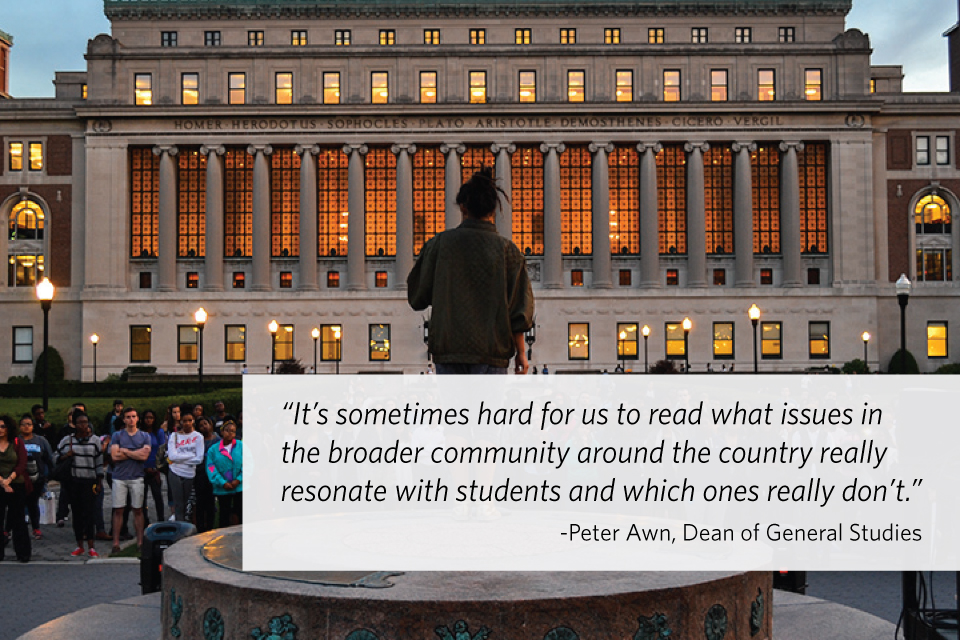 As one of the administrators Dean Valentini and Dean Boyce rely on to engage with students, Dean of Undergraduate Student Life Cristen Kromm said she tries to have ongoing conversations with students and attend events such as vigils and speak outs.
"I'm not the dean of the undergraduate schools, but I try to have those conversations," Kromm said. "I try to be available in that kind of way, in getting out to people and always knowing what's happening."
While students interviewed largely praised the support provided by staff such as the Office of Multicultural Affairs and USL, they said that solely relying on those resources is not enough.
"What it really comes down to is showing that sense of community and support. It's not just the deans sit aloof at the head of everything and just let the levels on the ground do everything, but they are just as connected to the students as the RAs," Ross said. "That doesn't necessarily mean that a student can just walk into a dean's office at any time—I think that means just having a sense of what students are feeling."
University Senator Ramis Wadood, CC '16 and a member of the MHTF, said that students are looking to their deans to be there for them in a personal and emotional context.
"I think that deans of schools need to do a better job to be there for students," Wadood said. "In order to do that, they need to, figuratively speaking, get out of their offices and speak to students."
For South Asian Feminism Alliance co-founder Sarika Kumar, BC '16, the disconnect translates to both insufficient administrative responses and a larger sense of distrust on the part of students.
"There's always this apparent disconnect from what they're doing and what students are experiencing, not fully grasping the student experience and then responding to things in a way that upsets students further," Kumar said of administrators.
Though students are pushing for administrators to improve their responses to tragedies, both students and administrators interviewed unanimously agreed that it is often difficult to ascertain when an event necessitates a response.
"The biggest issue we faced was how to determine what is necessary to respond to it—in terms of Michael Brown and Eric Garner—things like that happen everyday, so it's tough to determine when is it right or necessary to reach out to the student body either as a whole or to a group of students," Wadood said.
Another issue about which a disconnect between administrators and students appears to exist is determining who is responsible for compelling an administrative response. Students interviewed by Spectator said they often feel that the onus is on them to provoke a response, citing student protests after Ferguson and the shooting of Brown as an example.
"This is difficult because we are the ones who are affected, so we know the best. It is our perspective that I think should hold the most weight, but it's not our responsibility," GendeRevolution Treasurer Rowan Hepps Keeney, BC '18, said.
Yet the four undergraduate deans interviewed indicated that assessing the student response to a tragedy is an important mechanism that allows them to gauge when an event necessitates a response.
"It really would be helpful if the heads of those groups came and talked to the deans rather than presuming—and this is where I think the problem lies—'You should be able to read my mind,' or 'It's so obvious you should be able to see it,'" Awn said. "Don't presume—I might miss it. I need your help in being able to determine, not only identifying the issue but what could be constructive."
Barnard College Dean Avis Hinkson said that her administration also considers student response—particularly activism—when determining when to respond.
"I think we try to manage this on a case-by-case basis, being mindful of student activism, student concern, and the impact of how particular tragedy may be felt on campus," Hinkson said.
Administrators came under fire last year for their limited and delayed response in the days following the decisions not to indict white police officers who killed black men.
This year, after protests nationwide erupted in solidarity with students of color at Yale and the University of Missouri, administrators—including University President Lee Bollinger and the undergraduate deans—rapidly sent out emails. In their email, Barnard President Debora Spar and Dean Hinkson also announced that they would lead students in a college-wide conversation the same day.
While the administration was praised for the improvement in its response, many students, like Hepps Keeney, criticize the emails administrators send as perfunctory.
"It tends to seem a little generic to me that we tend to get the same response. It's pretty impersonal and seems like, 'This will appease you and then we can move on and not actually have to deal with it,'" Hepps-Keeney said. "That's frustrating, and it does sort of desensitize us to what's going on, 'Oh, there's another tragedy.'"
For administrators, the pushback to emails represents another barrier to reaching students.
"The way that I've tried to address [ongoing issues] that are impacting our students, are more in general comments in undergrad student newsletters. Another thing I've heard that's tricky is that students don't really want emails and that they often delete them," Kromm said. "It's been a really hard balance to figure out exactly what is the best or most effective way to reach out."
Graphics by Isabelle Lee / Staff Designer
According to students interviewed, some of the most effective responses have come from the Office of Multicultural Affairs.
Office of Multicultural Affairs Associate Dean Melinda Aquino told Spectator that, when her office is made aware of an incident that might affect a particular community or the student body at large, it works to formulate a response depending on the nature of the incident.
"The expectation is that there'll be outreach," Aquino said.
When an earthquake occurred in Pakistan a few months ago, members of the Organization of Pakistani Students received an email almost immediately. "There was an attack about a week ago in a university in Pakistan and again I got an email from OMA, I got an email from my RA," said OPS President Zunaira Malik, CC '16. "We've had a very positive experience."
In addition to working together to formulate the immediate response, Aquino also said that she works to coordinate a long-term plan to address the underlying issues that might emerge after a tragedy.
"Part of it is coordination, not just in the immediate address but thinking about what is the long term impact. What [a tragedy] may be indicative more within our community and why it happened," Aquino said.
In this capacity, administrators said they looked to Executive Vice President for University Life Suzanne Goldberg's office.
"Now, the Office of University Life is giving another platform to ensure that we can continue such discussions, to not close the door on any discussions but really flesh out and make sure we're hearing everyone's voice and responding," Boyce said.
Awn noted that the office "doesn't allow deans to abdicate our responsibility," but is able to unite resources and conversations across campus.
"I think the philosophy is that, while terrible events go on in many parts of the world every day and we can't respond to each one, we do see it as our role to acknowledge when events happen in institutions of higher education or directly related to our University in some way," Goldberg said of her office.
After protests regarding the experiences of students of color at institutions of higher education broke out at universities nationwide, Goldberg's office organized a teach-in and speak-out called "Race, Ethnicity and University Life" to discuss institutionalized racism.
Continuing those conversations between administrators and students about these larger issues is critical for students like Hepps-Keeney.
"What would make this a very easy balance is if there were spaces where administrators and people like that were like, 'We're going to take the time to talk about these issues, people are going to take notes, we want to hear your thoughts, and those who choose to go, can and know that they will be heard,'" Hepps-Keeney said.
Invoking Yale College Dean Jonathan Holloway, who stood and listened for more than two hours to hundreds of students protesting his response to racism on campus, Ross said the conversation surrounding administrative response is ultimately about ensuring that administrators are connected to their students.
"Those students were so unhappy for so long, and I feel like if that dean were more connected from day one and really listened to the students, that anger and boil-up wouldn't have happened in the way it did," Ross said. "I think our administration can really learn from that."
J. Clara Chan contributed reporting.