Anna Lopresti, CC '16, never imagined that she would come face to face with a rhinoceros as part of her studies.
"One night we were staying at the Lewa Conservancy[...]Someone got up with a lantern and we saw there was a rhino just standing fifteen feet away," Lopresti said.
Lopresti's experience came as part of the ecology, evolution, and environmental biology department's Tropical Biology and Sustainability Program in Kenya program, which gives students the opportunity to earn 16 points of credit toward their major while taking courses with professors from Columbia and Princeton in Kenya.
Over the past few years, the Office of Global Programs, in conjunction with faculty who have come forward with proposals to bring their curriculum abroad, has successfully established Columbia's first batch of programs like the E3B program in Kenya.
University President Lee Bollinger has championed the globalization of the University as a key strategic priority of his tenure. But the chief manifestation of his global vision, the creation of eight global centers, is unable to have a direct impact on the undergraduate experience without more course offerings, like the Tropical Biology and Sustainability Program in Kenya, being brought to the centers by faculty.
So far, Columbia has offered seven separate programs taught by Columbia professors abroad during the academic year, and some of those courses have now been offered for several years. In addition, the English and comparative literature department is offering a new program in London for the first time next fall, and the Italian department is in the process of creating a course offering in Venice.
Opportunities to participate in courses taught by Columbia faculty abroad during the academic year are advantageous to existing programs taught during the summer breaks in certain respects, as students must incur thousands of dollars in additional costs to participate in programs over the summer. Normal rates for tuition and fees cover the costs of programs offered during semesters, with the exception of airfare. Importantly, students can use financial aid packages for study abroad experiences during the semesters, but cannot during the summer, making the programs offered during the academic year accessible to a much wider range of students.
The recent growth in credit-bearing courses offered abroad during the academic year has been tailored toward allowing students to make progress toward completing requirements for their major and the for the Core Curriculum. These efforts are seen as critical in the effort to globalize the undergraduate curriculum, as the need to complete those requirements have traditionally grounded students to the Morningside campus, making it difficult to study abroad.
In a draft of a "self-study" report created by the Provost's Office as part of Columbia's efforts to gain reaccreditation, the University establishes the goal of "[increasing] efforts to develop global educational experiences which are compatible with timely progress toward degrees" by creating more credit-bearing courses in order to allow more undergraduates to participate in global programs.
While strong efforts by the Office of Global Programs to support proposals from faculty have resulted in the creation of a first wave of offerings, these programs do not yet reach a significant portion of the undergraduate student body.
Interviews conducted with eight department chairs, Dean of Undergraduate Global Programs Michael Pippenger, and many of the faculty involved in the existing programs revealed an unquestioning belief in the value for both students and faculty in expanding the number of global course offerings.
However, significant expansion of these efforts will likely be restricted by the inability or unwillingness of many departments to take faculty away from teaching responsibilities at the Morningside campus, especially given that the financial state of the Faculty of Arts and Sciences would likely prevent the hiring additional faculty.
Existing programs
The Office of Global Programs has been instrumental in facilitating the creation of the courses now offered, providing critical logistical support and coordination among the many offices across the University.
"Faculty will approach our office and say, 'I have an idea for a program to take students to country x to study subject y,' and that's how the conversation begins," Pippenger said. "They come with their own intellectual idea of what they want to do abroad and then we start to work with them to bring that to fruition. And that process from the time faculty comes to us with the idea to actually implementing the program is probably a good two-year program."
A number of the programs have been made available by a grant from the Andrew W. Mellon Foundation to globalize the liberal arts, which provided financial support for departments to hire a junior faculty member if they established a program to send a faculty member to teach abroad.
Both the music department and the art history and archaeology department are able to send faculty to teach Music Humanities and Art Humanities, respectively, out of Reid Hall, Columbia's global center in Paris. The departments' ability to do so was aided by grants from the Mellon Fund, which financed the junior hires who replaced the faculty sent to Reid Hall.
Other departments have offered course offerings abroad that count toward their major, the Global Core requirement, or both.
In Istanbul, students can participate in the Global Seminar in Byzantine and Modern Greek Encounters, which allows students to cross-register in classes at Bo?aziçi University and two seminars that each fulfill a global core requirement. In addition, one of the seminars fulfills the seminar requirement for the history department's major.
Students interested in race and ethnicity studies or anthropology were able to apply to go Mexico City with Professor Claudio Lomnitz this semester, where they could take a global core course and a course required for the anthropology major, as well as enroll in two courses at the Centro de Investigación y Docencia Económicas (CIDE).
Some programs, like the one pioneered by the department of English and comparative literature at Queen Mary University London, allow students to take a class with a Columbia professor in residence while enrolled at other courses through the university.
Finally, students majoring or concentrating in sustainable development or the department of evolution, ecology and environmental biology, which is also known as E3B, may spend a semester abroad in Kenya doing intensive field work in those areas. Operated jointly with Princeton, the program rotates students through four three-week courses, each taught by a different professor, focusing on intense field work and scientific research.
Though these examples constitute a sampling of all the programs offered, in most cases, students take one or two courses from a Columbia professor while enrolling in a local school for additional courses.
In addition to those programs already in existence, the Office of Global Programs is working on developing a new program in Venice with the Italian department.
"I definitely see room for growth," Pippenger said. "Because I think that one of the things that's changing is that 10, 20, 30 years ago, people thought of study abroad as a vehicle just to do language acquisition and area studies. And now we're in a much different world."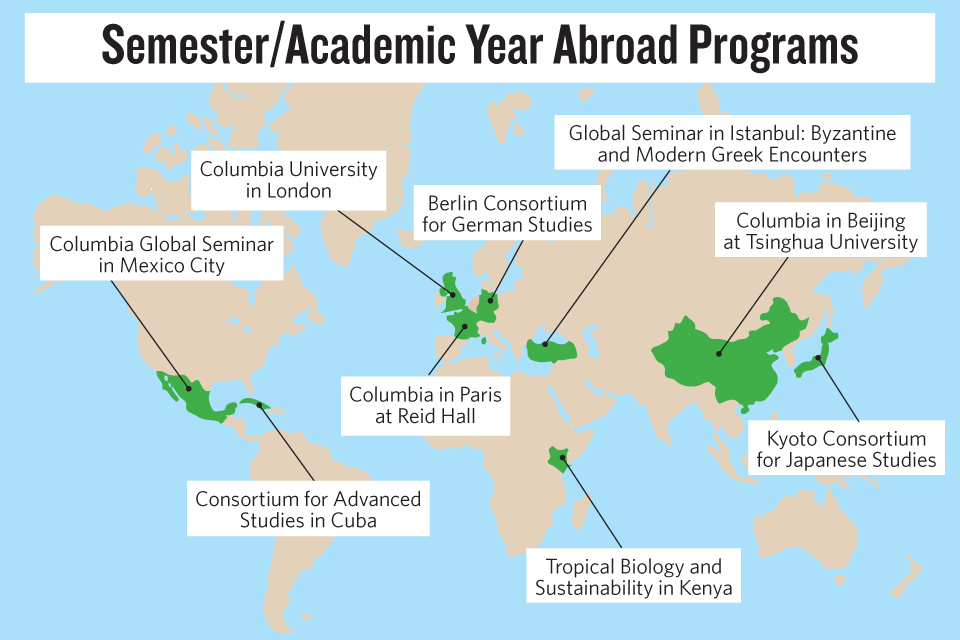 Graphics by Donna Askari
Further expansion
Though department chairs interviewed by Spectator nearly unanimously expressed the desire to participate in these programs, they noted that the attendant financial implications bring into question the programs' logistical feasibility.
Susan Boynton, chair of the music department, said that the value of the program was difficult to justify after considering the potential loss of instruction at the Morningside campus it would result in. Faculty teaching abroad typically interact with significantly fewer students than they would teaching on the Morningside campus.
"That's a lot of very expensive use of faculty time," Boynton said. "They'd be over there, away from campus, working with a very small number of music majors. It's a hard decision to make to justify that many resources."
For example, just two students accompanied Professor Lomnitz to Mexico City this semester.
Rashid Khalidi, chair of the history department, noted that losing faculty to global programs harms the effectiveness of the department in more ways than one.
"They're [the faculty] not here. They're not teaching as part of our curriculum. They're not able to advise students in the same way. ... They're not taking part in the work of the department. And they're gaining credits towards more leaves because they're working for Columbia. So it's like a triple whammy every time somebody leaves," Khalidi said. "So I think that there is a tension between our desire to offer these programs that are actually attractive not just to students but to the faculty and between our primary responsibility, which is to offer a robust curriculum with regular faculty."
Some departments say they are having trouble sustaining the programs currently in place. The French and Romance philology department has consistently sent a faculty member to teach at Reid Hall every year and would like to continue doing so, but it has become more challenging over time, according to Chair Souleymane Diagne.
"It's very hard because we are a small department. Right now we consider ourselves understaffed, so [it's very hard] being there and at the same time, making sure that all classes we need to teach here are being taught," Diagne said.
The efforts to expand offerings abroad have left faculty in smaller departments who want to expand the number of global courses they offer in a frustrating position, particularly with the knowledge that they will not likely have the funds to get new hires.
"We would like to have a semester program, so that we can accomodate study abroad students, but right now the department is so small, and as we speak it's getting smaller," Valentina Izmirlieva, chair of the Slavic languages department, said.
Jesús Velasco, professor and chair of the department of Latin American and Iberian cultures (LAIC), noted that the size of his department has been preventing his department from running its own program abroad.
"We don't do it. And it's a shame that we can't do it," Velasco said. "Because I think we would love to do it but, you know, we don't have the manpower, or the womanpower for that matter."
Others noted that there is a limit on the number of faculty who would be interested in teaching abroad, given personal and professional commitments in New York.
Dustin Rubenstein, the professor in the E3B department responsible for the Tropical Biology and Sustainability in Kenya program run by Columbia and Princeton, noted the alternative benefits of a model where any one faculty is only responsible for teaching half of the semester.
"If you run a semester course, it's a little bit harder on the faculty, because they have other teaching requirements and students have other course requirements. So the model that we came up with was one where faculty teach a three week course. … So this model works well because I can go away for a month and then get back and help everybody out in the lab," Rubenstein said."
Another factor in the growth of these programs across more departments will be determined by the demand for the programs among students.
Cory Gipson, CC '19, and a potential classics major, emphasized how much he would gain by being able to study abroad.
"For me, the value would actually be being on site in a lot of the places that I've studied," Gipson said. "It would really be a way of acquainting myself much more intimately with the civilization that I'm studying."
Gipson noted that he would be less inclined to go if he felt like the quality of faculty abroad would be less than those here, a problem that could be solved if he took courses with Columbia professors abroad.
Other students don't want to feel like they are missing out on taking courses with the professors they'd been hoping to study with.
"If I could take Mark Carnes with me across the ocean, that would be great. But I think they'd miss him over here," Yaël Cohen, CC '19, said.
Many students still see the value in an immersive global experience.
"For a lot of people it can be a life changing experience" Adam Heinis, GS '15 and a member of the E3B program, said. "And it gets you out to see a part of the world that you wouldn't otherwise ... it's a very eye opening and humbling experience."
Michael Ouimette and Catie Edmondson contributed reporting.