Lerner Hall will be renovated to include more community-oriented spaces beginning next week, the Student Affairs Committee announced at the University Senate plenary meeting on Friday.
The East and West Ramp lounges—reservable meeting rooms located on the second floor of Lerner—will be converted into open recreational lounges, complete with gaming tables and new furniture. Additionally, new meeting rooms will open up, replacing the computer lab on the third floor, which will move to a vacant room on the fourth floor.
"Basically [we are] changing some of the space from reservable space for student groups into a more open space that everyone can use to build communities, which was ultimately the purpose," University Senator Josh Schenk, CC '19, said last week.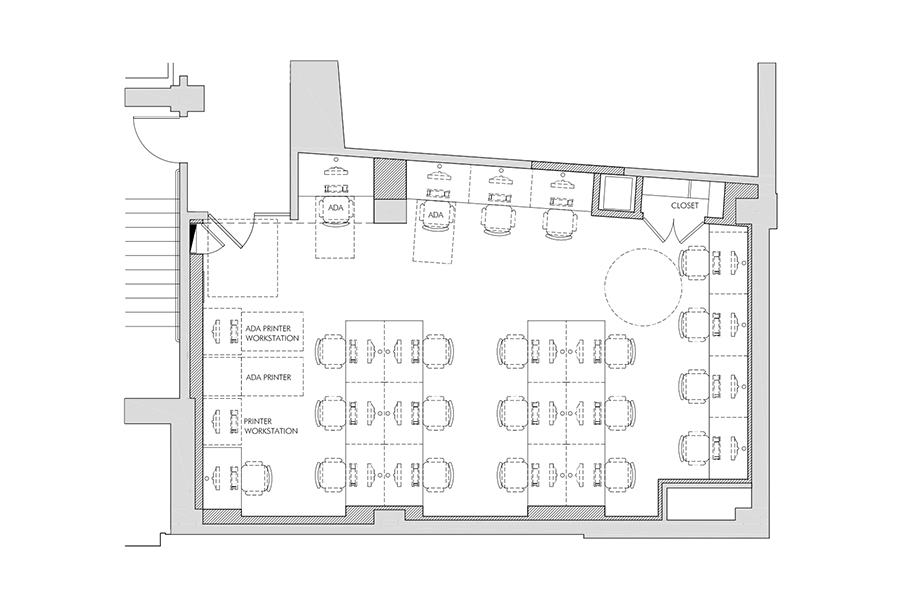 According to Schenk, SAC has sought to build student community through the enhancement of campus spaces, both to improve student mental health and to increase the amount of students casually frequenting Lerner, which is currently home to many administrative offices.
Last spring, administrators created designated spaces in Lerner for LGBTQ students and students of color. Additionally, Campus Services reshuffled offices in Lerner last September to open up more student-friendly spaces.
Though the new lounges are designed to offer more flexibility for students than the meeting rooms they are replacing, SAC vice-chair Izzet Kebudi, SEAS '19, said it was important for structured space for student groups to be available elsewhere.
"It was important for us to create the actual student lounge without actually losing space for our student groups," Kebudi said in an interview with Spectator last week.
According to Vice President for Campus Services Scott Wright, renovations could begin as early as next week, starting with the migration of the computer lab.
Wright said the Lerner renovations will be complete by the start of the fall 2018 semester, though construction will take place in small stages over time. He did not cite an exact timeline for construction. Wright added that construction will not occur during reading week and finals week—in accordance with University policy—and does not expect the construction to disturb students throughout the course of the semester.
"Projects are always filled with surprises … but this one should be much more straightforward," Wright said. "I just need to understand more from the construction team about what their work schedule is and what their concerns are."
At the same meeting, the SAC and the External Relations and Research Policy Committee proposed a new resolution in support of freedom of expression on campus. Due to concerns from several senators about the phrasing of certain clauses, the two committees plan to make revisions to the resolution and will motion for a vote at the next plenary on March 30.
This new resolution differs from a resolution passed last plenary meeting that reiterated the University's support for academic freedom of speech in classrooms.
The resolution discussed on Friday stated that Columbia will continue to implement the Supreme Court's current interpretation of the First Amendment as its own policy. It also recommended that the Senate establish town hall meetings to offer a platform for the Columbia community to voice their perspectives when contentious events take place on campus as an additive measure to similar meetings currently sponsored by the Office of University Life.
University President Lee Bollinger voiced his support for both aspects of the resolution, but added that the University's current interpretation of the First Amendment is not permanent and that he encourages broad debate on the subject.
"Nothing is ever written in stone and you can make a reasonable case that [free speech policies on campus] should be more restrictive," Bollinger said.