This story is part of a series on the 1968 protests at Columbia and their present-day implications fifty years later.
While the historic protests of 1968 did not extend onto Barnard's campus, they influenced the college in other ways by igniting its students to organize on the other side of Broadway and cementing an activist legacy that continues today.
While the Columbia protests of 1968—in which approximately 200 Barnard students participated and more than 100 of whom were arrested—largely focused on the construction of the gym in Morningside Park and the University's ties to the Vietnam War, across the street, Barnard students began to protest campus rules that restricted where they could live.
Although Barnard students were excluded from many aspects of the protests in 1968, their experiences drove them to develop a culture of activism at Barnard. In the past 50 years, despite receiving relatively little recognition in comparison to their Columbia counterparts, Barnard students have become increasingly prominent in activist groups across campus.
In the 1960s, Barnard subscribed to the idea of "in loco parentis," in which educational institutions fulfilled the role of a parent for students living away from home. While students who lived within commuting distance were allowed to live wherever they wanted with their parent's permission, students from outside the tri-state area were required to live on campus unless they had a live-in babysitting job. Despite these policies, students, including Linda LeClair, a sophomore from New Hampshire, often lied in order to live off campus.
Barnard discovered LeClair's deception after she spoke with a New York Times reporter for a story on cohabitation. While she was unnamed in the story, Barnard administrators quickly identified her and began hearings to decide whether and to what degree she would be punished.
After the protests, LeClair faced expulsion when President Martha Peterson threatened to override the student-faculty Judicial Council, which had originally given LeClair a light sentence. Barnard students, including Bettina Berch, BC '71, began to rally around LeClair, seeing her cause as an opportunity to effect change on their own campus and to fight for progress in housing policies.
During the 1968 protests, women participated in the occupation of buildings on Columbia's campus, including Fayerweather Hall and Hamilton Hall. When they refused to leave, 115 Barnard women, including Berch and Elizabeth Langer, BC '68, were arrested.
However, most women had been restricted to traditional gender roles as cooks and office assistants, but in organizing around LeClair, there were no limitations to the roles they could assume.
"When we returned to Barnard after the occupation and the arrests, it was sort of like we were coming back with new eyes," Berch said. "In the Columbia riots, as women … we were there, but we were not really leading much of anything. When we got back to Barnard, it was kind of like we had all these great skills that we hadn't used yet."
Students put their skills to work and began flyering for LeClair, creating pamphlets, distributing a petition—which was signed by 850 of Barnard's 1,800 students—and eventually staged a sit-in in Peterson's office. LeClair was not expelled but ultimately decided to withdraw from the college and did not return for the following fall semester.
In the 50 years since Linda LeClair's hearing, now known as the LeClair Affair, Barnard students have built on this momentum and play a much more visible role in campus activism, holding leadership positions in a variety of activist groups at both Barnard and Columbia.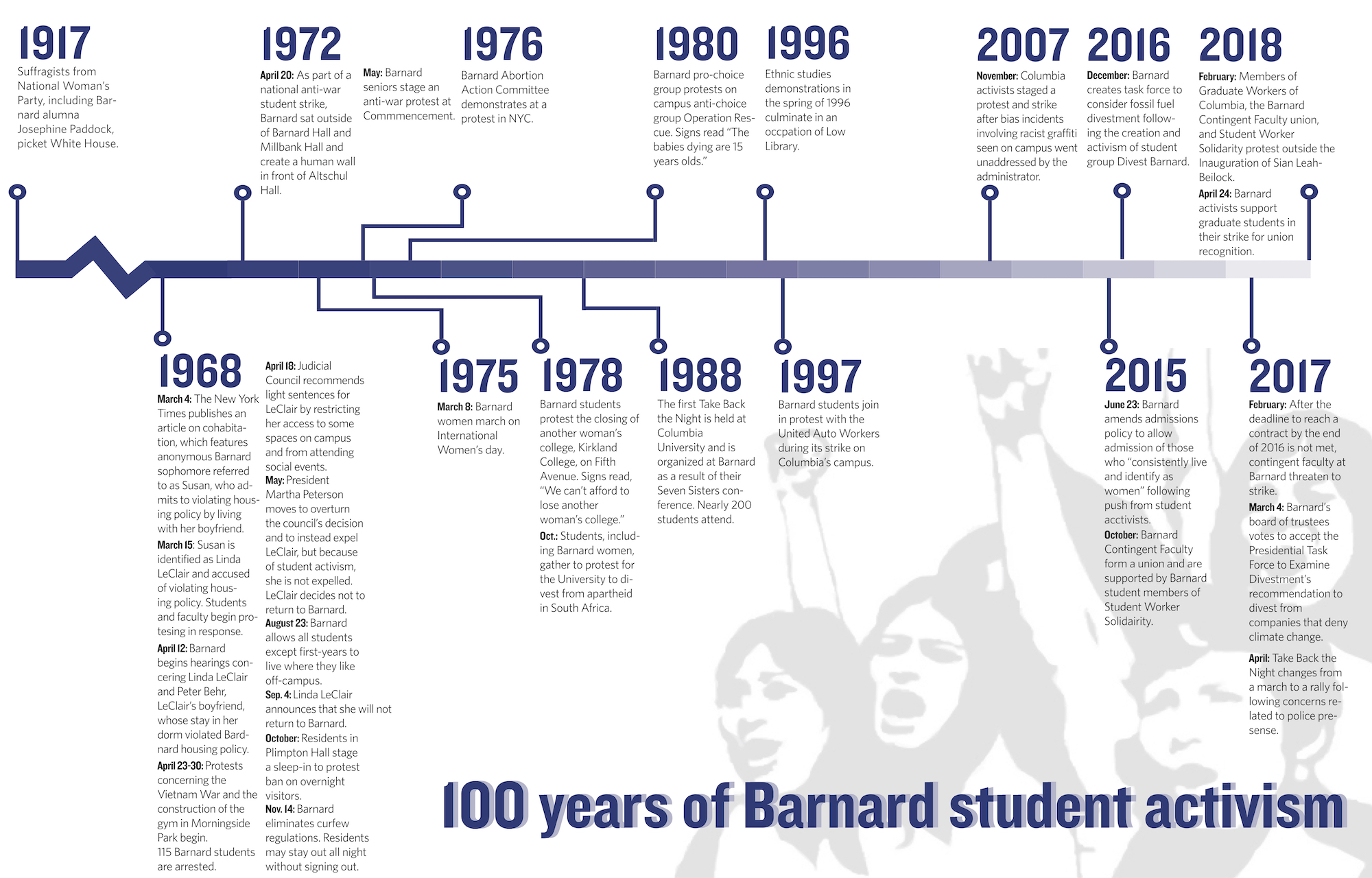 Helen Cane, BC '17, who helped create the group Divest Barnard in 2016, said that she drew inspiration from the 1968 protests throughout her time as an activist at Barnard. She noted that many of the themes that drove the 1968 protest, including issues of racism at Columbia and the role of Columbia in the greater Morningside Heights community, remain relevant today.
"For me, [the 1968 protests were] such a beacon in the sky of 'this has happened on this campus before,'" Cane said. "Organizers on campus should look to 1968 and learn as much as they can. ... We stand on the shoulders of giants every day as organizers."
While some alumnae, Berch included, argue that Barnard is less focused on social change than it once was, Cane said that Barnard women are an integral part of activism at Columbia and pushed back against the idea that political activism at Barnard has declined in recent years.
"I get so annoyed when people say that Barnard students are not politically active. It's not true at all. … Barnard students carry very heavy loads in organizing circles [at Columbia], and they don't always get seen for that work, but Barnard students are very politically active," she said.
Some Barnard movements have also been more successful in effecting change than their Columbia counterparts.
After more than a year of organizing, Divest Barnard succeeded in pushing the college to divest from coal and tar sands, as well as fossil fuels and companies that deny climate change in March 2017. While Columbia divested from thermal coal producers in 2017, it has yet to adopt a more extensive divestment plan.
Similarly, while Barnard's Student Government Association issued a student-wide referendum urging the college to divest from eight companies with ties to Israel, for which a majority of 64.3 percent of students voted in favor, and will write a letter to administrators endorsing the student vote, Columbia College Student Council overwhelmingly decided to not create a referendum on the issue last April.
Caroline Oliver, BC '20 and a member of Students for Justice in Palestine, one of the two student groups that called for the referendum, said that while female activists are more likely to experience sexism and face pushback from the community than their male counterparts, students of color and trans women are the most likely to experience this pushback.
"I experience sexism to a certain extent in an organizing capacity, in interacting with a larger student body, especially outside of Barnard's campus," she said. "But I'm a white, straight-appearing woman, [meaning that] my experience in that regard is very limited to my own perception of the world."
Meghan Brophy, BC '20 and a member of Student-Worker Solidarity, agreed that Barnard students play a prominent and visible role in activism on campus. Brophy joined SWS as a first-year, and throughout her time in the labor rights organization, she has organized alongside the Barnard Contingent Faculty, the Graduate Workers of Columbia University, and other groups in their efforts to unionize on campus.
"I think it's really important for women and people from different oppressed groups [such as] queer and trans women, and people who come from low-income and minority backgrounds to be on the frontline of these movements, because these are the issues that are going to impact them the most," she said.