The GS Student Lounge is located in Lewisohn Hall; it's a space open to all students in the School of General Studies. The lounge itself is a simple room, but the students who fill it bring the space to life. To capture how the GS Lounge impacts the lives of current students, I asked 12 of them what draws them to the space. Their responses tell the story of the lounge as a place where individual friendships are made and a greater community is formed.
Responses have been edited for clarity and length.
"I get [to the lounge] at 8:30 or 9 a.m. every morning and it's very quiet… mostly people are in here trying to seriously do work because there's only maybe 10 or so people here about 9 a.m. And then by 10:30 a.m. it starts to pick up and people start to talk; most people before that have headphones on. After 10:30 a.m. I think it's more like this [about half-full with quiet conversation]... It reaches a crescendo between 2 and 5 p.m. when it's very loud and every seat is taken. And then it sort of dies off between 6 p.m. and, let's say, midnight—it's sort of people talking quietly and doing homework again. There are definitely different waves throughout the day and it seems to serve a different purpose for different people."
"When I first came here, and I was still suffering from PTSD... many people in the vet community [had] just been very encouraging, very, very supportive. Some of them are like, you know, my brothers, and it's like 'Mike, you're an encouragement to us, you're an older student, you're an encouragement to us,' and so, just based on that, I'm saying to myself 'Wow I can't fail, I've got to succeed, I've got to get this degree, there are other people looking at me.'"
"I commute in from Connecticut for classes two days a week, and I find that this is a space where GS students can gather; and it's kind of a place to feel comfortable, like I belong. I'm an older student, so I like the energy here. And to know that there are other students like myself who are here at Columbia possibly struggling, possibly doing well, you know [at] any place in their lives."
"It's generally a good time here; I don't have any bad memories of the lounge, nothing has happened here that I wouldn't constitute as a good memory. People are very sociable. I know I can always leave my stuff here if I have to go somewhere real quick and not worry about it disappearing or something like that. So that's a good feeling too, just knowing that people are pretty trustworthy."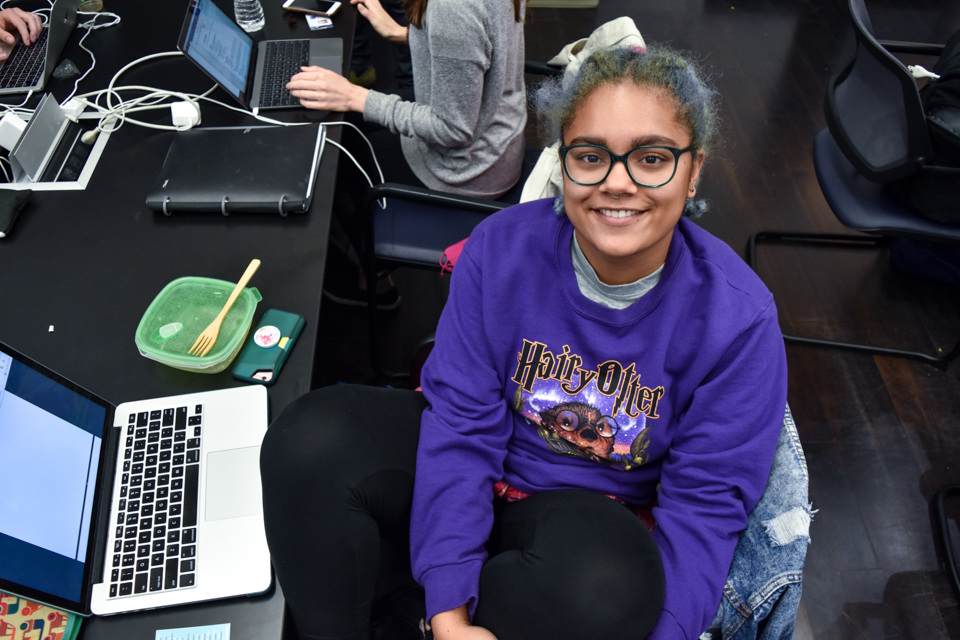 "I come, first of all, because I hate Butler and libraries in general. But I also come because it's such a great community space; it's really a squad, a family in here. If I need someone to tell me if a sentence makes sense, there's someone in here. If I need someone to give a hug to, there's someone in here. If I need a dog to pet, there's a dog in here. I just really like that it's so much more personal than most of the other spaces on campus."
"During finals last semester, I was here studying for my exam, and one of my friends from outside of GS—I snuck her in and we sat together—[came] and talked about starting a sustainable commune as after-graduation plans and it was really nice. There were plantains; it was great. A key part of the GS Lounge experience is the food."
"There are a lot of events that GS hosts in here. The Dean has stuff in here… there was a pizza night or something the first week of school that we had in here. There's always something going on."
"People babysit my dog in the lounge while I go to class a lot. She's kind of like an animal of GS at this point, and she probably belongs more to GS than she does to me."
"I come here because this is the best place to see the GS community; this is the best place to see all the different people we have, and interact with them, and get to know new people, hang out with friends... and there are people who study here effectively, and that's great, but it's there for them to be able to still have access to the sense of community that you get by coming here while studying… When you start to feel—because we're not traditional age or whatever or traditional backgrounds—when you start to feel that, kind of how we are different sometimes from CC, from other undergraduate students, it's nice to be able to come here and feel that sense of community."
"It provides a home on campus, it's like somewhere to just go to when you don't want to be at home but you're at school, so I think it's been a really good base of support."
"The really interesting thing with the lounge is that, if you don't find any of your friends here, or the person across from you doesn't want to talk to you, it's okay. It's not like if you go to a party or some other social gathering and you go there and no one wants to talk to you. You feel like shit. But here, it's acceptable to come here and if no one wants to talk to you, you can just work. It's not the end of the world. So you have a really low barrier to coming. Which I think is really valuable because it draws people to this place."
"I can get in here whenever I want. I can always find someone to chat with, someone to bitch with, someone to commiserate with, it's just our community place. I've made like, all my friends here. We use this place for our orientation, so really my first memories of GS are coming here, meeting all the people. This is the place where I was welcomed in and told, 'You're a part of this community now,' and I've just stayed. I mean, this place is GS."