Being in a new place and adjusting to a new routine can really take a toll on your fitness regimen (if you actually had one in the first place). However, it's important to set aside some time for exercise in your busy Barnumbia life, and want to continue (or start) your active lifestyle in college, Columbia and Barnard make it easy to do so.
Get familiar with your options
Columbia students have access to Dodge Fitness Center (it's near the lion statue that you definitely saw on your tour) for free. Inside is a pool, strength and cardio machines, a gym for basketball and other sports, squash courts, and an indoor track. (If you're interested in learning the ins and outs of Dodge, here's your complete and in-depth look.)
Barnardigans are also allowed to use all of Dodge's offerings for free, though they also have their own little gym in the basement of Barnard Hall. (And when we say little, we mean little. They have strength and cardio machines, but only a couple of each.) Columbians are allowed to use Barnard's gym, but the hours are restricted for Columbia men.
The main issue with Columbia and Barnard's gyms is that they are almost always crowded—you have to sign up in advance for cardio machines at both places (in 20-minute slots at Barnard and 30-minute slots at Columbia). The machines are also sometimes reserved for PE classes, which can be an unpleasant surprise once you *finally* motivate yourself to go to the gym in the first place.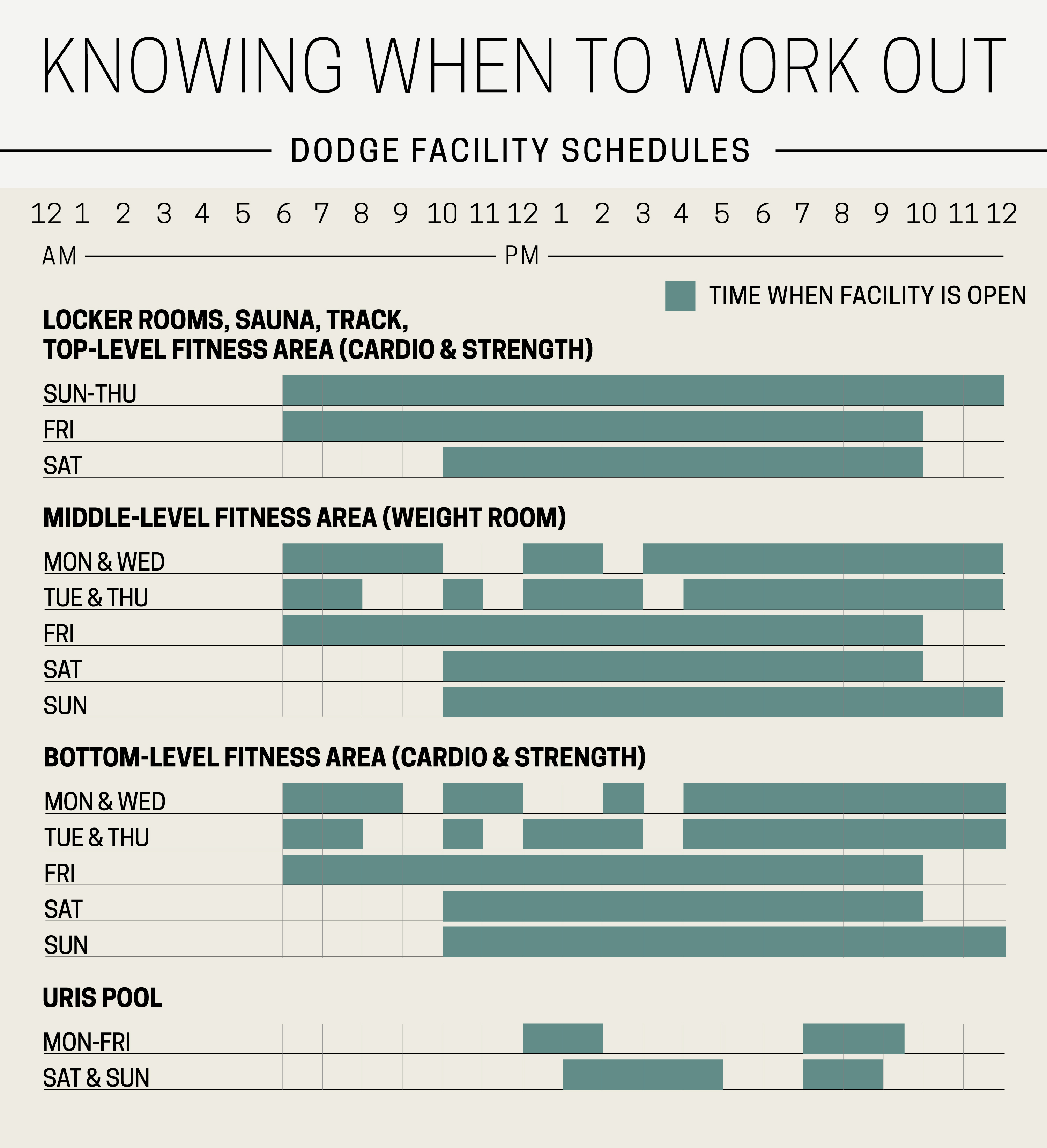 Fortunately, MoHi is a pretty nice area and you'll meet a ton of people who exercise outside. If you're an avid runner, don't rely on Dodge's indoor track; there are a ton of trails near campus, and Riverside Park, Morningside Park, and Central Park are only a short jog away. You'll also see plenty of people biking and running on College Walk and the streets around MoHi. If you have your own wheels, Columbia and Barnard have bike racks at multiple points across campus—some dorm buildings even have racks to keep your bike safe during the winter.You can also rent a bike through Columbia's bike share service. (Keep in mind there is a fee, though [Zagster prices, Citibike prices], so you may not want to rely on bike sharing every day.)
Take a class
Depending on your school, you'll either have to take one or two PE classes to fulfill your graduation requirements, so you might as well get it out of the way now. There are a ton of great Columbia and Barnard PE classes, even for those who aren't into traditional exercise (think tai chi and scuba diving, to name a few). There is also a wide selection of dance classes for beginners—Columbia students can use a Barnard dance class to fulfill one of their two PE requirements.
Pro tip: Want to use cardio or strength machines but don't want to fight for a free station during the day? Sign up for either the Strength Training or Cardio Fitness PE class—that way you'll get first priority on these machines whenever your class meets.
Sign up for a pass
If you and your future squad want to pump some iron in a group, you have the option of signing up for a Columbia group fitness pass. It is a bit pricy—$175 per semester—but there is a discount if you sign up early, and you get to take unlimited classes in everything from cardio kickboxing to barre to zumba at Dodge. Plus, classes are offered at varying times throughout the week, so you'll never have to worry about fitting classes into your schedule. If you really want to get intense, you can even hire a personal trainer or take functional fitness classes.
Barnardigans have the option of getting a FitBear pass for $50 per semester, which allows you to take up to 25 classes a week in things like barre, sculpt, zumba, and more. (We sent one of our own into the lion's den to review all the classes offered—here's what she found.)
If you're on the fence about buying a pass and want to give it a go before committing, both programs offer some free trial classes during NSOP and the beginning of the school year. You'll find the schedule for these in your NSOP schedule book.
Join a club
Even if you weren't recruited to play a varsity sport, there are still plenty of options for those who want to join an athletic club. If you're interested in dance, there are over 20 groups, which include Orchesis, CU Bhangra, and CU Generation. (To see samples of the kind of dance these groups do, there will be a showcase in Roone Arledge Auditorium during NSOP.) There are also dozens of intramural sports to choose from and a running club, Columbia University Road Runners.
If there's something you're interested in, we probably have it, and if we don't, you can start it (someone please start a Quidditch team!).
Why it matters and what you'll get out of it
While it may seem like exercise should play second fiddle to more essential things (like your GPA and making sure you join the clubs you're interested in), it's really important that you make time for it. There are a ton of benefits to working even just 30 minutes of exercise into your routine—the endorphin rush is just one of them. It can also be a great opportunity to meet new people: You can make a workout/running buddy or meet someone new in an athletic club. Whether you're a fitness pro or just starting to work out, Barnumbia has plenty of options for you!
READ NEXT:
Have any other questions about staying active at Columbia? Ask us here or on our Facebook, Twitter, or Snapchat @CUSpectrum.
Victoria Yang is a SEAS sophomore and Spectrum staff writer. She will definitely be taking a PE or dance class every semester she is at Columbia in order to force herself to exercise. Reach her at victoria.yang@columbiaspectator.com.