Last Friday, Professor Kenneth Jackson took his famous History of the City of New York class to Village Halloween Parade as New York historical figures. Going to the parade with his students has always been one of Professor Jackson's dreams. It almost came true two years ago, when many students and even a New York times front page reporter were ready to join the procession, but that outing was cancelled because of Hurricane Sandy.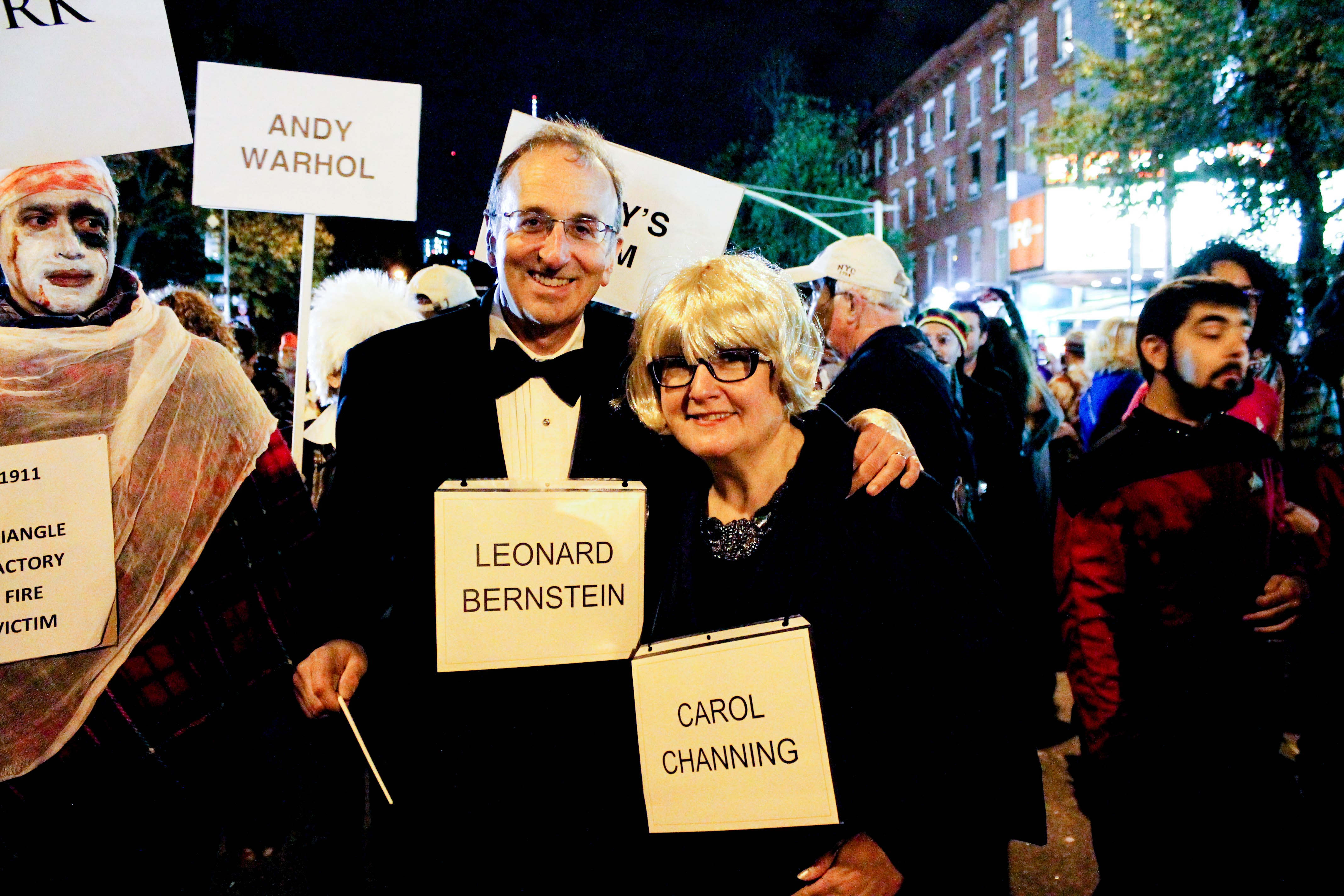 This year there were no reporters, but there were Andy Warhol, JP Morgan, Andy Warhol's mom, Joseph Pulitzer, and many more fascinating figures. When I entered the parade, the first scene I saw was Putin twerking against Barack Obama with Nicki Minaj and an energetic Dalai Lama jiving beside them. I couldn't get a picture of them, unfortunately. Luckily, Hannah Goldstein, BC '13 and one of the organizers for the Columbia parade contingent, managed to snap a picture of Joseph Pulitzer and a Triangle Shirtwaist factory worker repping Columbia:
The real creativity of New York isn't just found in museums or art galleries, but also in the Halloween costumes of this city. Before going to the Halloween parade in Greenwich village, I felt really good about my costume. But once I saw the costumes everyone else was wearing, I was like the kid in science class who brings orange soda to make a volcano replica competing against a kid who brought an actual volcano.
Shreyas Manohar: How does it feel to be one of the most-loved professors at Columbia?
Kenneth Jackson: I am not. I don't know. I like the teaching, I like the subject. I think people should learn by experience rather than reading. So I want people to go out in the city. I take the class to a Yankee stadium, Panorama of New York. We also take the class to Madison Square and Highline, Apollo theater, Harlem and Bronx.
SM: As a freshman, I am fascinated by New York and I want to go out and explore, but I can't find the time to go out. Every night when I sleep, I regret not going out that day.
KJ: Well, studying is important, but there is more to college than studies. You learn from these experiences rather sitting in a bar drinking beers surrounded by four walls. You want to get new experiences. I have never done this before.
SM: Really? Any other things that you haven't done yet that you want to do?
KJ: I can't think of anything.
SM: You have done everything else?
KJ: I have been here a long time.
SM: New York is such a dynamic city. How do you fit history of New York in one class?
KJ: It's true. You can't. They teach the history of the world in one year, so why not this?
SM: When my mother, who lives in India, asks me "What is in New York?", what should I answer?
KJ: The world is in New York. This is the most diverse place you can be at. New York has tolerance. There will be things at Halloween that will ruffle feathers, but no one cares. It is also about change. The city changes all the time.
SM: What is the most quintessentially New York?
KJ: The gay rights parade, that only happens in New York. A gigantic parade which is about diversity and tolerance. Christmas on Fifth Avenue when there is direct traffic on the sidewalk. I love the subway. There is this certain grit about the subway. Pomander walk on 96th Street. Panorama of New York, where you can see 800,000 little buildings. I love the Meatpacking District. I love what has happened in Dumbo and Williamsburg.
* * *
On the subway ride back home, I saw a man with purple hair, orange glasses wearing something that resembled a super-hero cape and a tuxedo.
"What are you dressed up as?" I asked.
He looked at me and smiled. "I am not. This is me."
This is what Professor Jackson was talking about when he talked about diversity and tolerance. A man can be purple haired and wearing a cape and tuxedo just because he wants to. It doesn't have to be Halloween for you to be "you". Now back to convincing my mother to let me grow my nails a little longer.