Is LionSHARE just not cutting it? Tired of scrolling through the same old listings on NACELink? As summer gets ever closer, and your search for a summer internship gets increasingly desperate, give some of these other job-finding websites a try.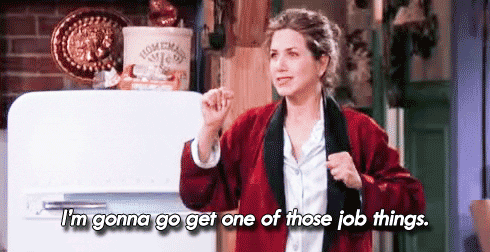 You as most application due dates come closer and closer.
Internships.com
Internships.com lets you search for opportunities (full-time, part-time, paid, unpaid, etc.) based on a zip code and your field of interest. Alternatively, you can enter your majors and allow the site to suggest jobs that you may be qualified for. Browse internships by category (marketing, HR, summer, etc.) or company (like Google, Apple, NBC, etc.) if you're dead set on a particular one.
You can also find a handful of helpful tips and tricks for every step of the application process—from searching for the job to what you should expect once you have your foot in the door. (So even if you don't end up finding your ideal internship on this site, it'll still be a valuable resource that you'll want to keep referring back to throughout the hunting process.)
Idealist.org
Idealist is a website with job, internship, and even volunteer postings, all in the nonprofit sector. There are tens of thousands of listings, but the site allows you to refine your search easily: search by location, areas of focus (such as education or civil rights), or language. A quick search yields results from dozens of large organizations, from the Audubon Center to Amnesty International.
If you're looking to spend a summer abroad, Idealist might be the "ideal" place for you, no matter what your interests are. For environmental science, pre-med, archeology, journalism, pre-law, STEM, fashion, etc. etc. enthusiasts, there are plenty of opportunities for you here both locally and abroad.
LookSharp.com
LookSharp is catered specifically towards college students and recent graduates. Search in one of three categories (internships, entry level jobs, or part-time jobs) and narrow down the options by major, keywords, and location.
However, LookSharp has very few (if any) internship opportunities abroad, so if you were hoping to spend the summer pretty far away from home, Idealist might be better suited for you. But if you're indifferent, LookSharp is still a great tool with listings from many high-end and famous companies (including CBS, Apple, Dolby, etc.)
WayUp.com
At WayUp, you'll sign up using your college email (dw, you can opt out of their newsletters so they don't spam you) and create a profile based on your job preferences. (i.e., what do you want to do? Writing, research, fashion, teacher, etc.) Based on your profile, the website will then generate countless numbers of jobs that you qualify for. However, don't feel like you're boxed in by your profile—you can always do an advanced search and look for opportunities in any industry at any time of the year.
A majority of WayUp's internships are within the United States, so finding an opportunity abroad might be limited. But as a bonus, the website does include online jobs—meaning it doesn't matter where you live. So if for whatever reason you're stuck back home, WayUp might be a good way for you to still have a productive summer.
Many application due dates for internships—especially if you're looking for summer only—are coming up. Make sure you're actively and constantly looking (btw, never underestimate the power of a simple Google search) and turn your materials in on time.
Have any other job-finding recommendations? Tell us about them on Facebook, Twitter, or Snapchat @CUSpectrum.
Ishya Verma is a Spectrum staff writer and a Barnard first-year. She hoped the perfect summer opportunity would materialize as she researched this article. It did not. Reach her at ishya.verma@columbiaspectator.com.
Veronica Grace Taleon is Spectrum's editor and a Barnard sophomore. She already has a job, but this article has made her consider giving up everything to help with turtle conservation in Yucatan. Reach her at veronica.taleon@columbiaspectator.com.