Columbia's streak-breaking 16-13 win over Princeton in 1988 is forever etched into the mind of former head coach Larry McElreavy. But according to the 69-year old, at the time he never felt the need to mention the 44-game losing streak to his team.
"We didn't have to bring it up," he said. "We just told them that if they keep practicing hard, if they keep playing hard, eventually something good is going to happen."
Spirits were high during that fateful Saturday afternoon, but the Lions actually believed their best chance to end the streak would come the following weekend in New Haven.
"Yale was bad, everyone thought they'd beat Yale," he said. "They had some close calls, good recruiting. Guys were responding, people could sense they were getting close. The mistakes were cutting down, confidence was building."
After falling to an early 10-0 deficit, Columbia clawed its way back into the game, narrowing Princeton's lead to 13-9 at halftime and causing students to flood into Lawrence A. Wien Stadium hoping to witness the elusive victory.
"I remember one of the coaches said to me at halftime, 'The stands are starting to fill up,'" he said. "The word on campus was that the students heard we were playing well and that the streak might end, and they all took the 1 train up. The stands filled up with students coming up to the game. All I remember is when the clock ticked to zero, there was an eruption."
Reminiscing about that October evening, McElreavy described a scene unlike any other in school history.
"Columbia had gone out and bought pizza and beer for everyone that Saturday night," he said. "So it was strange to walk around a campus like Columbia … and hear about what a great win that was. It was quite an evening. "
Despite ending the Lions' four-year winless drought, McElreavy would coach only six more games. He resigned at the end of the 1988 season amid allegations of insobriety and an extramarital affair, finishing with a record of 2-28 in his two years in Morningside Heights.
"I've learned a lot," he said in regard to his departure. "Over the years, you learn that the choices you make, they're your choices. And if they're good, then good for you, and if they're bad, then, well, bad for you."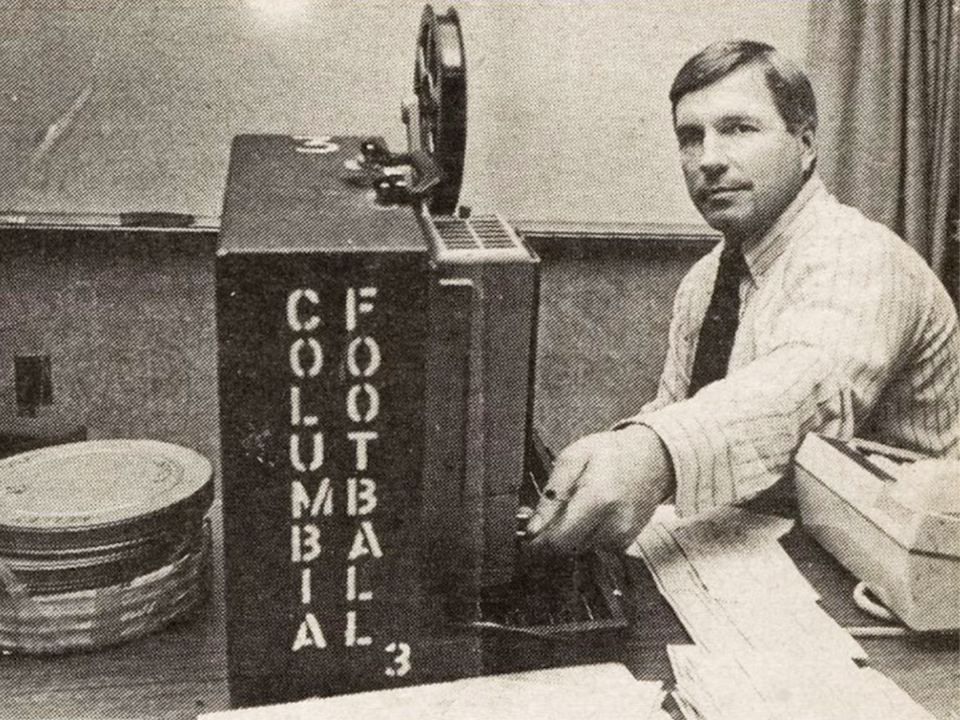 File Photo / Gabriel Kuperminc
It would be 26 years before the Claremont, New Hampshire native became a head coach again— he embarked on a professional odyssey, with six more stops in college football and then a 13-year stint as a car salesman.
After leaving Columbia, he first worked as an offensive position coach in the college ranks, later settling in at Richmond in 1996. But McElreavy eventually returned home in 2000 to care for his ailing father.
Following his father's death in 2004, McElreavy's focus drifted from football after his father's death in 2004, and he looked to career opportunities beyond the sidelines.
"I did well selling cars, I do well selling real estate," he said. "But I feel like a square peg in a round hole. When I'm coaching, it's just a hand going into a glove."
McElreavy returned to the gridiron in 2014 as head coach at Newport High School, the second-smallest school in New Hampshire to have a football program. In his first season, the Tigers went 9-2 and reached the state championship game.
Newport School District Athletic Director Jeff Miller reveled in the Tigers' newfound success as the man who ended McElreavy's extended exile from football.
"When we sat down and talked with coach Mac [McElreavy] and talked with people in the area who dealt with him a lot, there was no question whatsoever," Miller said. "His football knowledge is second to none."
A year later, Newport finished McElreavy's second season undefeated, beating its opponents by an average of 35.1 points per game. The Tigers capped the year with a 48-14 victory over Moultonborough Academy to capture the New Hampshire Division III State Championship.
That year the Tigers' biggest challenge of the season came on the road against archrival Franklin High School.
Even without star running back Noah Wade, McElreavy did not deviate from his run-heavy approach—the Tigers' fullback rushed for 113 yards and a touchdown in the victory.
"I've seen some coaches at that point who would kind of panic and try to change everything," assistant coach Bill Thurlow said. "But Larry didn't. We just stuck to our game plan and continued to do what we did best."
Thurlow also credited McElreavy with a professionalism rarely seen in high school football, which empowered the rest of the coaching staff.
"He let the assistants coach," he said. "He kind of stayed apart from it all. He set up the plan. He set up the practice plans. But during practice, much of the time he would just go around and monitor the individual group stations."
One key to the Tigers' success seems to stem from an emphasis on family. In fact, McElreavy explained that any of his players can recite his philosophy verbatim: Family is number one, education is number two, football is number three, and anything else comes after that.
Miller added that McElreavy has done more than just turn the football team around—he turned around the lives of certain players.
"Some of our hardest cases that we had in the school were on this football team," Miller said. "The one thing he immediately demands and gets is their respect, and if you talk to the players on this year's team, if he asked them to run through a brick wall, they'd run through a brick wall."
That sort of loyalty has been a building block for McElreavy's sparkling tenure at Newport, a place that he is happy to call home.
McElreavy plans on returning to coach the Tigers next year. But he believes a new opportunity is always on the horizon, and the 69-year old doesn't discount a possible return to college football.
"Every year I could paper the walls of my house with letters of rejection," he said. "I call colleges, I send resumes, but as long as Newport High School wants me, I'll be there."