On Wednesday, September 20, 2017, Hurricane Maria made landfall in Puerto Rico. I didn't know the hurricane was coming until two days before when my half-brother called from the hospital my father was staying at to tell me it was coming. I wasn't concerned. As far as I remembered, there had always been hurricane warnings in Puerto Rico but none of them had ever hit. It had only been a week since Irma and at the time they had predicted doomsday—the power would be out and when it went out, it'd be out for months, they said. No data, no wifi, zero communication with anyone outside of the island. Puerto Rico would be devastated.
Irma had gone around and brushed the fringes of the island. Some tree branches had fallen, my grandmother lost power, and that was that. "It's not a joke, man," my brother told me on the phone afterwards. "I literally saw a bird get killed in midair and fly away into the wind."
"It's because of the mountains," my mother always says when the hurricanes go around. "The hurricane comes, it gets to the mountains, and then it goes away." Except once. It was 1998 and my mother was pregnant with me. My father wasn't home. My mother threw the pool furniture in the pool to keep it from flying away, and when she got in the car to drive away, the bridge was washed out. So she came back home, put up the hurricane shutters, and slept through the whole thing como si nada. I've heard this story a million times, and when she tells it to me, I never picture her afraid. I picture her swollen and waddling. I picture her shoving pool furniture into the pool with indignance and rolling her eyes at the sky. She goes to bed and wakes up and the weather is beautiful. "It's always beautiful the day after a hurricane." She says that every time.
***
I don't remember when my father got the house in Gurabo, but as of the end of last year, it was the only home I had left. It was in one of those gated communities where all the houses looked the same, and ours had been gray-and-blue at one point, but my father had it repainted a coral-like orange-and-pink a few years ago. On one side was a view of the side of the mountain it rested on and on the other side was a view of Gurabo itself, which when you take the time to walk through it, is a small town of cracked school baseball stadiums and houses like colored blocks stacked on top of each other and stray cats and men sitting in plastic chairs outside of panaderías blaring a strange mix of reggaetón and American music—Daddy Yankee one moment and Taylor Swift the next. We were far enough away you never heard anything except wind and coquís and maybe a neighbor in the house next door banging on the piano.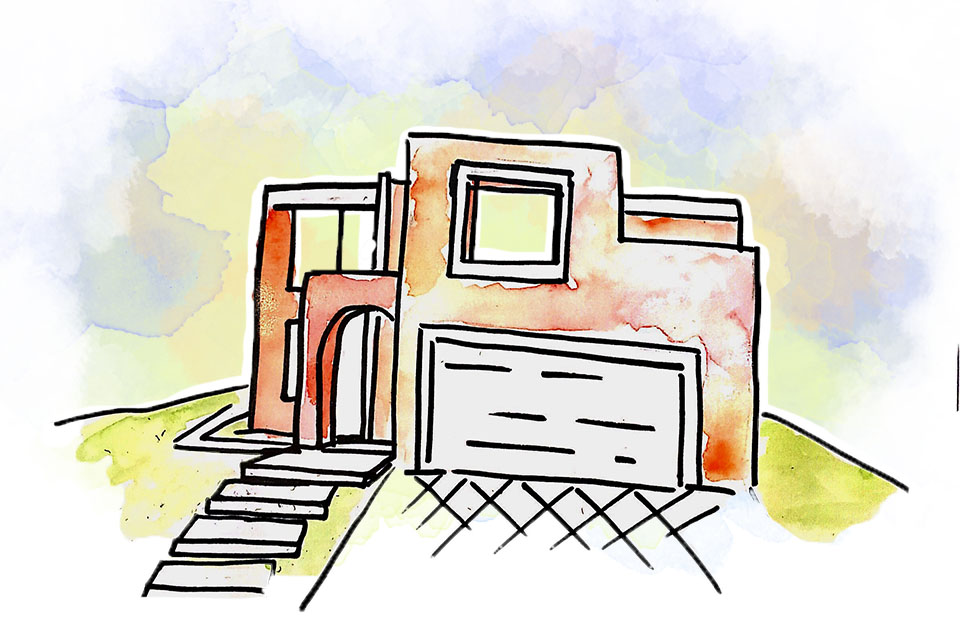 Down the street from our house was the panadería we would walk to before noon when it got too hot, and my brother would get a ham, cheese, and egg sandwich, and I would order a Cuban sandwich with avena de maíz, but we would usually get there too late so they were always out. And then there was the bar I had tapas at once that had half a car sticking out of it, the car repair shop, the gas station, the spot on the side of the road where a man and his son sold produce from the back of a large, gray van, and the intersection with the most awful Chinese restaurant I have ever been to in my life, but at least they served tostones.
The house in Gurabo was where my little brother and I had tried pushing each other off of hammocks, where we had taken turns spitting off the second-floor balcony, where we had celebrated his birthday parties and played with our cousins in the pool, where I had spent summer after summer watching movies in the spare bedroom while my father was at work. It was where I had accidentally leaned into a knife on an armchair and scarred my knee, where I had seen my father cry for the first time, where I had stood in front of a mirror and marked with a Sharpie where I wanted my tattoo to be.
It was the only home I had left because over the summer, my mother sold our house in Maryland too soon and had been forced to live in the apartment next to her coworker's house—a small beige room covered in carpet where my bed was a couple of blankets on the floor and the dog curling by my feet. And so, when I thought of home I only had two things left: my dorm at Columbia, and the small, orange-and-pink house in Gurabo that stood at the side of a mountain.
***
The night before Maria, I made the mistake of googling it. It had just hit Dominica, an island known for being mountainous, and 75 percent of people's roofs had been ripped off. I read the prime minister's account of hiding in his bathroom as the walls came down. I found a picture of Maria's trajectory and it was a huge swollen red eye—Puerto Rico was a small dot directly underneath. It wasn't going around. When I texted my brother, he had just left the hospital where my father had undergone an observational heart surgery. My father had had a small stroke a few days before and was only now being released. For those entire three or four days, my brother and my dad's girlfriend, Yahaira, spent every moment by his bedside, sending me pictures of him making peace signs while hooked up to an IV—and so when I asked if they had stocked up food and water, my brother said he wasn't sure.
The more I googled Category 5 hurricanes, the more I began to panic. I stood in the Hartley lounge and told one of my friends that my family lived in the mountains and that the mountains were under a landslide warning. I thought of Gurabo and the mountain our house was on, and suddenly the mountains weren't so friendly anymore. "You're freaking out," my friend said. "It hasn't even happened yet." My other friend grabbed me by the hands and told me the only thing I could do was pray. And I did. That night, I sat alone in my bed and prayed, something I hadn't done in a very long time. The last thing I told my brother before the hurricane hit was that the windows might shatter so he should hide under the staircase on the first floor. I told him that I wanted him to text me right up until the cell towers went out. Well fuck, he wrote. Javier pls tell me you'll remember about the staircase, I wrote, and that was the last text I sent before the hurricane hit.
***
By 9:00 a.m., the window in the spare bedroom was gone. All the others had shattered except the one in my room, but the one in the spare bedroom was just gone. It had blown clean out of the wall and landed, ironically unbroken, in the yard where our dogs were. The hurricane had smashed down the door to my father's room and it now lay half-cracked on the floor, the wall decorations—including a painting of my father I had made as a child—floating in a three-inch pool of water. The water poured down the staircase like the house was pissing itself. On the first floor, the furniture had been rearranged and covered in glass, the red couch resting halfway up the stairs. The front door had exploded. My brother and Yahaira had tried barricading it with couches, but the lock had busted anyway, and this is one of the things my brother remembers most—standing in the center of the living room as particles of wood and water flew around him in slow motion.
Ur supposed to be on the first floor under the staircase, I wrote when I found out they were all hiding in my room, but whatever…
Bitch
bitch
We don't
Have a first floor
No more
***
The morning of the hurricane, I had an academic advising appointment. I showed my advisor the videos my brother had sent of our house falling apart. She studied my face. "You're not talking, you're not okay," she said, and emailed all my teachers.
I went to class, which was a lecture, and sat next to one of my friends with tears slowly dribbling down my face. He patted me on the shoulder. "I don't know what's happening," he said, "but it's going to be okay." I told him about the hurricane, and he watched, wide-eyed throughout class, as I texted my brother asking if he thought the walls would stay up.
JAVIER, I texted, IS THE WIFI GONE
No
I'm ded
This is a ghost
We all died
And I'm manipulating my phone from the other side
Papi says "tell her that I have insurance so she'll still go to Columbia"
When the class ended, my friend stopped me.
"Hey… uh… Do you want to get milkshakes at Tom's? Around like 4 p.m.?"
For an hour, I sat at Tom's and split a butter pecan milkshake with this friend of mine. I almost forgot what was happening for a while.
"Thank you," I said.
"No problem," he said. "I don't like seeing my friends upset."
I nodded. Then we finished our milkshakes and parted ways.
***
Somewhere between 4:00 p.m. and 8:00 p.m., my brother lost data connection. Maria ended early the next morning. In the end, the hurricane lasted a total of over 30 hours.
***
At 3:00 a.m., I found my first picture of San Juan underwater and burst into tears. I watched Maria's trajectory slowly make its way across the screen, Puerto Rico still covered in red underneath. I found a picture of a park where I had played with the pigeons as a four-year-old, and all the trees had fallen—huge trees I imagined had to have been a few decades old at least.
I pictured Gurabo and the road that went down the side of the mountain from my house. I walked along it mentally, pictured the man with his van full of produce and the panadería and the gas station and the car repair shop and the bar with half a car sticking out of it and the intersection with the awful Chinese restaurant. I realized I didn't know what those places looked like anymore. I didn't know where my family would sleep after the hurricane ended. I didn't know if they had enough food and water to make it through whatever lay ahead of them. I didn't know when we would regain communication. I wanted to go home. I wanted to take a plane, find my family, and mourn. I wanted to clean up whatever was left of the house the next morning. I didn't want to be here anymore. In the middle of the night, with all the lights on, with all the images of the places I thought I had known running through my head, I said it alone to myself and sobbed—"It's gone, it's all gone."
***
The next few days are a blur. I might have skipped some classes, but I don't remember. That Friday, the boy who had been in the month-long process of ghosting me canceled our date, and I wore the outfit I had planned anyway. I met Sandra Cisneros at a reading and stood in line for her autograph. I told her I had written a book and I had originally meant it to be like The House on Mango Street. She smiled and let me take a picture with her.
A few days before, I had been studying on the bench outside of Earl Hall, and this woman with mangled English had approached me wanting to talk about God. Her name was Esther. Normally, I would have turned her down, but she was so friendly I gave her my number. When Esther texted to meet up the day of the hurricane, I told her I couldn't and she told me she would pray for my family and me—for so much peace and safety. No fear or anxiety, just surrounded by so much peace <3
As the days went on, I would receive more messages like this—some from friends I hadn't talked to in a while, some from people who had graduated, some from people I had barely talked to in classes my first semester first year and who I hadn't talked to since. I called my Literary Arts teacher from high school in Maryland and she told me to keep her updated. I called my best friend multiple times and we cried together on the phone. I sat in many of my friends' rooms. With some people, I said nothing. Some people I talked to. Some people I held onto for a very long time. One woman who was a playwright in Baltimore I had been intermittently emailing since middle school offered the second floor of her house to my family and access to a doctor if my father needed it.
Two days after Maria, as I got off the subway from the Sandra Cisneros reading, my phone buzzed. It was my brother. I picked up the phone—"Javier?"—but the line went dead. I went to Hungarian Pastry and ordered a coffee, watching my phone suspiciously. He called again and the line went dead a second time. The third time, the call came through.
"Viviana?"
"Javier!" I screamed, and the lady beside me stared, but I didn't care.
***
Courtesy of Viviana Prado-Núñez
The moment I resumed contact with my family, chaos ensued. The power was out and that meant our gated community was no longer gated. There were no police. People from our community had begun stockpiling weapons. The gates would open at 6:00 a.m. and close at 10:00 p.m., and overnight people would take turns standing guard, fully armed and led by a Vietnam War veteran who, according to my brother, "had PTSD" and "didn't sleep the night anyway." The gas lines stretched around the block for miles and took hours to get through. When my father went to fill up the tank, he did it armed to protect himself from robbers. In the brief moment my brother regained data coverage, I was sent a barrage of daily journals he had been writing me, but only now were coming through:
Day 3 of post hurricane maria in PR
Hey sis , like the title says its day 3, yesterday I didn't write anything cuz Idk there wasn't interesting to report on, well its 7:35am right now and I woke up home alone. I dunno where papi or Yahaira is and there is no communication. I'm kinda scared and there is no food at the house, my breakfast was Oreo cookies and milk, and I think that'll be the last food imma eat for today
Anyways I hope you ain't freaking out about this
Sent @ 7:38 am, Friday , September 22, 2017
My family wanted out. In the little time I was able to talk with my brother, I was tasked with finding him, my father, and Yahaira a flight off the island. But they were all sold out. The moment I clicked on something the tickets would sell out, and if not, there would only be one seat left worth over $1,000. After a few hours of Google searching and yelling at my mother on the phone (she'd gotten the crazy idea to fly them to Maryland even though she didn't have a place to live herself), I found a cheap flight that had five seats left for the following Monday, which was when the airport was scheduled to open.
***
Monday came. The flight was canceled. I tried finding another flight, but there were none. Somehow my father found someone to take them to the Dominican Republic, and I didn't breathe until I received word that the plane had landed. When it did, my brother texted me excitedly about having plumbing again, but he was sad because he had left all his friends on the island and, unlike us, a majority of them didn't have gas or a stable place to stay. I asked if he'd heard from his mother, and he said he hadn't. He'd tried contacting her, but wherever she was, she didn't have service.
That same day, the boy who had been ghosting me broke up with me. It was a two-hour phone call.
"It's all gone," I told him.
"Yeah," he said, and we were silent a while.
"You're taking this really well."
"I'm in hurricane mode, baby. You could cut my hands off and I wouldn't notice."
He told me to text him if I had any questions.
"Yeah right," I said. "You wouldn't respond anyway."
"What can I say, kid, I'm unreliable… Let me know if your family turns out okay."
We said goodbye. He hung up. We haven't spoken to each other since.
***
As of my writing this, it is early January and it has been almost four months since Maria. Around 50 percent of Puerto Ricans don't have power and the unofficial death count has stretched into the thousands.
After staying in Florida for a couple of weeks, my family went back to the island. My brother returned to school without power or water and was required to bring his own toilet paper, baby wipes, and lunch. His mother still doesn't have power and her water is contaminated. The house in Gurabo doesn't have power or clean water either, although we have a generator. Most of the furniture on the first floor is gone and a wooden board covers the wall where the window used to be. The painting of my father survived, but it hangs frameless with a huge stain down the front.
Last night, the generator down the street exploded and my father's office lost power (again). While driving to the office this morning, a woman on the radio asked the man she was interviewing on the radio, "¿Tú tienes luz en tu casa? Do you have power?" "No," he responded. "Me neither," she said. Most of the traffic lights are out, as are a good portion of the highway signs. Driving through intersections is a somewhat amusing free-for-all and, to tell the truth, isn't so different from what it was before. It is rare to drive through San Juan without running into an electricity truck. When I was here over Thanksgiving break, one of the trucks had the nerve to put up an American flag, and everyone in the car flipped it off as we drove by.
It was over Thanksgiving break too that my brother gave me a tour of the neighborhood and, for the most part, they'd done a good job cleaning up. But there were small things. Piles of debris at street corners. Downed power lines resting like fat black snakes on the sidewalk. Where the playground used to be, there is now a bald spot of grass and a hole in the fence where it flew down the side of the mountain and landed on the house below. Inside our house, the ceiling fans sit with the blades missing like plucked flowers.
It is only now that my brother is able to tell me about the things I never heard about. Like how Yahaira's leg had gotten caught on the staircase and he'd saved her before the wind could snap her leg in two. Or about how he had woken up to the doors banging by themselves, Yahaira mopping the floor, my father sitting listless on the couch—and all the while the entire house felt like it was being sucked from the outside, like a giant plunger had attached itself to the side of it and was determined to pull them out. Or about how the dogs had gotten loose so he had gone outside searching for them and had met a man whose dog had been sleeping by the doorway when it flew away.
"You don't understand, Viviana. The man's face—it looked so sad. I don't think I'll ever forget it. He said it so casually too—'Have you seen my dog? It flew away.' And I asked myself, is this what we've come to? Is this what's normal now?"
***
The months following Maria were harder than I expected. I spent a good portion of the semester preferring being asleep to being awake. I would wake up after having slept 10 hours, look at the clock, and go back to sleep. I stopped going to my mandatory scholar programs. Sometimes I showed up to my extracurriculars and sometimes I didn't. I talked to my brother about it and realized he was going through the same thing. Being alive was harder than it was before. He had taken to getting drunk on the weekends, and sometimes I would text him and he'd be in the middle of a mood swing. At one point, he said, he'd considered filling his water bottle with vodka and going to school, but he'd relented.
"Puerto Rico sucks," he told me over winter break, and I looked at him. "What? Try living here for a couple weeks and you'll see."
I sometimes think about how much worse things could have been. The walls could've come down. My father could have fallen ill after the hurricane. Yahaira's leg could have broken and she could've been sent to a hospital without power or water. My brother could've been killed by a flying door, or held up at the border of the Dominican Republic because his passport had expired.
My brother and I know how lucky we are. Our family can afford to rebuild. We don't need FEMA and we never did. Near the center of the island, it's different. People still don't have walls or roofs. If you can't afford a generator like my brother's mother, you live without power. Some of those people haven't seen a single federal aid worker in four months. The majority of the aid they've received is from private citizens venturing into towns with food and water. In the weeks following Maria, my Facebook feed was flooded with stories of people looking for their loved ones, especially elderly people in nursing homes. The story that broke my heart the most was of a woman whose best friend lived in Caguas, who had spent an hour crying on the phone because she didn't have enough food to feed her newborn baby and her town had yet to receive aid from the government.
"It doesn't even feel real when I say it," my brother said. "But I almost died. Multiple times."
And that is the strangest thing, I think. It's strange to be a statistic—to be the 50 percent without. It's strange to be the disaster story. No one thinks they're going to be one until they are.
On our drive to the office this morning, my father decided to cut through the mountains.
"The view is beautiful," he said, "because Maria knocked all the trees down."
"That's awful," I said.
"Yes, but you can see the entire island from here."
I looked. From up there, you could almost imagine Maria had never happened. You couldn't see the downed power lines or the piles of debris or the baseball stadiums with the roofs shorn off. You could almost imagine things could go back to the way they used to be.
The view passed.
And we were enveloped in forest again.