Between May 2016 and October 2017, at least two postdoctoral researchers and one associate research scientist at Columbia died by suicide.
While both on and off campus publications diligently covered Columbia's 2016-2017 undergraduate suicides, they remained largely mute to a parallel series of suicides occurring simultaneously within the postdoctoral community.
The only online mention of these three deaths comes in the form of a January 2018 memo, written by three postdoctoral research scientists—Regina Martuscello, Jeroen Bastiaans, then president of the Columbia University Postdoctoral Society, and Anna Cieślak, who took over the position when Bastiaans left for another position at Cornell. The memo, titled "Promoting Mental Well Being for Columbia Postdocs," was presented to the Research Officers Committee of the University Senate.
The report's formality is underlined by a sincere concern: "High levels of stress and depression are not uncommon in the Columbia postdoctoral community."
The report lists several sources for high stress levels within the community, including a difficult acclimatization to the workload and a constant pressure to perform. It cites research from the University of Texas at Austin which found that 29 percent of postdoctoral fellows surveyed were depressed, with 58 percent considering themselves "languishing."
The life of a postdoctoral researcher in the sciences is marked by uncertainty. Their contracts are yearly, their housing isn't guaranteed, and, like all other scientists, their research does not always have a clear path forward. Postdoctoral mental health is a national issue, but Columbia's insufficient policies in housing, childcare, pay, and lack of centralized structural support for postdoctoral researchers adds pressure and stress to an already fraught professional period. While resources are available, they are decentralized, shuffled between groups of postdoctoral resources and the official administrative branch intended for them.
The work of postdoctoral researchers in Columbia laboratories is essential to the publication power of the University. Under tremendous professional pressure, they move the Columbia scientific community forward.
And while the University is willing to discuss these concerns with certain postdoctoral advocates, much of the advocacy, outreach, and policy accountability within the University is driven by groups of postdoctoral researchers.
The Office of Postdoctoral Affairs and Columbia University Postdoctoral Society have laid out a plan to improve mental health within the postdoctoral community here on campus, including the promotion of preexisting resources, engagement with principal investigators, and the creation of programs that look beyond the postdoctoral community to the future these researchers strive toward.
Part of CUPS's success lies in its engagement with University administrators. Ericka Peterson, the director of the Office of Postdoctoral Affairs, spoke highly about the group.
"CUPS has been a tremendous asset to my office," Peterson said, "and is also a key component of postdoc life. I've enjoyed watching them grow as a group and I'm so proud of their accomplishments in the programs that they have developed."
Understanding Postdocs
A postdoctoral researcher is a person who, upon completion of their doctorate, seeks further training or specialization. They exist in an academic in-between space: neither students nor professors, they're stuck waiting for that paper to prove themselves as viable candidates for a tenure track position.
Broadly speaking, there are two types of postdocs: postdoctoral fellows and postdoctoral researchers. Not all postdoctoral researchers are fellows, though all postdoctoral fellows do research, so the distinction between them in the postdoctoral community is slight. Postdoctoral fellows come to universities funded by an external grant, and the title "fellow" carries with it a level of prestige and distinction, according to Martuscello. In receiving a postdoctoral fellowship, candidates prove themselves to be competitive researchers capable of securing their own funds.
Although not all postdocs are in the sciences, the vast majority of them at Columbia are STEM researchers or fellows—the Columbia University Medical Center alone houses 70 percent of Columbia's postdocs, with the remainder working on Columbia's other campuses. This group of researchers—postdoctoral fellows, research scientists, and associate research scientists—accounts for 1,800 of the roughly 17,000 University employees, meaning they make up more than a tenth of the University's labor force.
"We know that the postdoc population is a very vulnerable and critical population," Peterson says. "They are the key to our research enterprise."
Benefits
Unfortunately, Columbia's international prestige in research does not always translate to internationally rivaled benefits for its researchers. Postdoctoral researchers at Columbia have lower starting salaries than those at some other New York research institutions. Postdoctoral research fellows are paid a starting salary of $47,484, a standard set by the National Institutes of Health and subject to grant-specific variation. Postdoctoral research scientists are paid a starting salary of $48,663, with a suggested average increase of 2.50 percent salary per year. The document laying out these salaries specifies that these pay increases are ultimately dependent on the funding available and the performance of the researcher. Comparable New York scientific institutions, including Rockefeller University, Memorial Sloan Kettering, and Albert Einstein College of Medicine, can be examined for context. Columbia and Albert Einstein follow the same salary scheme. Significantly, however, Rockefeller University and Memorial Sloan Kettering have starting salaries $2,524 to $8,524 higher than Columbia's, with similar pay increases.
Intrinsically bound to the issue of pay is the cost of housing in Manhattan.
"We do not make enough money to even rent an apartment in New York City," Martuscello said.
The salaries of postdoctoral researchers make affording local housing around Morningside Heights and in Washington Heights incredibly difficult. Washington Heights, where CUMC is located, has a median rent of $1,980 per month for a one bedroom apartment.
Housing through Columbia is available but not guaranteed. Housing at CUMC is done through a lottery system and is only offered for the first five years of a postdoctoral appointment. Subsidized housing through the University costs $1521 to $2288 a year for an unfurnished studio and a one bedroom, respectively. Housing at Morningside Heights is also lottery based This is especially concerning to international postdoctoral researchers, for whom housing is an even more fraught issue due to the multitude of administrative hoops that Manhattan landlords require them to jump through: obtaining a credit history, proof of employment, and sometimes even recommendation letters from past landlords.
This leaves some international postdoctorals—who make up nearly half of the postdoctoral population researchers—in a limbo, unable either to rent through a landlord outside of the University or to secure University housing. Navigating Manhattan real estate is tricky, but finding an apartment without a credit history is nearly impossible. While international postdoctoral researchers are prioritized in the housing lottery, getting an assignment through the lottery is not immediate.
"It can take up to three months to hear from that lottery system," Martuscello noted.
"I would say even longer," Cieślak interrupted.
Family leave is also variable among these peer institutions. All New York employers are required to follow federal family leave policies, which guarantee full-time employees eight weeks of partially paid leave. While Columbia follows these protocols, some peer institutions in New York have helped postdocs by providing more support during and for family leave. The standout among these institutions is Rockefeller University, mentioned with great envy in my interview with Medini Annavajhala, Alvaro Cuesta-Dominguez, and Cora Bergantiños Crespo of the postdoctoral unionization effort, which offers time off for birth and adoption in addition to $13,170 toward the adoption of a child. Columbia offers $5,000 dollars to the adoption of a child for full-time employees.
The University gives up to 23 non-family leave days of time off to each postdoctoral researcher; the same policy is in place at Rockefeller, MSK, and Albert Einstein. Family leave is a set number of days a new parent is allowed off "during the first 12 months following the birth, adoption, or foster placement of a child." A principal investigator can give these days off—or choose not to.
Danielle Tufts, a postdoctoral research scientist at Columbia in the laboratory of Dr. Maria Diuk-Wasser, learned the importance of breaks during her Master's degree at the University of Texas, in which she would sleep some nights in a cot inside the laboratory.
"I was stretching myself very thin and just feeling very overwhelmed and it was finally like, you know what, I deserve like I deserve to take some time off." A friend's words changed her perspective. She laughs as she quotes them: "If God can take a day of rest, so can you."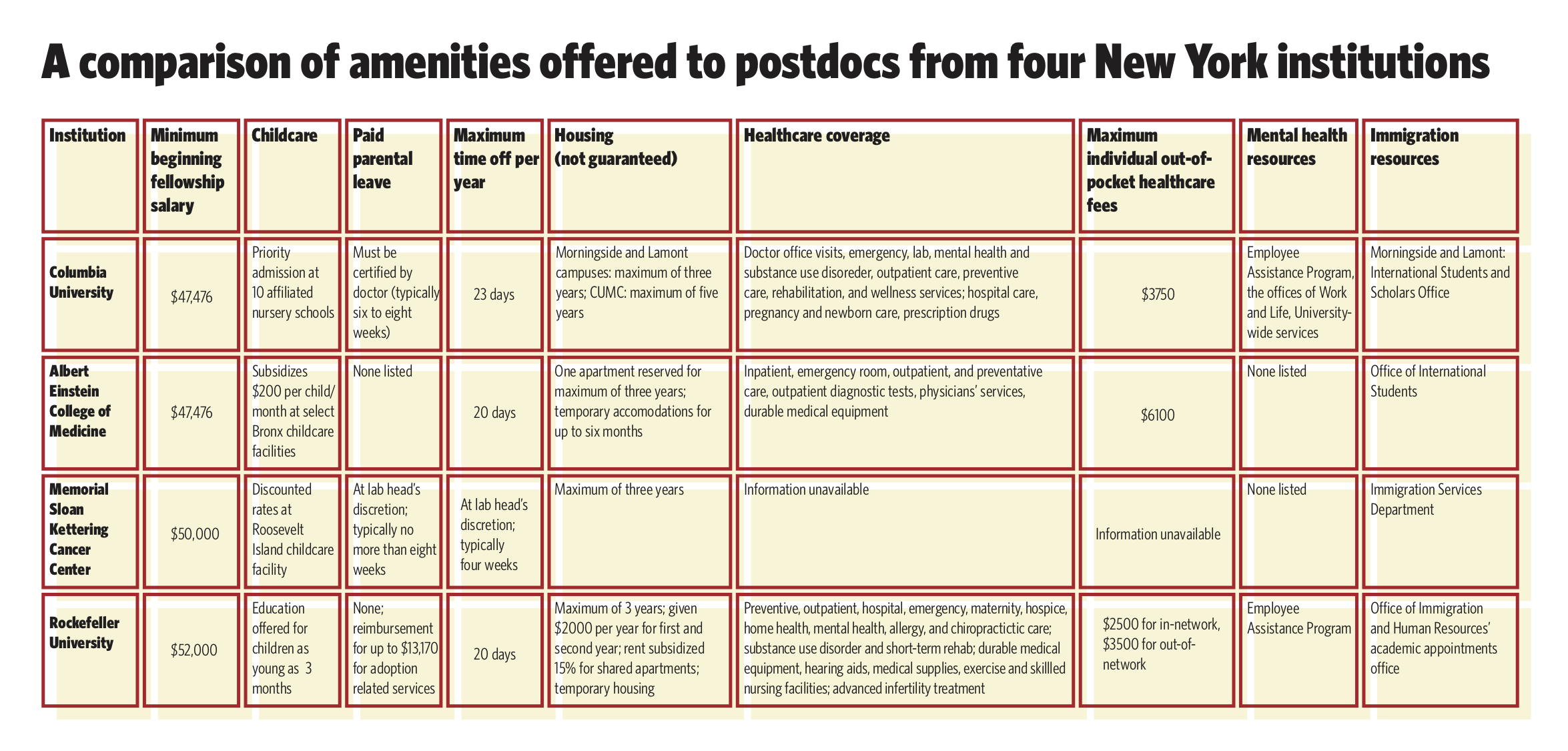 Left Vulnerable
The relationship between principal investigators and postdoctoral researchers is at the heart the postdoctoral experience and is a place of great potential and vulnerability. As the heads of labs, principal investigators command great power over postdocs, who rely heavily on their professional and personal opinions, not least to ensure good working conditions. Traditionally, the completion of a postdoctoral position is accompanied by a letter of recommendation. That letter allows postdoctoral researchers to move forward in their careers, either onto another postdoctoral position, as 30 percent do, or into academia or industry, like pharmaceuticals, biotechnologies, or chemical companies.
Postdoctoral research scientists derive their salaries from their principal investigator, the head of a laboratory project. Principal investigators apply for grants to fund their projects, including in their proposals potential costs. One of these costs can be a postdoctoral researcher: "No name or anything," Martuscello emphasized.
Some, like Tufts, feel incredibly supported by their principal investigators. Others are not so
lucky. Cuesta-Dominguez, a postdoctoral research scientist in the department of physiology and cellular biophysics, mentioned this as one of the unionization effort's concerns.
"The abusive relationships with the PIs… can draw you into [this] vicious circle where it is difficult, really difficult, to get out because in order to seek help you're going to need time and money," he said, "which are two things that we don't have that much."
The memo presented to the Research Officers Committee discusses "serious cases of PI misconduct" revealed to CUPS and the OPA. As postdoctoral researchers are yearly employees, some fear that making accusations of abuse and harassment could leave them untethered in a scientific and employment limbo without a clear path forward. International postdoctoral researchers are particularly vulnerable to this, as many visas are dependent on employment and the severance of a PI relationship could force the researcher to leave the United States.
Among the many things this PI-postdoc relationship controls, one is the work hours of the postdoc. While postdoctoral researchers are not required to work on the weekends, the memo notes, "PI's should not be demanding postdocs to work long days and every weekend. A postdoc should be self-motivated and happy to do so!"
There is no set number of hours for which a postdoctoral researcher should be working. Some are working 40 to 60 hours per week.
"It also depends on the nature of the work," Cieślak said. "For example, for my case, my experiment's long term, so I cannot really manage enough in the way that I can come from eight… and go out at four."
"There are situations where postdocs are forced to work late nights, long hours, and weekends when they don't want to," Martuscello noted. She speaks in generalizations, but this is intentional. Her roles in CUPS and in the University Senate have led many postdoctoral researchers to share their experiences with her, allowing her to present their concerns to the University without exposing their identities. She adopts the same approach here, telling me about the postdoctoral workload, careful not to implicate—and therefore potentially endanger the jobs of—any specific postdocs.
A Path Forward
Improvements to these work conditions are required to better postdoctoral working conditions and mental health. But, as always, there is also a certain commercial logic to providing postdoctoral fellows with improved benefits.
"It's in the University's best interest to have a population of postdocs that are happy, because a happy postdoc is a very productive postdoc, and someone that has, like, mental health issues is not going to be focused on what has to be to do his research," Cuesta-Dominguez stated.
The task of keeping the postdoctoral community connected and well has, in many ways, fallen to the postdocs themselves.
The memo Martuscello presented in November and December laid out a series of recommendations for improving mental health among postdoctoral researchers. The first and second recommendations followed a similar thread: the promotion of an expansion of spaces for "physical, mental and social wellness." Similar language was used by undergraduate advocates in the wake of the 2016-2017 suicides, highlighting the commonality between these two seemingly disparate groups.
To this end, the report suggests a consistent promotion of the available mental health services, confidential counseling services, and an ombuds office—all venues for expressing frustration or concern in an anonymous manner. Today, Martuscello says that there has been a consistent release of resources to postdoctoral fellows, though the suggested orientations have not yet been made mandatory.
To make the professional environment as positive and productive as possible, the authors suggest training faculty in mentorship. The memo does not place the training responsibilities entirely on the faculty and emphasizes making postdoctoral researchers effective advocates for their own needs.
To expand its advocacy, CUPS has laid out a plan to send an anonymous survey of well being out to the postdoctoral researchers. The survey seeks to better understand the challenges facing the postdoctoral community. Pressing to them is the inclusion of questions on PI misconduct.
The survey was recently approved by the Columbia administration and will be sent out to postdoctoral researchers across the University once CUPS goes through a final approval. The results of the survey will be available at an indeterminate time.
The memo also suggests a peer mentorship program and a speaker series. Cieślak confirmed the creation of an internal, CUPS initiative for mentorship, as well as the creation of a monthly Growing Up In Science program. Additionally, the Research Officers Committee has worked in tandem with CUPS to organize town halls for postdoctoral researchers. These town halls will allow postdoctoral researchers to gain information, meet representatives from the ombuds office, and learn about the wellness series directed by the Office of Postdoctoral Affairs. CUPS has worked collaboratively with the administration to promote these goals.
Housing, health care, and childcare, identified as key sources of mental health problems in my conversation, are left unaddressed in this memo, although CUPS has recently worked with the University Senate Housing Committee to find a sustainable solution for housing. The University is interested in comparing its own housing options with that of peer institutions, some of whom subsidize housing more heavily.
The Office of Postdoctoral Affairs worked with several Columbia offices to extend the University health insurance policy to postdoctoral fellows, who previously had to rely on their own funding for health care. Crucial advancements in mental health services have also been made. The Employee Assistance Program, which provides free, short-term counseling to Columbia employees, was opened to postdoctoral fellows last year, Peterson, who has initiated many programs for postdoctoral researchers in her two years, said. In 2016, when she began, she sent out a small, informal survey to postdoctoral researchers. Within an hour, more than a hundred postdoctoral researchers had responded. The Office created a wellness series in response that included yoga and mindfulness classes. Support groups have also been created to support parents, LGBTQIA postdoctoral researchers, and underrepresented minorities.
Alongside CUPS, those engaging in unionization efforts see a potential postdoctoral union as the other key form of postdoctoral self-advocacy. Organizers seeking to form the Columbia Postdoctoral Workers UAW are currently aiming to garner support from a critical mass of postdoctoral researchers, with the eventual goal of holding a National Labor Relations Board-controlled election to form a union. They present themselves as an outside resource for advocacy for postdoctoral fellows. Following the example of the University of California Postdoctoral Union, CPW-UAW organizers hope to use collective bargaining to hold the University accountable to the needs of postdoctoral researchers. Peterson declined to comment on the unionization effort.
"I think it's been postdocs for the most part reaching out to the University and saying this is what we want and what we need," Tufts reflected. Indeed, the strides forward for postdoctoral fellows, improvements in health care, mental health coverage, mental health training, teaching opportunities and more, have been advocated for by the very population that needs them most: the postdoctoral researchers. While balancing their stressful professional lives and producing research for the University to promote, they must also promote their own well-being.
There is palpable exhaustion in the voices of many of the postdoctoral researchers with whom I've spoken. Their situation is not enviable, but at the root of their struggles forward is a deep love of science.
"It's a very stressful training period because of all the components that go along with it. But you still love your science," Martuscello said.
Columbia's administration is wise to continue its conversations with CUPS and OPA. Improvements in housing could alleviate much of the uncertainty associated with an already difficult transition into a new position. Adjusting the salary to better reflect the realities of living in New York City, or at the very least offering more heavily subsidized services, is a fair and deserved reward for the tireless work of the postdoctoral community. Mentioned but not yet brought to fruition is the engagement of principal investigators in this conversation. Principal investigators are, ultimately, in control of a postdoctoral researcher's day-to-day activities, the hours they work, the conditions they work under. Open conversations about the universal stressors of postdoctoral life are clearly promoted by the unionization effort, CUPS, and OPA. Engaging these principal investigators in this conversation will be crucial for a fully integrated change.
When I first came across the January 17 memo, I was struck by how little I knew of the postdoctoral community on campus. We've all heard of the issues facing graduate students. Their unionization effort has palpable support on campus. In the wake of the suicide cluster amongst undergraduates, the conversation about mental health was ever-present, loud, and rightfully active. The three suicides of postdocs indelibly also impacted the postdoctoral community, sparking further engagement by members of the postdoctoral community and further advocacy by administrative and non-administrative groups. But that story has, for the most part, stayed within laboratories and private meetings, apart from the undergraduate community. As we invest ourselves in our community, we have a duty to ask, who is in this community? Who are we ignoring? Who can we ignore no further?
Update: this article has been updated to reflect that housing for postdoctoral researchers at Morningside Heights is done through a lottery system, not through departmental allotments as previously stated in this link.
Have fun leafing through our eleventh issue!