One day last fall, Jeff walked into Lerner Hall and turned left into Café East, heading past the security desk on the bottom floor, past the neon blue "We Are Columbia" sign, and past the small white tables populated by packs of Columbia and Barnard students. He was here to meet his tutor, and though Columbia's Morningside campus is contained by just 10 or so city blocks, Jeff had come a long way from home.
At a young age, Jeff, who is referred to by a pseudonym in this article, left his home in Texas because his family did not accept his identity. He moved to Mexico, picking up various jobs before eventually winding up in New York. It was there that he made his way to the Ali Forney Center, which supports homeless LGBTQ youth in the city, which connected him with a Columbia student for tutoring.
Jeff had taken significant time off from school, but he wanted to go to college, maybe even Columbia. So he had come to campus to learn from Aomeng Cui, a senior in Columbia College who had tutored students before through the Double Discovery Center and during high school. Together, they worked through worksheets and summary sheets to help prepare him for the standardized tests needed to apply to college.
I sat down to speak to Cui about her experience tutoring Jeff months after they had last met. Yet Cui's expression still lit up as she remembered how impressed she was by the resilience and self-sufficiency that moving to a totally different landscape and being able to survive independently requires. She recollected this character coming out of Jeff when he was doing his work—he was lighthearted and did not take small mistakes too seriously—he just laughed and moved on.
Working with Jeff pushed Cui to think about how getting an education or going to college might not necessarily be something you are expected to do right after high school, as it generally was at her public high school in Atlanta. Some individuals have to put significant effort into being in a place where higher education is accessible financially or in other ways that Cui previously took for granted.
Cui was paired with Jeff because she works with Brilliant and Proud, a student group that, for the last two years, has tutored and mentored LGBTQ homeless youth.
Brilliant and Proud was formed when its founder—a Columbia College junior who has been granted anonymity due to homophobic threats that he received at home—was working during his sophomore year at New Alternatives, a homeless drop-in center for LGBTQ homeless youth. In his work, he saw a need for tutoring that often went unmet.
He realized that at Columbia, all around him, there are students who are interested in doing good in the world while studying all the subjects for which people needed support. He began to recruit by posting in Facebook groups, reaching out to friends, and advertising in classes the opportunity to get involved with tutoring.
Travis Vidic, a senior in the School of General Studies who first got involved in Brilliant and Proud when one of the founders pitched the volunteering opportunity to his American studies class, is now part of the leadership team of the organization and helps with the tutor-client matching process. He tells me he felt particularly motivated to join because he feels connected to the AFC's clients' pursuit of education.
"I'm a General Studies student and I came back to school after 13 years and that has been a process for me too," Vidic says. "Just in terms of claiming my value, not only on campus but just as a productive citizen in the world. And I feel like the young people at Ali Forney possess equal, tremendous amounts of value."
Last spring, when I asked one of the now-graduated leaders of Brilliant and Proud how many current volunteers were on the Brilliant and Proud mailing list, she had to pull out her phone to check. According to her spreadsheet, there were over 80 volunteers. She smiled, happily shocked—"I would've said, maybe like 40."
They now have close to 100, according to the founder.
However, not all volunteers are needed at the same time. Due to the nature of the mentee population, oftentimes these meetings are one-offs or inconsistent.
Ronan Tuggle, the vocational and educational specialist at the center, explains that this is a symptom of one of the challenges of working with this population—many of the clients do not have their basic needs met. Oftentimes, the clients are more focused on meeting their immediate and direct needs than pursuing schooling, which seems far off and requires planning and constant work.
AFC's Learning, Employment, Advancement, and Placement program has worked to address this concern. Through it, clients are incentivized to work on their educational and employment plans with small cash incentives and support.
Many students who come to the center have had varying educational experiences—some are seeking high school equivalency, some pursuing college admissions, and others working on college classes. Through the LEAP program, students are prepared for the High School Equivalency exam and receive employment opportunity training.
If students meet with Tuggle to create an education plan, which can include tutoring with a Columbia student, they receive an initial $25, incentivizing more clients to take advantage of the connection.
This semester, Brilliant and Proud is also focused on piloting drop-in tutoring sessions on Columbia's campus for the clients of the center. The drop-in hours allow clients at the center to go offsite and experience a university, Vidic said. Though Cui and Jeff met on Columbia's campus, not all tutoring pairs meet on or near Columbia's campus—something that may help AFC clients feel more comfortable in an academic environment.
The drop-in hours serve many purposes. They allow the group to better meet the needs at the center, and by creating more regular meetings, they may allow Brilliant and Proud to become an officially recognized student group in coming years.
The drop-in hours would also conveniently take place during a sensitive time for the Ali Forney Center—between 2 and 4 p.m. During this two-hour slot, AFC is "by appointment only," meaning that if clients do not have an appointment with a case manager or therapist, they are asked to leave. The drop-in hours at Columbia would give clients somewhere to go.
But Brilliant and Proud's founder views getting official recognition as a student group as secondary to having a responsive base of engaged volunteers: "If it happens, that's great and there are a lot of benefits to it, but right now we're just mainly focused on doing the matchmaking."
***
In the late 1980s, Ali Forney, a homeless gender non-conforming individual, began living on the street at 13 years old. Throughout his life, he turned to drug use and street work to survive and advocated fiercely for his peers—publicly pushing for the New York Police Department to investigate multiple murders of homeless LGBTQ youth. In December 1997, at only 22 years old, Ali Forney was murdered on the streets.
The Ali Forney Center was founded five years later by Carl Siciliano, who now serves as AFC's executive director. Siciliano started the center in memory of Forney and ran the organization out of a church basement with only six beds. Today, AFC is the largest center for LGBTQ homeless youth in the country, assisting around 1,400 individuals annually.
According to the center, 40 percent of the homeless youth population in New York City identifies as LGBTQ. 80 percent of the center's clients were kicked out of their homes. Most of the others were fleeing abuse.
None of their identities exist in a void. 90 percent of the clients are people of color, 75 percent have a history with law enforcement, and the vast majority are uninsured and don't have proper forms of identification.This can be particularly dangerous, as 20 percent of the clients are HIV positive and many treatment options require identification.
These vulnerable identities lead to challenges in working with the population, as Tuggle explained and the Brilliant and Proud leaders have learned. Thinking about the drop-in hours, when Tuggle mentions this program to some of the clients, there is initially some interest, but various concerns arise.
One of the prospective clients lost their wallet, which seems like a small thing to some, but can set someone back for weeks. Losing a wallet can mean losing identification, which is required for some of the support programs.
Even if Tuggle is successfully working with someone to get into a program, like a vocational program or school, if the client loses their identification, they have to backtrack for weeks and figure out ways to go to the Department of Motor Vehicles or Social Security office to get replacements.
***
As an LGBTQ individual, Galen Hawkins, a senior in Columbia College, wanted to give back to their community. Last summer, while working in a lab on campus, they found that their days were filled with little aside from the occasional shopping for food or other small errands, but Hawkins wanted to do something else with their time—something that would be beneficial to others.
When Hawkins thinks of that summer working at the AFC, they remember making peanut butter and jelly sandwiches for the center's clients. In the kitchen, there is generally a lot of food for the clients in the freezers and fridges, but most unforgettable was the bulk-sized food. Hawkins tells me it wasn't a normal Skippy peanut butter jar in their hands while they were smearing together sandwiches—the peanut butter jar alone was at least two pounds, as was the jar of jelly.
Before or after volunteering, they would often stop at the Popeyes next door. Beyond being a solid meal during the summer when Hawkins is off of Columbia's dining plan, Popeyes serves as a geographical marker for the center. "It's just an unmarked building, so you wouldn't know what it is unless you knew about it. It's easy to just walk by the door."
Taking Hawkins' advice, I walk from campus to the center. It's about 30 minutes from the Columbia gates. Though Hawkins had told me to look for Popeyes, I somehow found the scarcely marked black door. I buzz in, and adjust my hair in the mirror along the building's storefront, only to realize it's a one-way mirror when I walked in.
Tuggle immediately begins the tour, greeting the receptionists (who all serve in various other capacities at the center, such as case managers) before leading me to the computer lab. The lab is where Tuggle runs the majority of the LEAP program, which provides clients with occupational and educational opportunities.
There were a few social workers sitting inside the lab, strikingly dissimilar from the rest of the center, where clients are perched on chairs and couches, some waiting for meetings or meals, some with less intention.
Opening the door to a pretty spacious closet next to the lab, Tuggle apologizes for the mess. "It was, like, completely organized this weekend."
In the closet, among neat stacks and haphazard mounds of clothes, there is business attire for interviews and specialized clothes that clients can take for server or barista jobs. There are even scrubs for medical assistant programs. But there are almost no shoes in sight—the center has a hard time meeting its client's needs for shoes. There are never enough donations.
When one of Brilliant and Proud's former leaders, who has since graduated from Columbia, was helping at the center two summers ago, she and a few others were sitting in the donations closet folding and hanging clothing when one of the clients walked in. "They were shocked and they kind of took a double take for a little bit and then they were like, 'Oh, this is really cool.'" Once heaps of donated clothing, the clothes were now organized and clients were able to easily sift through the closet and find what they were looking for.
"Whether it is a part of their expression of their gender identity or another way for them to get a new job, whatever that may be is also a really important part of their experience," she said. "So even being able to help out just by folding clothes. ... It was really nice."
On our way into a quiet conference room, Tuggle waves to a lanky individual sitting by the reception desk with two backpacks. Within 30 seconds, Tuggle and the client exchange warm hellos and schedule a meeting for later that afternoon.
As Tuggle shows me to the door, they point out a room that was used for clients to do tarot readings. All of the artwork on the wall was created in various art and art therapy classes. I'm reminded that tutoring with Columbia students is just a small part of the educational and therapeutic resources offered to the clients.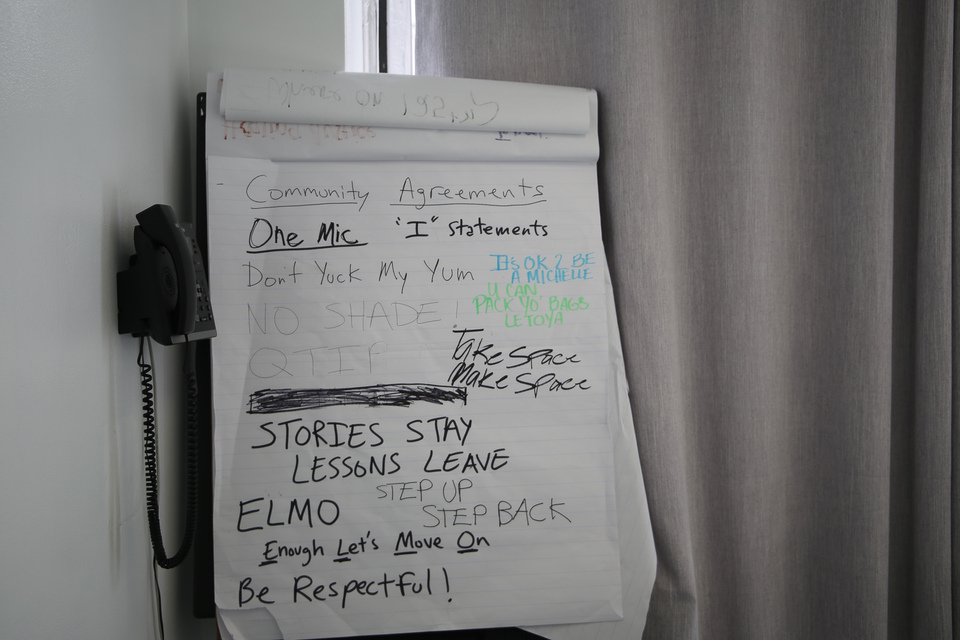 Still, the potential drop-in hours on Columbia's campus would be one of the few programs that would directly encourage clients to leave the center to seek educational service (though they may walk over with a staff member from the center). But with the expansion of Brilliant and Proud's services, Hawkins expresses some lingering concerns.
Hawkins was especially concerned after the events of last April, when then-Columbia student Alexander McNab was pinned down against a counter in the Milstein Center for Teaching and Learning when he did not immediately present his Columbia ID to the Public Safety officers. This was not the first time McNab had been asked for his ID. In a prior incident, McNab had been drinking water at the water fountain barefoot during a dance rehearsal and Public Safety asked him for his ID, wanting to verify that he was not a homeless man.
Last semester, during an open space session hosted by the Office of Multicultural Affairs, Hawkins raised the question of how Public Safety would respond to people who do not actually attend this school. "I thought about the tutoring here, those clients are actually homeless and if they were to run into a Public Safety officer, they don't have any ID to show they go here and they would immediately be in a lot of harm, potentially, if they would ever come across a Public Safety officer like Alex did," Hawkins tells me.
According to the founder of Brilliant and Proud, the safety of the clients is at the forefront of their minds in all planning, though the center has not expressed concern over the clients coming to campus during the daytime.
Despite that concern, the heads of Brilliant and Proud are excited to continue expanding their work with this population. Vidic says the work is humbling, but he quickly retracts that, adding that it's "awe-inspiring."
"There's a lot of powerful work being done by the young students in navigating everyday, just navigating their daily lives. That, I think, is something I feel honored to even be in the presence of."
Enjoy leafing through our first issue!