Each season marks a new start for Columbia Athletics. Players are given another chance to realize their full potential, and teams are invigorated with hopes of winning championship titles. The actions of individuals and their teams define the culture of Columbia Athletics for years to come; these are the moments that characterized the fall 2019 season.
Football
Expectations were high for Columbia football going into this season, as the team kicked off its fifth year under the NCAA's all-time winningest head football coach Al Bagnoli. This marked the first season with a team comprised entirely of Bagnoli's own recruits. Unfortunately for the Lions, the season did not go as planned, as the offense struggled to get on the board all year, finishing with the fewest points scored in the Ivy League en route to a 3-7 season.
After a 6-4 2018 season that was defined by injuries, this year was supposed to be the culmination of everything that Bagnoli had been working toward over his first four years at Columbia. The return of senior receiver Josh Wainwright, a healthy quarterback situation, and a dominant defense gave the Lions a chance to secure their first Ivy League Championship since 1961. However, the Lions stumbled out of the gates with a 1-3 record to start the season, including a 21-10 loss to Princeton in their Ivy opener. The Ivy League season was filled with high highs, like the 44-6 win over Penn that marked the largest Homecoming victory in program history, and low lows, like the 45-10 loss to eventual Ivy League co-champion Yale. While the team did not succeed as a whole, there were moments of individual success, such as senior defensive lineman Daniel DeLorenzi breaking the program's all-time sack record. Unfortunately for the Lions, individual success was not enough to make up for a disappointing season that left the Lions in the familiar position of once again hoping that next year will be the year that Columbia football finally breaks through.
Staff writer Harris Walker can be contacted at harris.walker@columbiaspectator.com. Follow him on Twitter @harriswalker17.
Men's soccer
Coming off a 2018 season in which the Light Blue lost the Ancient Eight title by one goal in an overtime loss, the expectations were high for men's soccer to live up to last season's potential. However, the season started slow, as the team did not not win its first matchup until five games into the season. Senior midfielder/forward John Denis was the standout player throughout this stretch, sinking the equalizer in the team's home opener against Army and helping to clinch the 3-2 win over UConn with two goals.
Ivy play started in a promising fashion for the Lions with a 3-2 win over Brown, which was secured through strong teamwork between Denis and first-year midfielder Uri Zeitz. The team continued its unbeaten streak in the Ivy League with a 1-1 draw against Penn, where Zeitz scored a goal within the opening minutes for the second time this season.
However, the team began to lose its defensive prowess in its first Ivy loss against Princeton, during which first-year goalkeeper Michael Collodi stepped too far out of the goal, allowing a Princeton defender to sink a shot into the empty net. The season took a turn for the worse for the Lions when they were shut out by Yale and lost all possibility to win the Ivy title. Despite a triumphant 6-1 victory over Harvard on Senior Day, the Light Blue found itself unable to salvage its season, falling to Cornell 4-0 in its last match of the season.
Senior staff writer Lizzie Karpen can be contacted at elizabeth.karpen@columbiaspectator.com. Follow her on Twitter @LizzieKarpen.
Women's soccer
At the start of the 2019 season, women's soccer secured five wins prior to Ivy play for the first time in a decade, and it had high hopes to obtain 10 wins by the end of the season. The team continued its strong form in the first half of Ivy League play to secure eight wins with four games remaining in the season. However,due to a sudden drop in momentum and controversial referee decisions, the Light Blue tied three times during its last four games, with its sole win coming against Yale. As the season concluded, the Lions finished with an overall record of 9-3-4. Though it was not able to reach double-digit wins, the Light Blue had its fewest losses since 1998.
First-year forward Shira Cohen led the team with four goals and 11 points. Five Lions were crowned with All-Ivy League awards: Senior captain Amalya Johnson received back-to-back All-Ivy first-team selections; Cohen and fellow first-year forward Ally Clark were among the second-team players; junior forward Jordyn Geller and first-year goalkeeper Liz Matei were both named honorable mentions.
The 2019 season was the last for eight seniors: forwards Emily Koe, Taylor Duran, and Bailey Peacock; midfielder Maddie Tamares; and defenders Reilly Lucas, Adriana Kuryla-Santos, Amalya Johnson, and Taylor Penn.
Staff writer Adam Lang can be contacted at adam.lang@columbiaspectator.com. Follow Spectator Sports on Twitter @CUSpecSports.
Volleyball
After head coach Allison Keeley's 2018 campaign saw the team finish seventh in the conference with a 10-14, 4-10 Ivy record, Columbia volleyball knew something had to change. With the graduation of two of their top three offensive players, and a huge incoming class of nine first-years, the Lions wanted to find a new way to play, one which embraced their tradition of camaraderie while adding accountability. In Keeley's words, Columbia was looking for a culture of "love and excellence."
With this mindset, the Lions worked—with the newly-recovered sophomore outside hitter Emily Teehan and standout first-year outside hitter Kiara Robichaud— to record their best season in three years. They finished at 12-12 and 3-9 Ivy, placing sixth in the Ivy League. (The Light Blue also won both of their matches against Penn, whose season was voided after vulgar and offensive posters were found in their locker room. A 5-9 record could have put the Lions into the conference's top half.)
Throughout the season, the Lions struggled to balance development for the first-year class and the need to win. As first-years adjusted to the team, senior middle blocker Chichi Ikwuazom stepped up and dominated the conference. Her 495 kills this season were the most by any player in one season in Columbia's history; her 6.02 points (kills and blocks) per set were the third-best rate in the nation. Working closely with junior setter Audrey Cheng, one of the Ivy League's best at assisting, Ikwuazom led by example.
But with nearly every attack running through Ikwuazom some nights, Columbia struggled early with a solution for when Ikwuazom left the court. Some nights, Teehan was able to make an impact. Other nights, first-years stepped up, like outside hitters Robichaud and Pierce Woodall. Sometimes, senior libero Kalie Wood's digs and aces energized her teammates. But often, the team floundered.
Next year, Cheng, as a seasoned senior captain, will lead a talented sophomore class more prepared to step up in big moments. But after Ikwuazom defined 2019's squad, the Lions must find a way to win without "the Chichi show."
Staff writer Clara Ence Morse can be contacted at clara.encemorse@columbiaspectator.com. Follow her on Twitter @ccemorse.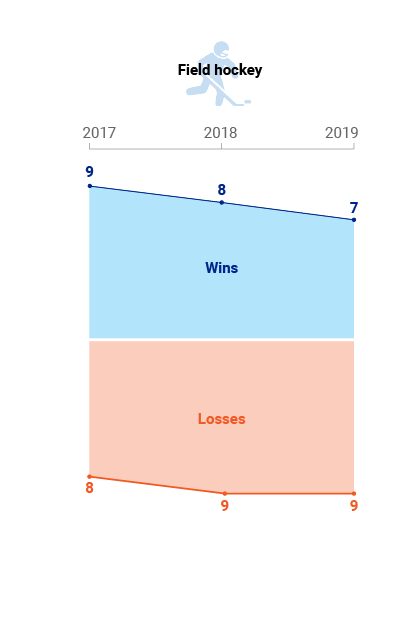 Field hockey
Columbia field hockey entered the 2019 season with a .500 record over the past four years, looking to develop a young team with no shortage of talent. With the departure of Katie Dempsey, CC '19, and Danielle Buttinger, CC '19, the Lions lost their goalkeeper and second-highest scorer, leaving the 2019 team with an opportunity to prove themselves in uncharted territory. They began this year's campaign by adding seven first-years, who helped to fill the spots that the four seniors had vacated.
The Light Blue immediately proved the promise of their roster, knocking off ranked opponents No. 22 Boston University and No. 24 Maine, which marked the first time in program history that Columbia had defeated a ranked foe. The Lions would go on to post a 3-4 record in Ivy League play, besting Brown, Penn, and Dartmouth while falling to Yale, Harvard, Princeton, and Cornell. Columbia also demonstrated a flair for the dramatic: The team played six total overtime games and its wins against Dartmouth and Penn were capped by overtime game-winners. In that victory over the Big Green, first-year forward Ellie Decker earned the second hat trick in Columbia history. But struggling in close games proved to be a persistent narrative, as losses in six games in which the Lions were only able to score one goal contributed to their overall losing record of 7-9.
As top performers will be returning in the years to come, it's easy to be optimistic about the future of this roster. Junior midfielder Kelsey Farkas emerged as a dominant authority, leading the team with 20 points and eight goals and earning a spot on the All-Ivy League first-team in the process. Sophomore midfielder Allison Smith provided a consistent scoring threat, matching Farkas' team-leading eight goals and winning an All-Ivy honorable mention nod. On the defensive end, junior goalkeeper Alexa Conomikes established herself as a steadying force in goal, notching 6.19 saves per game, which was good for second in the Ivy League and 10th in the nation. Conomikes was named to the All-Ivy squad, securing a place on the second-team. Decker's late-season heroics also won her a spot on the All-Ivy second-team. Next year's squad will hold a host of promising talent that has amassed valuable experience this year, and Columbia will look to jump past the middling records that have been the story of the last five years.
Staff writer Miles Schachner can be contacted at miles.schachner@columbiaspectator.com. Follow him on Twitter @milesschachner.
Men's tennis
When one speaks of the 2019 fall men's tennis season, the first name to come up would be that of No. 6 junior Jack Lin. After becoming an All-American at the NCAA Singles Championship last May, Lin has continued to dominate the court in the fall tournament season. While simultaneously achieving his highest singles ranking since coming to Columbia, he and senior Jackie Tang achieved the highest doubles ranking in program history at No. 3.
Following the retirement of 37-year head coach Bid Goswami, former associate head coach Howard Endelman took the reins with Rich Bonfiglio succeeding Endelman. In addition, Tang returned to the court after sitting out the spring season due to a foot injury. The fate of the tour season remained up in the air. However, at the Farnsworth Ivy Plus tournament, Lin took home the Tiger Draw title, a precursor for strong play to come. At the Oracle ITA Masters tournament, Lin rallied his way until the semifinals, but fell to USC's No. 8 Daniel Cukierman. That same weekend, junior Rian Pandole went 3-0 in his matches and first-year Alex Kotzen went home undefeated.
Tang and Lin clinched the doubles title at the ITA All-American, a program first. No. 73 Tang doubled his luck at the ITA Northeast Regional, successfully battling through five rounds of singles play before being defeated in the finals by Dartmouth's No. 41 Charlie Broom. Tang and Lin closed out the fall season at ITA Fall Nationals. Tang fell in the first round of play while he and Lin were both defeated in doubles bracket. Lin went on to defeat three ranked players in the tournament, concluding the fall season with his loss in the semifinals to Texas' No. 4 Yuya Ito.
Senior staff writer Lizzie Karpen can be contacted at elizabeth.karpen@columbiaspectator.com. Follow her on Twitter @LizzieKarpen.
Women's tennis
Women's tennis began its season on its home court, setting the tone for a successful fall season when it clinched 10 titles at the Columbia Invitational. The team's first-years were dominant forces on both the doubles and singles court as Julia Haynes and Michelle Xu won the Flight B doubles title at the Cissie Leary Invitational hosted by Penn. However, the trajectory of women's tennis was stymied as the team failed to win a title at the West Point Invitational.
At the ITA-All American Championships, sophomore No. 65 Akanksha Bhan became the first player in the program to compete in the main draw. After capturing wins in five consecutive matches, Bhan triumphed against three ranked competitors.
Bhan and junior Paulina Ferrari continued the season with dominant play as they rallied to the final four of the ITA Northeast Regional where the tandem eventually fell in a 1-6, 6-1, 10-8 superset. Sophomore Melissa Sakar also had a successful run at the regional tournament, making it all the way to the semifinals.
Senior staff writer Lizzie Karpen can be contacted at elizabeth.karpen@columbiaspectator.com. Follow her on Twitter @LizzieKarpen.
Cross country
The women's cross country team continued to assert its dominance in the Ivy League this year, as it locked up its third consecutive Ivy League Heps title and secured an at-large bid for the NCAA National Championships. Paced by senior Katie Wasserman and junior Allie Hays for much of the year, the Lions rarely faltered in competitions. The women's team earned two team titles this season, one at Heps and the other at the Iona Meet of Champions, and consistently found themselves within the top 25 teams in the nation in USTFCCCA rankings.
After battling sickness, the men's team improved for the latter half of the season, earning a fourth-place finish at Heps. Senior Kenny Vasbinder consistently led the Light Blue. In his final cross country season, Vasbinder secured an individual Ivy League Heps title, first place at the Roy Griak Invitational in Minnesota, plus a second place finish at the Iona Meet of Champions. Vasbinder, along with Wasserman, Hays, senior Emily Acker, first-year Tyler Berg, and sophomore David Vorbach earned All-Ivy honors.
New talent also emerged for Columbia, seeming to set up the program up for success in the years to come. Berg made waves in his first race as a Lion at the Roy Griak Invitational, in which he placed 16th in a field of 117 runners. Sophomore Sofia Camacho also wowed in her first-ever collegiate cross country race. She claimed gold at the Metropolitan Cross Country Championships in Van Cortlandt Park and later propelled herself to a spot on the Nationals team. When added to the fact that Director Daniel Ireland was awarded Ivy League Women's Cross Country Coach of the Year for the third season in a row, it appears that Columbia cross country has the potential to continue to be a force to be reckoned with.
Staff writer Mackenzie George can be contacted at mackenzie.george@columbiaspectator.com. Follow her on Twitter @kenziegeorge22.
Other stories you might have missed
The man, the myth, the mascot: Roar-ee the Lion's role in championing a stronger athletics culture at Columbia: While athletes play at Columbia for only four years, there is one figure that is a constant for the Light Blue: Roar-ee the Lion. Take a look behind the mask of the notorious mascot and his longstanding impact on the culture of Columbia Athletics.
Columbia bans marching band from future athletic events, will no longer provide university funding: Three days before the first home football game, Athletics informed the Columbia University Marching Band that it was banned from performing at all future athletic events. The announcement followed the band's loss of all University funding at the start of this academic year, after it failed to meet the deadline to apply for club recognition.
Bollinger's 18th annual Fun Run draws Columbia students like few other events can: At a university whose athletic facilities and fields are primarily off-campus, University President Lee Bollinger's Fun Run provides an opportunity for students and faculty alike to engage with both Athletics and Bollinger himself.
Memories abound as University Archives hosts panel discussion with generations of Columbia football alumni: Butler Library opened the "Roar, Lion, Roar" exhibit last month to celebrate the 150-year history of Columbia football. Alumni from the early 1940s to 2019 gathered to reminisce about the program and its deep-rooted impact on school spirit.
Marching band reinstated one day before Homecoming, to play at Penn game: Following a month complete with weekly game-day demonstrations on Low Steps and the launch of a $25,000 GoFundMe campaign, CUMB announced a new partnership with Columbia Athletics to be recognized as a spirit group, allowing it to play at athletic events once again.
"A festival of rowing": Lions take home top-five finishes and renewed sense of community at Head Of The Charles regatta: All three Columbia rowing teams took on the Head of the Charles, not only to compete at the world-famous regatta, but also to immerse themselves in a rowing culture not found within the confines of Morningside Heights.
NCAA votes to allow student-athletes to profit off of likenesses, image, and name: After individual states began pushing for athletes to be able to profit off their likenesses, the NCAA moved to begin the process of creating standardized regulations across the country that, if passed, would go into effect in January 2021.
Bill Campbell gave Columbia his time and money, but his biggest gift was generations of mentorship: Known as the "Trillion Dollar Coach," Bill Campbell spent his entire life coaching everyone from cornerbacks on Columbia's football team to tech billionaires like Jeff Bezos or Steve Jobs. This is the legacy that Campbell left behind.
For more Columbia sports news, follow Spectator Sports on Twitter @CUSpecSports.