Campus Services has made significant changes to the room arrangement of Alfred Lerner Hall this semester to increase student space, including the relocation of student mailboxes and the addition of a student-run food bank.
The mailboxes, which used to be alongside the walking ramps on the third and fourth floors of Lerner, have moved permanently to the Student Mail Center in the basement of Wien Hall. The mailboxes were replaced by administrative spaces previously on the fifth floor, which freed up space for the Columbia University Food Bank to move to Lerner.
With the relocation of the mailboxes, the package center room on the fourth floor was converted into a lounge and meeting place designated for LGBTQ students and students of color and controlled by the Office of Multicultural Affairs, a decision that was announced last spring.
Still, some students have expressed mixed feelings about the relocation of the mailboxes to Wien, located on 116th Street between Amsterdam Avenue and Morningside Drive.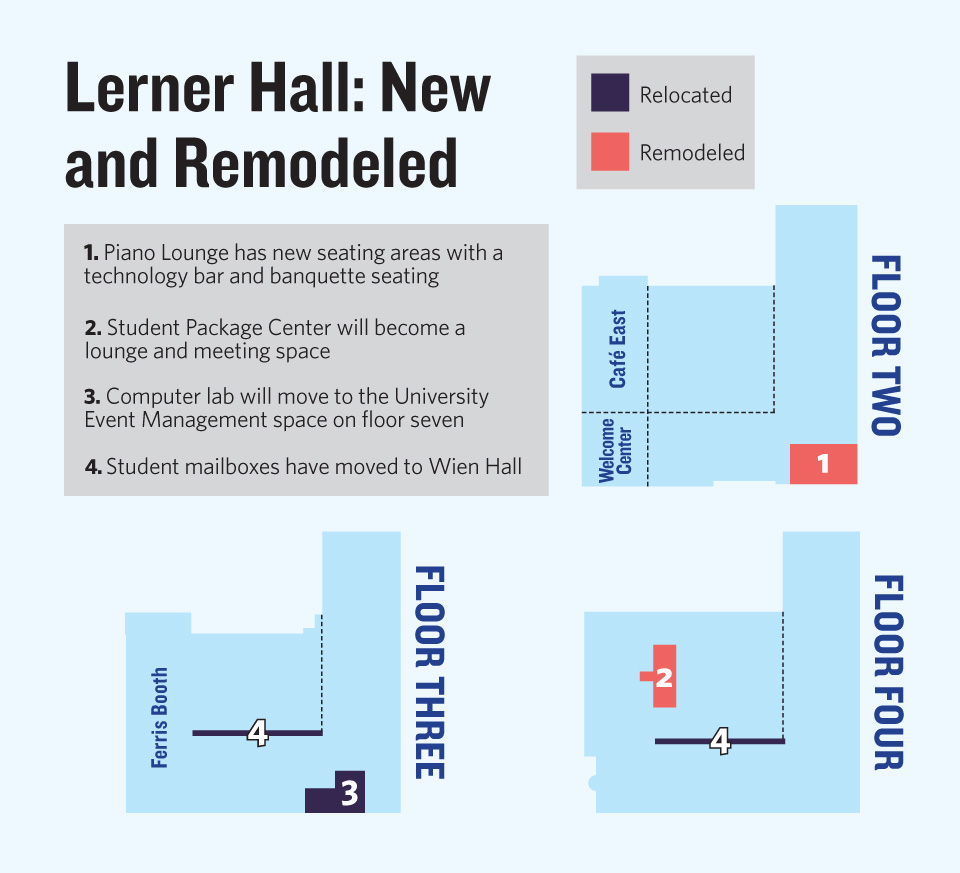 "I think the mailboxes should have stayed in Lerner," Nehemie Guillomaitre, SEAS '20, said. "I don't want to go all the way to Wien to just pick up my mail."
But Vice President of Campus Services Scott Wright said that the renovations and reshuffling of space in Lerner was intended to "create more usable space"—something that students have been requesting for years.
Another renovation took place in the piano lounge on the second floor, with improvements including a technology bar and new banquette seating, allowing the room to accommodate more people.
"It's really important to have a space for people to just study, talk, and connect with other people," Grant Pace, Columbia College Student Council class of 2020 representative, said. "The intention of Lerner was a student center but wasn't actualized until we made some of these changes."
The future of some space in Lerner has yet to be determined. The computer lab and the vacated administrative office in Lerner 301 will be reprogrammed as a meeting or performance space, with input from the Lerner Advisory Committee, a group of administrators and appointed students.