Updated September 12, 2018 at 10:27 p.m.
Several East Campus townhouse suites have walls covered with mold, an issue that has persisted since move-in and continues to pose a threat to student health.
"My whole ceiling had these brownish-grey streaks on it," EC resident Elise Gout, CC '19, said. "It kind of looked like someone had seen the mold and almost tried to wipe it off."
The mold is the latest in a series of facilities failures that have plagued EC this year. At the end of last semester it was announced that EC rooms would not be equipped with functioning stoves or ovens. Residents arrived on campus in early September; during the two weeks after move-in, there were over 20 erroneous fire alarms.
Columbia Housing sent an email to EC residents Wednesday evening attributing the mold to recent high humidity and rainfall. Facilities has begun to provide certain affected rooms with dehumidifiers to remedy further mold growth.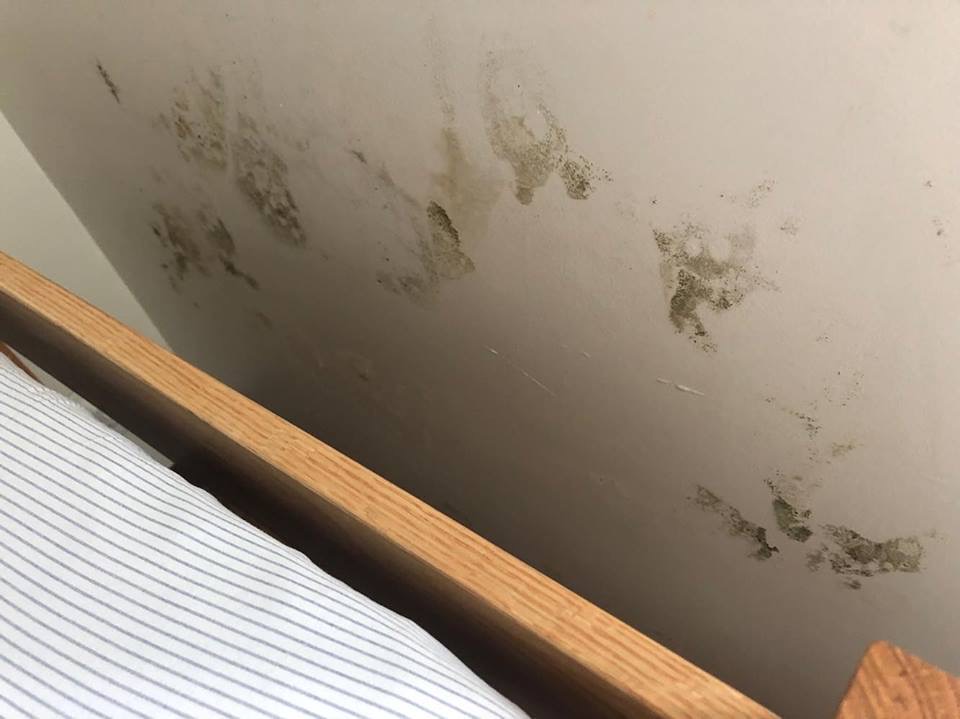 Courtesy of Caroline Albert
According to a University spokesperson, once a case of mold is reported, Facilities representatives treat the mold with mold-inhibiting products and mildew-resistant finish, and then paint over the affected area, a protocol in line with the New York City Department of Health and Mental Hygiene.
"They've come and painted over it—they just paint over the mold. They tell us it won't come back and every time it does," Albert said. "I would say [my suite] has contacted the Housing department upwards of fifteen times."
Albert said that Housing has not offered to get rid of the mold despite her repeated requests.
"They said 'Oh the cold weather will make it go away'," Albert said. "This wouldn't be tolerated anywhere else in New York."
Following the Wednesday email, Facilities has announced that residents in Albert's EC suite are being temporarily relocated until the mold is eliminated.
Jeremy Adkins, SEAS '19, said that while his EC townhouse doesn't have mold on its walls, ventilation problems have led to constant dampness.
"The complete lack of ventilation is making the condensation from my AC run onto the floor and under the floorboards. I can't walk around my room without water seeping out of the floor, and there's a permanent mud puddle around my AC unit," Adkins said. "If I clean it up, it just comes back. I'm willing to bet it's nice and moldy underneath the floor as well."
Prolonged exposure to mold can lead to dangerously-high inhalation of spores and mycotoxins, according to the U.S. Department of Labor's standards.
"We were told that this would be a certain living situation, and it's just not," Albert said.